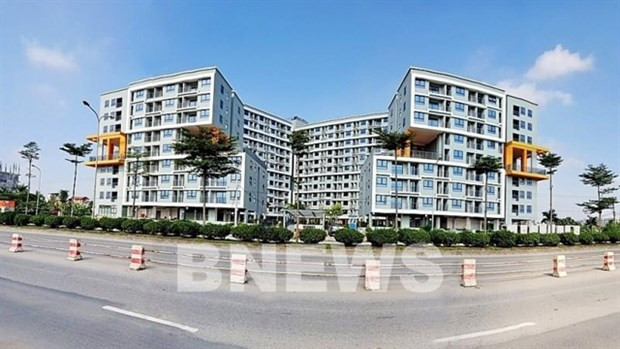 Thang Long Green City social housing project in Hanoi's Dong Anh District. (Photo: VNA)
The package covers social housing development, homes for workers, and renovation of degraded apartments with preferential interest rates around 1.5-2% lower than the average of four State commercial banks.
According to experts, the Government should remove difficulties for many real estate businesses, not just social housing businesses. When both the affordable commercial and social housing segments meet actual needs, it would create a push, helping change the entire system and solving the gloomy situation of the real estate market.
Recently, many policies to remove difficulties for the real estate market have been directed by the Government to create positive changes in the industry. The Government issued Resolution No 33/NQ-CP on a number of solutions to remove difficulties and promote the safe, healthy, and sustainable development of the real estate market. This is one of the efforts expected by many people and businesses.
In addition, the Government also signed Decision 388/QD-TTg to approve a project of developing at least 1 million affordable homes for low-income earners and workers in industrial zones in the 2021-2030 period.
The project targeted that around 428,000 apartment units would be completed in the 2021-2025 period and another 634,200 in 2025-2030.
Up to now, this credit package of 120 trillion VND has been mainly for businesses and buyers of low-cost housing, social housing, and worker housing with an interest rate from 1.5 – 2% lower than the average lending interest rate of banks in the market in each period.
However, experts said that, in the context of the limited supply of social housing, it is advisable to expand the beneficiaries of this loan package, such as cheap commercial housing.
Ngo Tri Long, former Director of the Price Market Research Institute under the Ministry of Finance, said the credit package is a good idea. The level of interest rate support after reducing it will be around 10%. This interest rate may still be difficult for both estate developers and home buyers related to social housing and worker housing.
From the property investors' side, developing social housing is not profitable. The input costs are high, but the selling price is controlled, which will affect the profit factor in their business. It is also an issue that needs to be considered when banks make policies, Long added.
Currently, estate businesses have been short of capital. It is valuable to reduce interest rates. The reduction level of 1.5 – 2% will probably be acceptable to businesses because they also have incentives on land rent and tax policies. However, the interest rate reduction of 1.5 – 2% might not be high for home buyers because the poor would still find it difficult to access the loan.
Therefore, the package should consider giving priority to low-cost commercial housing, not just applying it to social housing and worker housing.
At present, low-cost commercial housing is also in great demand but the supply is relatively scarce, while the low-priced housing buyers are also close to the threshold of the policy beneficiaries or slightly better.
Nguyen Van Dinh, Vice Chairman of the Vietnam Real Estate Association, said the market's demand not only focuses on social housing but also affordable and mid-range commercial housing. The ultimate goal that people aim for is just a reasonable house price, not too high compared to their financial ability.
Dinh said in addition to social housing projects, the credit package of 120 trillion VND should expand the loan recipients to low-cost commercial housing projects. This not only helps people have access to a more diversified supply, and effectively disbursed credit packages but also encourages many investors to participate in the development of mid-range and affordable commercial housing.
Nguyen Quoc Bao, Chairman of the HCM City Real Estate Club, said businesses that develop commercial housing, but are targeting mid-end and affordable segments with reasonable prices to match the ability of buyers, should also be encouraged and enjoy the support package.
For example, there are not many commercial housing projects in the mid-end and affordable segments, but compared to social housing, the supply is still many times larger. It is easy to attract estate developers. Therefore, this segment should not be removed from the beneficiaries of the credit package, especially in the context of the current difficulties.
At the same time, experts and businesses said that the Government needs to quickly complete the legal corridor, mechanisms and policies to support businesses to develop affordable housing and social housing. In fact, to get a bank loan, a project must have a construction permit. Meanwhile, it takes many years for a project to get a construction permit, even up to 4-5 years. This situation would discourage many businesses from participating in low-cost real estate development./. VNS