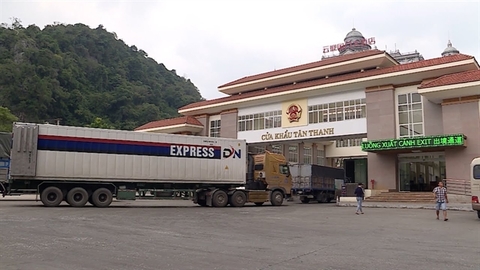 Trucks carrying Vietnamese goods to China enter Tan Thanh Border Gate in Lang Son Province. 
Exports of Vietnamese agricultural products via border gates to China are facing numerous difficulties. Ministries, localities and branches from the two countries are urged to make greater efforts in facilitating the clearance of these products, senior officials have said.
Online newspaper congthuong.vn cited Luong Trong Quynh, vice chairman of the Lang Son People's Committee, as saying that China examined all of Viet Nam's fruit shipments to the country. That would result in longer customs clearance time for Vietnamese fruit than those of other countries.
China had also strengthened the application of standards on origin and label quarantine while strictly controlling quality standards and food hygiene and safety for farm produce and fresh fruit and vegetables imported from Viet Nam. Meanwhile, many fruits of Viet Nam such as passion fruit, durian and custard apple were yet to be permitted for export to China, Quynh said.
Most businesses had failed to learn the latest information on Chinese export conditions such as those in quarantine and traceability, so they had encountered numerous difficulties in customs clearance. Therefore, localities that shared border gates with China petitioned ministries and branches to offer local businesses effective guidance in production so that their goods would meet requirements from the neighbouring country and customs clearance for these products would be faster, he said.
According to Do Van Duy, Director of Lao Cai Province's Department of Agriculture and Rural Development, the province exported 760,000 tonnes of agricultural products via border gates to China for US$690 million over the past seven months of 2021. In which, dragon fruit saw the highest export value with $444 million, followed by mango with $120 million and watermelon with $28 million.
Despite these encouraging figures, import-export activities with China through the province's border gates faced certain difficulties. Due to the COVID-19 pandemic, only Chinese drivers were allowed by the Chinese side to transport goods. That caused difficulties in trade activities via the province's two international border gates, resulting in modest transport productivity and slow clearance of goods, Duy told a virtual conference held by the Ministry of Agriculture and Rural Development (MARD) this week.
In order to better facilitate exports of agricultural products, the province had arranged officers responsible for issuing certificates of origin for export enterprises at the two border gates, Duy said, adding that it had also contacted the authorities of some Chinese localities to inform them about the pandemic situation in Viet Nam and disease prevention measures that Viet Nam had implemented. Meanwhile, it also suggested the Chinese localities remove difficulties for the clearance of fruit, including dragon fruit, through the Lao Cai-Ha Khau International Border Gate.
Duy also petitioned MARD to regularly update and notify local businesses of China's regulations on labels, traceability, planting area instructions, quarantine and testing, as well as embracing and building trademarks for Vietnamese agricultural products thus facilitating the long-term and stable exports of goods to foreign countries.
The ministry should also set up an agency that would be responsible for regulating local agricultural products, because, during the harvest season, agricultural products were transported in large amounts to border gates. If not regulated, they would suffer congestion. The establishment of the agency would help prevent agricultural products from damage or price pressure from Chinese traders, he said.
Tran Quoc Toan, Deputy Director of the Import-Export Department under Ministry of Industry and Trade (MoIT) agreed. He urged MARD to closely monitor major growing areas and promptly coordinate with relevant agencies to regulate the volume of agricultural products transported to border gates in accordance with conditions and capacity in goods clearance of each border gate.
Also, the ministry should ask relevant agencies to guide farmers, traders and businesses on how to classify, pack and preserve farm produce appropriately to meet requests from Chinese traders, Toan said.
In his speech at the event, Deputy Minister of Agriculture and Rural Development Phung Duc Tien called on closer co-ordination among relevant Chinese agencies with localities sharing border gates with China, ministries and sectors of Viet Nam in removing difficulties and facilitating the clearance of Vietnamese goods to China amid the COVID-19 pandemic.
China had issued a lot of new regulations on food safety, traceability, plant quarantine and animal quarantine. Thus, provinces that had good relations with Chinese localities should team up with the MoIT and MARD to disseminate these regulations to provinces, cities, businesses, associations, and farmers in a timely manner so that goods transported to border gates could enjoy smooth customs clearance, Tien noted.
According to MARD, the country's export of agro-forestry-fisheries products increased by 26.7 per cent year-on-year in the seven-month period, topping $28.6 billion. During the period, China was the second-largest importer of Viet Nam's agricultural goods with a growth rate of about 36.5 per cent over the same period last year.
Source: VNS

Lang Son has managed to maintain its role as a main gateway for border trade with the Chinese market, despite the significant impact of the COVID-19 pandemic on commercial services and import and export of goods in the locality.