Extracurricular class fuels ethnic minority students' passion for Gong culture

Dak Lak province in the Central Highlands has opened classes on Gong playing for students from ethnic minorities to help them learn the core values of Gong culture.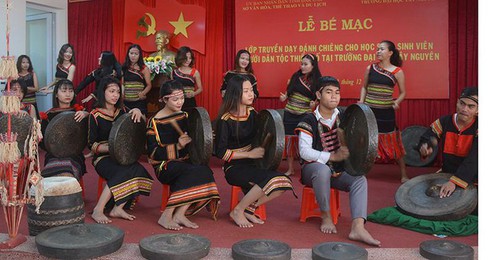 A Gong performance by students of Tay Nguyen University
Tay Nguyen University is the vanguard in this endeavor.
Over the past three months, the sound of Gong can be heard from Tay Nguyen University's 'Gong music class for ethnic minorities' every Monday, Wednesday and Friday evening. Each class is held from 5 p.m to 7 p.m.
Siu Lok, a medical student of the J'rai ethnic group said although he can already play the Gong, he has learned many new things from class.
"As cultures of the J'rai and Ede people are fundamentally similar, the ways they play Gong are not much different. Therefore, both styles can be mutually developed. These Gong playing classes make me proud to be a part of the Gong culture. I feel the responsibility to cherish and promote my culture so it can develop in many ways, like tourism for example," said Siu Lok. 
Three artists of the Ede and Bana ethnic groups have been invited to lecture the Gong classes. With many students having no experience in playing the Gong before, the instructors have to work with each of them personally on how to hold the Gong properly and keep a steady rhythm.
Artist A Biu of the Bana ethnic group said the students have an excellent music sense and are very hard working.
"They do have a passion for the Gong. My job is not only to teach them how to play the Gong but also to boost their pride of their cultural identity. It's my job and my responsibility to keep on teaching and encouraging them," said A Biu.
Tay Nguyen University was selected by Dak Lak authorities as the first institution to host Gong playing classes. More than 40 students have joined the classes, both male and female from different ethnic groups like Ede, J'rai, Thai, Tay, Nung and Ma, among others.
"Only boys could play the Gong before. Now that girls are allowed to play, I'm very excited to learn more about the Central Highlands' Gong culture, Xoang dancing and other traditions. The Gong classes provide us with a lot of basic knowledge that will benefit our future education," said Vi Thi Canh, a student from the Thai ethnic group.
According to Ede artist Y Nuynh Bya, most of the students have already mastered the basics of Gong playing thanks to their hard work.
"As society develops, Gong playing is no longer a man's privilege. At Tay Nguyen University, we noticed that the female students' skillful hands allow them to learn and master the Gong faster than male students," said Y Nuynh Bya. 
The top students of the class will be selected to perform in many events of Tay Nguyen University.
In 2005, UNESCO recognized "The cultural space of Gong in the Central Highlands" of Vietnam as "Masterpieces of the Oral and Intangible Cultural Heritage of Humanity". VOV5