Faces bring life to capital exhibition
VietNamNet Bridge – Various faces of life seen through artists' observations are depicted at the Red River Exhibition which has opened in Ha Noi.
VietNamNet Bridge – Various faces of life seen through artists' observations are depicted at the Red River Exhibition which has opened in Ha Noi.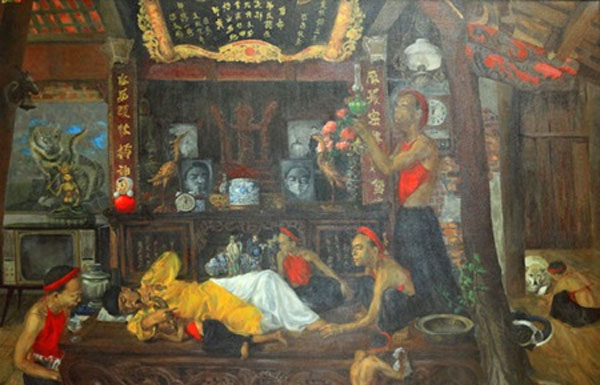 Insight: In Life, a lacquer work by Pham Tuan Tu.
The display also includes works of more than 40 artists of different ages with different styles and varying materials including realism, abstract and contemporary forms expressed in lacquer, oil, synthetic materials and ink.
Famous artists with works on display include Tran Luu Hau, Le Thiet Cuong, Vu Bach Lien and Ly Truc Son. Some young talented artists include Pham Tuan Tu and Cong Quoc Thang.
Hau's paintings express gentle feelings. Many genres are conveyed in his works such as flowers, nudes, portraits, nature scenes and Ha Noi streets. The familiar shape of things is often stripped down its lines, so at first glance, his works are not different from children drawing with colours. But with enough imagination and feeling, viewers can easily recognise the real life with its literal and figurative senses.
Cuong has held exhibitions in various countries. He's one among very few Vietnamese artists who pursue the minimalism art style.
Lien introduced her woodcut painting entitled Coi (Worlds). She used her familiar material and technique: hand drawings combined with printing on do (poohnah) paper.
"There are so many worlds, worlds of the dead, of the alive, of the good, of the evil and of the gods," said Lien. "People of the mundane world always head to the paradise."
"I use fingerprints to symbolise people as no one has the same fingerprints," she said.
Son currently works as a professor at the Viet Nam University of Fine Arts, a master of lacquer paintings. He said he keeps doing lacquer paintings since he does not yet understand what it is.
"Just working hard and using my best ability brings me crazy feelings that I can use when drawing," he said.
Son is also a curator of the exhibition, which is in the chain of events organised by Viet Art Space, a sustainable forum to introduce artworks, encourage the endeavours of artists and promote art exchanges between Viet Nam and the world.
New art house
At the exhibition's opening ceremony which was attended by the staff of foreign embassies in Viet Nam, famed artists, art dealers, collectors and art-lovers, the official website www.vietartspace.com was launched.
"We want visitors to see the panoramic reality of Vietnamese fine arts," said Vu Tuan Anh, media director of the Viet Art Space.
"We hope that the exhibition will create a more intimate relationship between artists and art lovers."
"Our project ambitiously builds a transaction activity related to art under the standard model of developed countries and attempts to connect with prestigious art commercial organisations in Southeast Asia and in the world. The activity will take the art trade into a proper orbit and also create a good environment for the relationship between art creation and trade."
According to many artists, researchers, art critics and connoisseurs of painting, Viet Nam has not had a true art market. Domestically and internationally, brands of Vietnamese paintings are losing their prestige for many reasons, including the lack of control of forging and copying works.
"During the process of outsourcing construction of a price database and auction for a foreign art project, we found that Vietnamese paintings are seemingly voiceless on the international stage. After the boom of the renovation period, Vietnamese paintings fell into recession and chaos and they lost the trust of customers, especially foreigners," he said.
It's expected that Viet Art Space can help enhance the aesthetic perception of Vietnamese people and empower Vietnamese fine arts in the international arena.
"Missions of the Viet Art Space are to introduce original paintings, support domestic artists, raise public awareness of fine arts' value, organise exhibitions and exchange between Vietnamese and foreign artists, and especially to be the first arts auction house in Viet Nam," director Anh said.
The exhibition is on-going at the Soft Water area, An Duong Street, Tay Ho District, Ha Noi. All entries can be contemplated at www.vietartspace.com.
VNS