Fair competition in aviation market could benefit Vietnam's aviation sector
VietNamNet Bridge - Low-cost carriers dominate the aviation industry in Southeast Asia, such as in Malaysia and Singapore, but the playing field is still not level for budget airlines in Vietnam.
VietNamNet Bridge - Low-cost carriers dominate the aviation industry in Southeast Asia, such as in Malaysia and Singapore, but the playing field is still not level for budget airlines in Vietnam.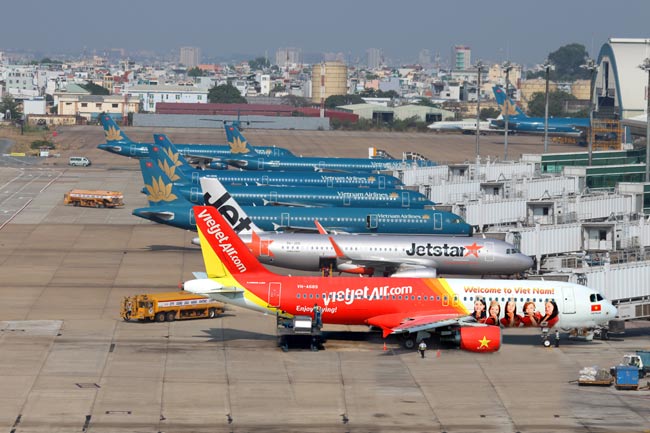 When former Singaporean Prime Minister Lee Kuan Yew paid a visit to Vietnam recently, many Vietnamese people were taken aback when he flew on Tiger Air, a low-cost airline, rather than the national carrier Singapore Airlines.

In less developed aviation markets, people tend to see budget airlines as less prestigious than traditional carriers, but Lee Kuan Yew chose an airline that focuses on offering customers efficient services and low-cost fares.

But what better way could there be to promote a private carrier, not to mention encourage his peers and nation's citizens to choose budget carriers, than by traveling by air?

The former Singaporean PM is not alone in making this choice. Even the billionaire owner of IKEA, Mr. Ingvar Kamprad, often flies with low-cost carriers. Pope Francis - in a bid to implement a more frugal approach to the Vatican's affairs - has also been known to demand his bishops fly to Rome on a budget airline.

Low-cost carriers currently dominate traditional airlines in developed markets. Within Southeast Asia, low-cost carriers such as Lion Air (Indonesia), Air Asia (Malaysia), Nok Air (Thailand) and Tiger Air (Singapore) operate up to thousands of aircraft, accounting for 65-70% of market share in domestic markets.

As private airlines, low-cost carriers everywhere operate under completely transparent supervision while contributing high levels of tax to their home country's state coffers. It's worth underlining that privately owned airlines will operate by using market capital rather than state funding.

In Vietnam, the market share of budget airlines is at just over 30 percent. The irony is that Vietnam has a much lower per capita income but Vietnamese on average still tend to spend more on airfare compared to neighboring countries.

However, industry observers have noted that a lack of fair competition and transparency is currently limiting the growth of low-cost carriers in Vietnam.

As the national carrier, Vietnam Airlines has enjoyed little by way of significant competition in recent years and still benefits from plenty of preferential treatment. For example, the airline enjoys superior airport facilities and runway priority nationwide.

This would be a disadvantage for any airline trying to compete. The national carrier is notably also a shareholder in companies such as Petrolimex, VAECO, Noi Bai catering services, Tiags, Niags and others, all of which provide ground-handling services to airlines.

However, the rise of privately-owned, low-cost carriers such as VietJet and Jet Star (a joint venture between Jet Star and Vietnam Airlines) has signaled the arrival of a new era for the aviation industry at home and their exponential growth is placing pressure on authorities to level the playing field for all carriers operating in Vietnam.

VietJet, the only wholly privately owned airline, which operates both domestic and international flights, is now the country's fastest growing airline.

Where other privately owned airlines, such as Air Mekong, Trai Thien Air Cargo, Indochina Airlines, and Blue Sky Airway, have failed, VietJet has gained a strong foothold in the market helping to diversify air travel and boost domestic tourism.

Over the last year, the ratio of domestic air travelers accounted for 21.5 percent compared to the previous year. In the first quarter of 2014, the relevant number has increased by 21 percent in comparison to the same period of last year.

It is estimated that Vietnamese air travelers could collectively save VND9 trillion (over US$428 million) this year by using budget airlines, if each traveler saved on average VND500,000 ($25) per flight.

Whether a person is traveling for business, pleasure or for affairs of the State, this is significant. With more people cutting their transport costs, small businesses will benefit from consumers' extra spending power, and more businesses across all industries will benefit from extra investment. And the government will be able to reduce its own expenditures.

Elsewhere, the market clearly shows low-cost carriers have become the airlines of choice. Air Asia, the largest privately owned airline in Asia with over 12 years of market experience, currently operates an extensive flight network across the region, flying more than 220 million passengers with a fleet of over 100 Airbus aircraft A320. The airline earned US$400 million in profit last year alone.

Finishing the fiscal year of 2013, RyanAir (Europe) achieved a turnover of nearly $800 million. Southwest Airlines (USA) and Jetstar (Australia) also earned good profits and contributed more tax to their home states than traditional airlines.

In Vietnam, for now, budget airlines remain hindered by a lack of fair competition and transparency but it's clear that the country would benefit as a whole by leveling the playing field so the aviation industry can reach new heights.
PV