Farm offers fresh look at life of bees
Away from the beaches with smooth clear water and white sand that Phu Quoc Island is famed for, there are other attractive jungle and farm destinations.
Phu Quoc Bee Farm is one such unique spot on the island offering a close look at the life of bees.
Built in 2014, the farm was the first of its kind on the island.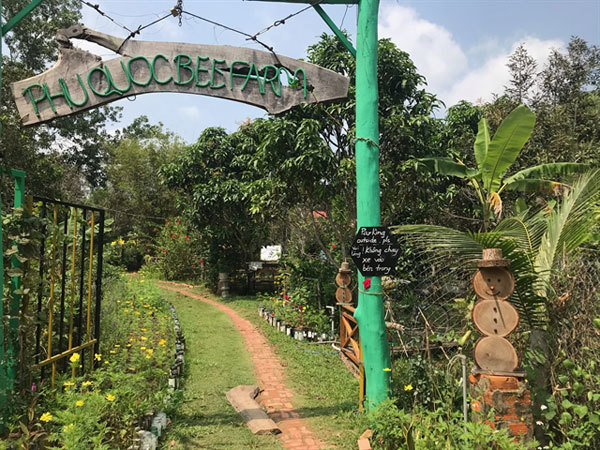 The entrance to the farm. VNS Photo Le Huong
The farm is designed simply, surrounded by a tropical garden with a lake and various kinds of fruit trees like durian, mango, rambutan, avocado, and jackfruit.
Various educational messages can be found here and there in the garden like different species of bees, the structure of hives, and samples of rubbish classification.
"Our aim is to build up a farm and combine eco-tourism and education through interesting stories on bees' role in human's living environment," Tran Quang Anh, co-founder and owner of the farm told Việt Nam News.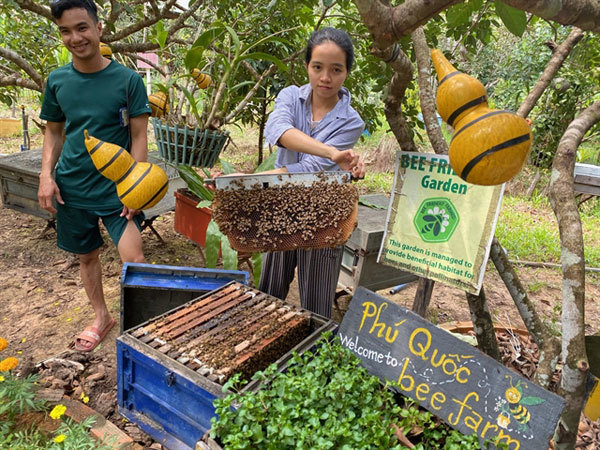 Bees find a cosy home at the farm. VNS Photo Le Huong
Now the farm hosts between 20-60 hives of various strains of bees depending on the weather in a total area of 4,000sq.m.
Most of them are Italian honey bees. The farm also spares an area to preserve local honey bees of the island.
Anh said the farm has worked with neighbouring farms to set up beehives and create an ideal bee environment when demand for bee products increases.
Officially opened to visitors in May 2015, entrance is free between 9am and 5pm. Visitors can walk around the garden, listen to stories about bees, have close look at a beehive and try bee products. In summer, visitors can also enjoy ripe fruits in the garden.
Besides honey, various beeswax products like candles, soap and recycled food covers with anti-septic features are on offer.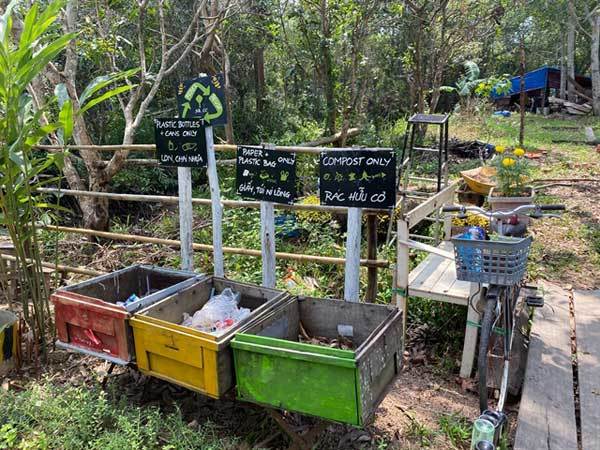 Some rubbish classifying boxes in the garden. VNS Photo Le Huong
"In the past six years, we have consistently followed the idea to develop the bee farm into a green destination on the island," Anh said. "We use bamboo drinking pipes, wrap things with banana leaves and use cloth bags, paper boxes and glass jars."
Anh said their most meaningful activity is educating people, especially children, about protecting bees.
The farm has hosted classes for more than 600 local pupils.
"We persuade people to reduce gradually and then totally stop buying and using wild-bee honey, which has made many hunters destroyed thousands of wild bee colonies for honey, let alone accidental forest fires and destroying the ecological system in many localities in the country," Anh said.
Statistics have shown that more than two-thirds of food that people use every day is made thanks to pollination by bees. The value of pollination activities for vegetables and trees is 10 times higher than the value of bee products.
Anh said the farm has welcomed guests from 65 countries and territories.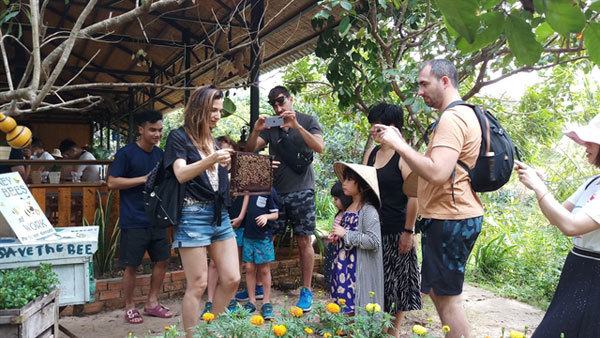 Tourists enjoy watching the bees. Photo courtesy of the farm
Anh said the farm has been affected a lot by COVID-19 as its main customers were previously foreign tourists.
"This year we will focus on developing cloth food wrappers with anti-septic beeswax to reduce plastic bag use," he said. "We will also work with some bilingual schools in big cities to design education tours on honey bees and the environment."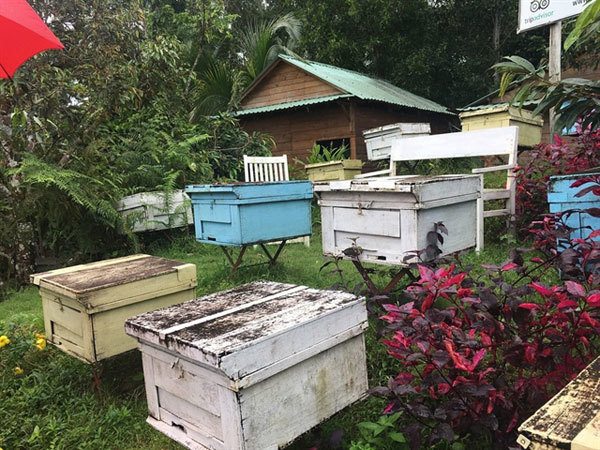 The farm is designed in a bee-friendly style. Photo courtesy of the farm
Pham Ngoc Quang, a visitor from Hanoi, couldn't hide his excitement when exploring the garden.
"I have visited Phu Quoc several times but I have never been here," he said. "I think the farm tour is an easy-going educational tour for children. My children like it a lot."
"The farm also has a unique product that I bought for my wife – organic lipstick and lip balm made from beeswax. I have not found it anywhere else," he said. 
VNS

Phu Quoc is Vietnam's largest island and one of the world's most favourite tourism destinations. 

Phu Quoc Island in the southern province of Kien Giang is a popular tourist destination throughout the year due to its blue sea, long sandy beaches, wild beauty, and delicious seafood.