Farmer ploughs and rakes in a Presidential award
VietNamNet Bridge – Making a machine that both ploughs and rakes has earned Cao Phi Ho several plaudits, but he lacks resources needed to have his invention replace expensive imported machines.
VietNamNet Bridge – Making a machine that both ploughs and rakes has earned Cao Phi Ho several plaudits, but he lacks resources needed to have his invention replace expensive imported machines.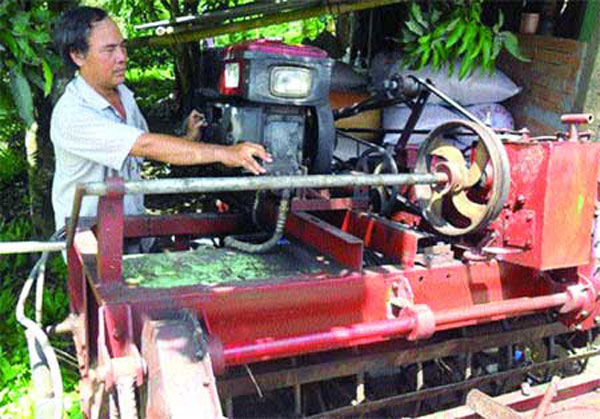 Cao Phi Ho trial operates his machine. — File Photo
Cao Phi Ho, 53, from the southern province of Hau Giang's Tan Hoa Village, was recently awarded the Labour Order, third class, by President Truong Tan Sang.
Ho was rewarded for his research and for applying science and technology to agriculture production.
His ploughing and raking machine has contributed considerably to promoting cultivation, said Nguyen Van Dong, director of the Hau Giang's Department of Agriculture and Rural Development.
After graduating as a technician from Vinh Long Province's Pedagogy of Technology in 1985, Ho dreamt of inventing a ploughing and raking machine that would help rice-growing farmers save their labour force and money.
Despite having such a dream, and due to a shortage of finances, Ho only got a chance to present his ideas and design before Chau Thanh A District in 2011.
Luckily, he received a VND45 million grant for building the machine.
After much hard work, Ho finished his first machine, which can plough and rake at the same time, in March 2013.
"Farmers in my village were astonished with the machine, for both its functions and the fast speed it set during its first trial run," said Ho, adding that in the past his family and fellow farmers had used two separate machines for ploughing and raking.
Le Quang Ha, an official at Chau Thanh A District's Economic Office, who is in charge of checking the machine, said he appreciated Ho's efforts and success.
"It has proved to be very helpful for farmers," he said.
After several successful trial runs, Ho requested the Ministry of Science and Technology's Intellectual Property Department to recognise his invention.
In late 2013, his invention was chosen as an entry for a national contest on scientific creation.
As a result, Ho had received more than 10 orders from farmers in Hau Giang and surrounding provinces by the end of 2014.
Asked about the materials needed for the machine, Ho said he used indigenous parts, so the machine's price was quite reasonable at only VND70 million, compared with the parts imported from China for VND140 million.
"It helps us save VND400,000 per hectare," he pointed out.
Huynh Van Pho from Chau Thanh A District's Bay Ngan Town, who bought Ho's machine more than 15 months ago, said apart from using the machine for his own rice fields, he also used it to work for others, earning VND20 million a crop (each crop takes about 3 months to harvest).
"In the past, I had to buy a ploughing and a raking machine to cultivate my rice field, but now with Ho's machine, I can finish ploughing and raking simultaneously. It helps save much time and money," Pho said.
He added that ploughing and raking was a very important stage before sowing rice seeds so Ho's machine successfully met a crucial farming need.
Ho is happy because he has received many orders, but also worries because his mechanical workshop is very small. He does not have enough capital and workers to fulfil the orders on time.
"The greatest of my difficulties is the money needed for expanding production and invention. If I have sufficient capital to invest in buying comprehensive components and parts, I should not have to re-use old items to supply smaller orders at present," said Ho.
He added, "My biggest wish is that my machine should be available in the Mekong River Delta and the entire country so that farmers do not have to buy expensive imported machines."
Ho proposed that Hau Giang Province should support farmers through a partial investment to buy the machine, creating opportunities for his workshop and ensuring stable production.
Dong said the province highly valued Ho's invention. "We will try our utmost to support Ho and farmers with capital investment for producing and buying such a machine because the stage of ploughing and raking plays an important role in rice farming."
This year, Ho also plans to borrow money from banks to expand production in order to meet growing demand.
Ha Nguyen
VNS