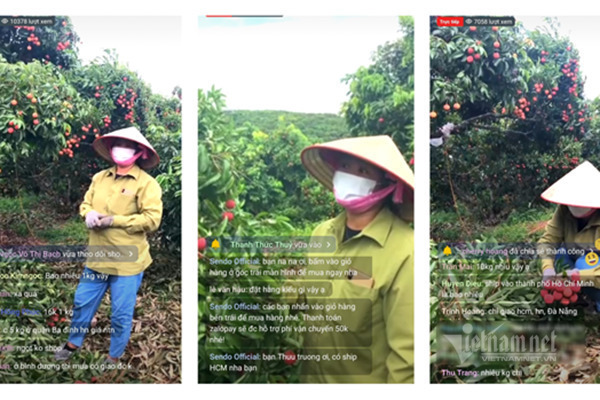 Vietnamese farmers go digital
Tran Cong Thang, head of IPSARD (Institute of Policy and Strategy for Agriculture and Rural Development), estimated that Vietnam's digital economy in 2021 was worth $21 billion, an increase of 31 percent over 2020. The figure is expected to reach $57 billion by 2025.
Vietnam is expected to obtain the strongest growth rate in the region, with total goods value of the digital economy increasing by three times in the next four years. This offers a great opportunity for farmers to have more distribution channels.
85 tons of farm produce,1 million orders for litchis
Bac Giang litchis are famous in Vietnam and the world market. However, they only began selling via e-commerce in 2021.
The province set a modest goal of selling 2,000 tons of fresh litchis through six marketplaces.
However, as many as 9,000 tons of litchis were sold, said BacGiang Chair Le Anh Duong, with nearly 1 million orders, nearly five times more than the best scenario.
Chu Quang Hao from Vietnam Post said VoS o and Postmart run by Viettel Post and VnPost, respectively, have seen changes since Hai Duong and Bac Giang litchis began hitting the shelves there.
He said the number of visits to the marketplaces soared from several thousand each day to hundreds of thousands. From early to mid-June, 2021, there were 4.6 million visits and 36,000 orders each day.
In mid-2021, when the fourth Covid wave broke out in some localities, farm produce, including litchis, was in danger of low sales.
However, within one hour of livestream hosted by Xuan Bac, a comedy artist, 5,000 orders for 85 tons of litchis and some other fruits were sold.
At the same time, in Bac Giang, many farmers with smartphones in hand were running livestreams to sell their products. Do Thi Van and Ha Quang Thanh, two litchi growers in LucNgan, for the first time, experienced this sale channel.
After 40 minutes of livestream, the two led 30,000 viewers to their family-run litchi gardens. Van and Thanh helped their cooperative sell 8 tons of litchis.
Necessity is mother of invention
In late August 2021, farm produce circulation got stuck in southern provinces, while consumers in HCM City suffered from produce shortages because of the lockdown.
At that time, Taskforce 970 of the Ministry of Agriculture and Rural Development (MARD) created 10-kilogram farm produce combos to sell online at VND100,000, targeting consumers in HCM City.
Tran Minh Hai, a member of the taskforce, said after the announcement about the farm produce combo, the number of visits soared. At times, the number of visits rose to 53,000.
On August 26, thousands of orders appeared under the program for selling farm produce combos to HCM City, with 1,000 tons of vegetables and fruits sold. The initiative helped HCM City consumers buy farm produce at reasonable prices, while cooperatives and growers boosted sales.
More than 2 million farming households go digital
Head of Vietnam Post's Rearch and Development division Phan Trong Le said to date, Postmart has helped put produce of more than 2.5 million agricultural production households into the digital environment, consuming over 20,000 tons of farm produce.
Meanwhile, Viettel Post has helped more than 2 million farming households go online with 36,000 transactions that bought 12,884 tons of goods, worth VND74.3 billion. The e-commerce platforms plan to raise the figure to 5 million households by the end of this year.
Experts said via the platforms, millions of farmers can connect to households. As it's now easier to buy produce, total demand will rise.
Talking about the sale of farm produce via e-commerce, Minister of Information and Communications Nguyen Manh Hung said many people in Ca Mau and Da Lat in the south can now buy litchis from the north.
Twenty-five million Vietnamese households, no matter where they are in Vietnam, can buy fresh litchis and get delivery within 48 hours.
Hung said tens of thousands of tons of litchis that were sold via e-commerce created confidence in online marketplaces. In the future, thousands of other produce items will also be available online.
Tam An

Farmers in the Ca Mau peninsula are delighted as they enjoy a bumper rice crop on shrimp farming land.

It's necessary to be daring and set a high goal of exporting $50 billion worth of farm produce in 2022 as agriculture is a pillar of the economy, said Prime Minister Pham Minh Chinh at a conference on December 29.