FDI enterprises in massive tax arrears

The HCM City Depatment of Customs has listed 1,000 businesses that have not paid tax worth trillions of dong, including foreign direct investment (FDI) firms.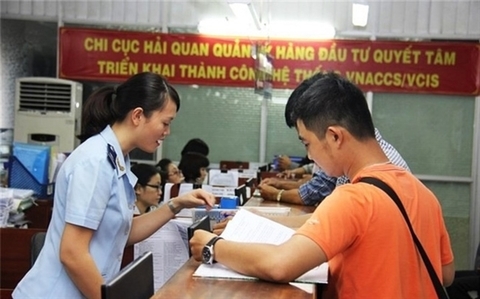 Enterprises complete customs procedures. HCM City has listed businesses that have not paid huge tax debts. — Photo cafef.vn
Some of the companies were well in arrears, such as NIVL Joint Stock Company that owed VND150 billion (US$6.45 million), excluding penalties for late tax payments over a number of years, the department said.
The FDI firm received its investment licence in 1998, but the owner had left the country, leaving huge tax debts behind.
There were many cases of tax debts worth tens of billions of dong such as Vietnam Silver Star with debts of about VND47 billion and Neocacse Inc Vietnam Co, Ltd with debts of about VND30 billion.
Those companies had halted operations but have not yet closed their debts.
According to the municipal customs department, the companies it was struggling to collect from were mostly involved in the shoes and garments sectors with licences to export products.
By May 15, HCM City had an outstanding tax debt of VND1.4 trillion, including VND1 trillion owed by the aforementioned 1,000 enterprises. — VNS

Nearly halfway through 2019, Vietnam has begun to see a new noticeable transition in its foreign direct investment (FDI) inflows, with Chinese investment in the Southeast Asian country reporting a sharp rise.  

Amid a sudden increase in foreign direct investment inflows from China, experts are calling for the creation of "filter tools" for FDI with the aim of fostering high value manufacturing and sustainable development.  

A conference, titled 'New vision, new opportunities for FDI in the new era', is expected to take place on October 4 to review the 30-year period of attracting FDI.