FDI firms still dominate electronics shipments
Foreign direct investment (FDI) firms still dominated electronics shipments to foreign markets in the first quarter of 2021, accounting for a whopping 95% of the total revenue from electronics exports,
 according to the Vietnam Industry Agency under the Ministry of Industry and Trade.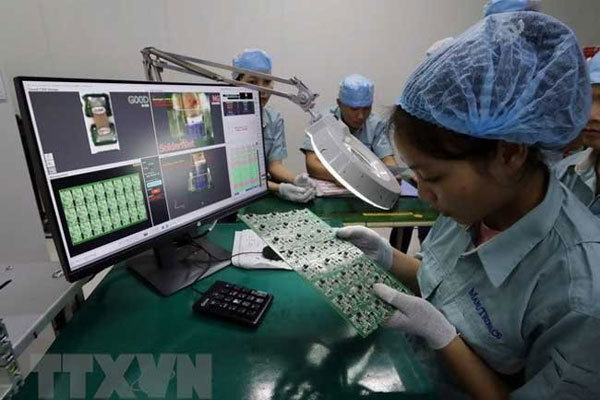 An employee at work at an electronics factory in Vietnam. Foreign direct investment firms still dominated electronic shipments to foreign markets in the first quarter of 2021 – Photo: VNA
Statistics from the agency indicated that between January and March, electronics were listed among groups with export earnings of over US$5 billion. The country saw computers, electronic products and accessories report export turnovers of US$12 billion, soaring by 31% year-on-year.
Apart from representing a lion's share of electronic export earnings, FDI firms also accounted for a large proportion of 99% in the shipment value of phones and phone parts during the three-month period.
The agency attributed the FDI firms' domination to a low localization rate in the electronics sector at a mere 5%-10%. Most electronic products in the Vietnamese market are imported ones.
Though local supporting industry firms are participating in the value chain of the electronics industry, most of them offer low technology products.
In addition, the growth of domestic electronics companies has slowed down or gradually faded away in the local market.
The capacity of domestic firms remained limited, while the quality and styles of products failed to meet the high demands of the market. Besides, the link between local suppliers and FDI firms and multinational corporations remained weak, according to the Vietnam Industry Agency.
The agency said that through some programs and activities, local firms had enhanced their efforts to improve the quality of their products to join the supply chain of FDI firms.
However, the electronics sector faced a shortage of major strategic products that could lead the market, the local media reported.
As such, the agency proposed the Government map out and adopt solutions to protect the electronics industry, including applying trade remedies and technical barriers and offering support policies to local firms active in the electronics industry.
Aside from this, the agency called on electronics firms to focus on key products that have a powerful breakthrough to boost the sector.
SGT

Enhancing the linkage between domestic and foreign-direct-investment (FDI) electronic enterprises can be an important solution to promote the development of this industry which is now dominated by the FDI sector.