FDI investors make quick decision to spend in Viet Nam
Since June, more than 1,000 foreign investors have taken the opportunity to expand market share and invest in manufacturing plants in Viet Nam after the COVID-19 pandemic.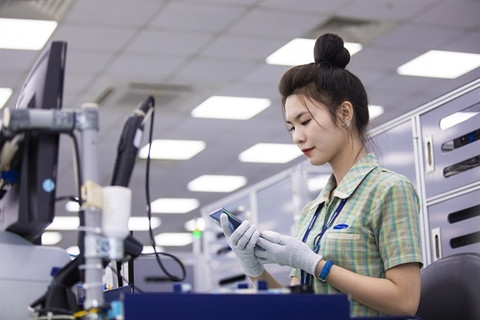 Some electronic and high-tech production projects receive large-scale capital increases in the first eight months of the year. A Samsung worker is on her daily routine at a plant in Bac Ninh Province. — Photo courtesy of the firm
Though the pandemic has interrupted activities and slowed newly registered capital for FDI projects, many FDI investors continuously increased their capital. Big players in the technology and electronics sector want to expand or move their supply chains to the country, according to local authorities.
According to the Foreign Investment Department, Ministry of Planning and Investment (MPI), the previous COVID-19 control policies made it difficult for foreign investors to move to Viet Nam to explore investment opportunities as well as carry out registration procedures for new investment projects in the last months of 2021, affecting the number of newly granted investment projects in the first eight months of 2022.
As the result, total newly registered FDI capital reached US$6.35 billion, down 43.9 per cent over the same period last year.
In a more positive aspect, realised FDI capital of foreign investment projects in the first eight months of 2022 reached $12.8 billion, up 10.5 per cent over the same period in 2021 and up 0.3 percentage points compared to the first seven months.
Some electronic and high-tech production projects received large-scale capital increases in the first eight months of the year.
The department said the growth rate in the number of projects adjusting capital after slowing down for seven months had also increased, reaching approximately the same level as in the first six months of the year. The scale of average capital adjustment/project was relatively high compared to the same period last year, reaching nearly $11.1 million in each adjustment, much higher than the figure in the same period in 2021, which was $7.8 million per adjustment.
The department's director Do Nhat Hoang said: "This shows that foreign investors consider Viet Nam a safe investment destination, expressing their confidence in the business investment environment, continuing to expand investment in the country. If the COVID-19 pandemic is controlled, the economy will recover and grow again in a new normal state."
Together with more capital, the global giants in technology and electronics were seen shifting supply chains and diversifying production lines to Viet Nam.
At the end of August, Foxconn Group - a large enterprise in Apple's production and supply chain - decided to invest $300 million in building a new factory in Bac Giang Province.
Before that, in early 2022, Lego Group from Denmark signed a Memorandum of Understanding with a limited liability joint venture company in Vietnam-Singapore Industrial Park (VSIP), building a new factory in Viet Nam, with an investment scale of more than $1 billion in Binh Duong Province.
According to media reports, it will be Lego's first carbon neutral factory and has an investment in solar energy, ensuring no environmental pollution, dust and waste.
At the same time, a series of large technology corporations such as Apple and Samsung announced plans to expand production in Viet Nam while foreign media also reported that "Boeing Corporation wants to expand operations in Viet Nam".
Do Thi Thuy Huong, member of the Executive Committee of the Vietnam Electronic Enterprises Association (VEIA), told local media: "In the context of the current global geopolitical situation, it is important for Viet Nam to maintain a strong position with political stability, economic development as well as good and flexible disease control, which will create favourable conditions and be an attractive destination to attract potential FDI investors."
The department director Do Nhat Hoang said: "Foreign investors are and have been interested in the manufacturing and processing industries, electronics industry, especially the semiconductor chip ecosystem. It is good news for the economy in general and Viet Nam's manufacturing in particular as semiconductor chips are the core of electronic products, they have a great influence on the global supply chain."
Hoang said: "If Viet Nam becomes a base for manufacturing electronic chips, it will improve its position in the global value chain."
Seeing the trend, the director thought there was more work to be done, adding investors entering Viet Nam at this time decided very quickly. They even urged relevant agencies to complete infrastructure, labour resources, energy sources and speed up procedures so that they could proceed to implement the project immediately.
The director said: "The fact that investors invest too much also increases pressure, requiring ministries, sectors and localities to be more professional and prepared, including in land, human resources, and infrastructure, or continuing to improve the business investment environment. There is still a lot of work to be done to really catch the FDI wave."
Chairman of the Association of Foreign Investment Enterprises (VAFIE) Nguyen Mai forecasts the target set out in Resolution 50-NQ/TW (August 20, 2019) of the Politburo on FDI attraction in the 2021-2025 period with a registered capital of $150-200 billion and realised capital of $100-150 billion was completely possible.
Mai said: "Viet Nam has a stable political and macroeconomic situation with a market of nearly 100 million people and a growing middle class. Besides, the investment and business environment is increasingly improved and international integration is extensive. Moreover, Viet Nam has many conditions for investors to reduce moving costs and stably connect the global supply chain."
However, Mai still thought there were limitations, such as small number of high-tech projects from developed economies and insignificant research and development (R&D) centres in Viet Nam.
He said although the FDI economic sector was an important driving force with a good growth rate, the contribution to the state budget did not yet match the incentives given to them. — VNS