The government considers the development of telecommunication infrastructure and IT as one of its top priorities.
Digital transformation is an important solution to help the country develop rapidly and sustainably, said Deputy Prime Minister Vu Duc Dam.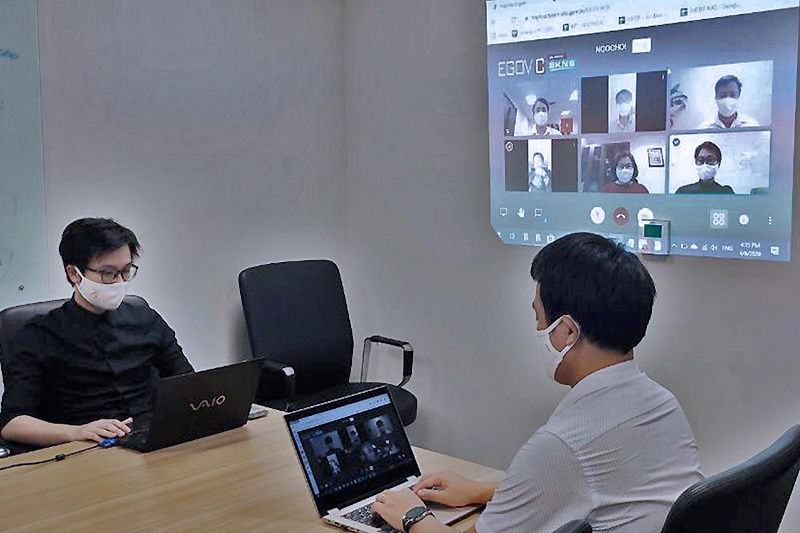 Hamada Kazuyuki, in his 'Future Power' book, predicted that Vietnam would be one of the world's top 20 economies by 2030.
The Japanese author was impressed by the internal strength of Vietnamese digital technology firms and their desires.
The development of the information and communication industry (ICT) is expected to become an important driving force to turn Vietnam into a power.
There are still 10 years ahead to check if his prediction comes true. However, Vietnam is showing a growing desire to become a powerful and prosperous nation.
Digital technology is the only way that will lead Vietnam to that goal.
Digital transformation is the first step.
It is now the way the world is following to overcome the pandemic. This was confirmed not only by Vietnam, but by many other countries at ITU Digital World 2020.
Covid-19 gives a 'push which comes only once every 100 years' to the development of IT, accelerating digitization of production, service and trade activities.
2020 is an important year for Vietnam's ICT. The Prime Minister in June signed a decision on approving the national program on digital transformation.
Vietnam considers digital platforms, cybersecurity and open technology as the major factors to create 'digital confidence', and considers institutional reform as the decisive factor for digital transformation.
Make in Vietnam – the foundation for national digital transformation
"Make in Vietnam" is the slogan created with an aim to promote the domestic ICT industry. It conveys the strategy and the development orientation of Vietnam's digital technology firms.
With Make in Vietnam, Vietnam has become one of a few countries in the world that have succeeded in commercializing 5G services with its self-made equipment.
With Make in Vietnam spirit, Vietnam has also created Bluezone, an app that helps track suspected coronavirus infected people.
In the last half of the year, the Ministry of Information and Communications (MIC) introduced one Make in Vietnam digital product every Friday: Zavi and CoMeet, the online conferencing software product; VAIS, the software that turns voice into text; akaChain, which supports enterprises in building their business network systems and distributed applications using blockchain technology; akaBot, which provides comprehensive solutions for automation and digitisation to help businesses improve their productivity and save costs; and Stringee, the platform that can provide full infrastructure and features similar to solutions from foreign countries.
Vietnam now has four social network platforms. Of these, Zalo is the largest domestic social network with 60 million users, followed by Mocha, Gapo and Lotus.
In the past, Vietnam could not control the 'game'. It relied on foreign platforms and had to buy data from foreign businesses. The strong rise of Vietnamese social networks will help the country master technologies and lay down a premise for the sustainable development of its digital economy.
With Make in Vietnam strategy, Vietnam will improve growth quality, build an autonomous economy and more deeply join the global value chain.
Regarding the postal industry, the launch of the national postal code VPostcode will bring digital address infrastructure to households, thereby paving the way for the development of the digital economy and e-commerce.
Healthcare sector changes with examinations from a distance

With Make in Vietnam, Vietnam has become one of a few countries in the world that have succeeded in commercializing 5G services with its self-made equipment.
In September 2020, the Ministry of Health (MOH) inaugurated Teleheath, a network connecting 1,000 medical examination and treatment facilities, a part of the plan to provide medical examinations from a distance in 2020-2025.
The platform for medical examinations from a distance is of the same quality as in developed countries. Thanks to it, doctors at central hospitals do not have to travel hundreds of kilometers to remote areas to examine patients, while district doctors can treat difficult cases themselves.
In addition to Teleheath, the healthcare sector has also launched a platform to give advice on healthcare through VOV BACSI24. This platform helps people contact specialists via the internet anywhere and at any time.
Schools provide lessons online
The term 'e-learning' has become more common in Vietnam, partially because of Covid-19.
E-learning helps save costs, time and increase students' interest in learning thanks to visual and more vivid lessons. More importantly, e-learning platforms have helped millions of Vietnamese students maintain studies this year.
Nearly 50 percent of universities in Vietnam organized online teaching during the epidemic. In remote areas, teachers uploaded videos of lectures to YouTube, Zalo and Facebook for the students.
The development of online learning models in Vietnam has been praised by prestigious organizations around the globe.
The PISA report of OECD (The Organisation for Economic Co-operation and Development ) showed that in the first period of Covid-19, 79.7 percent of Vietnamese students studied online, higher than the average level of OECD countries of 67.5 percent. 
Trong Dat

"Vietnam's overall economic growth rate is below 10%. The growth target for digital technology enterprise should be set at 15-20% and even more," said Deputy PM Vu Duc Dam at the National Forum for Developing Technology Enterprises.