With the sharpest revenue decrease in history, mobile phone retail chains in Vietnam experienced a memorable year in 2020.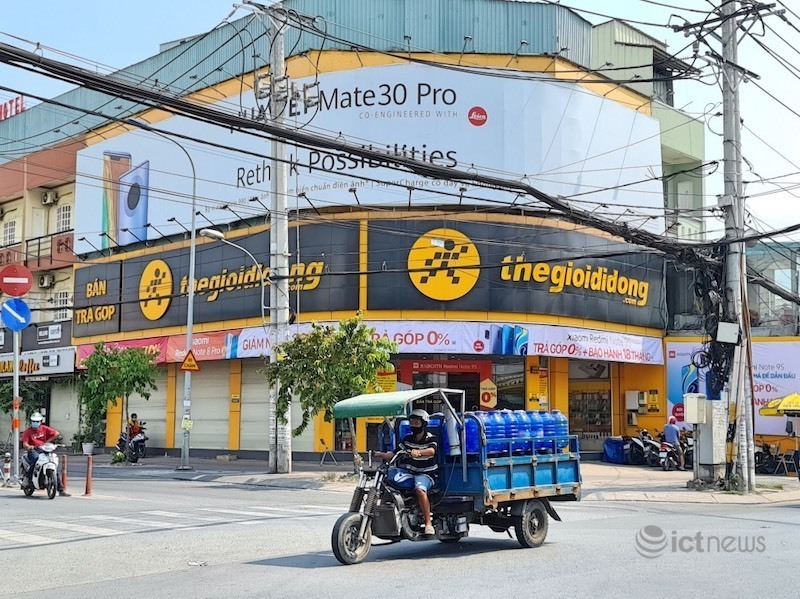 The Gioi Di Dong Group reported a 7 percent revenue increase in the first 11 months of 2020
The Gioi Di Dong Group (Mobile World) reported a 7 percent revenue increase in the first 11 months of 2020 in comparison with the period in the year before. However, if considering mobile phone and home appliance sales alone, the retailer witnessed the sharpest ever decline in growth rate.
The sales of mobile phones decreased by 12 percent, while Dien May Xanh (Green Home Appliance), which distributes home appliances, saw a modest growth rate of 0.3 percent. These are the sharpest declines since its listing in 2014.
FPT Shop was in a similar situation. The revenue of FPT Retail, the holding company of FPT Shop, in the first nine months of 2020 declined by 14 percent compared with the same period of the year before, while the gross profit decreased by 5 percent.
Explaining the minus growth, FPT Retail said the Covid-19 crisis had an adverse impact on the company's business performance. The situation worsened as people tightened their pursestrings and cut spending on electronics and valuable products.
Meanwhile, the retail chain is making heavy investment to develop the Long Chau drug store chain, which led to investment cost increases.
2020 was an unprecedented year in the history of the mobile phone retail sector. In the peak months of the pandemic, March and April, about 30 percent of stores of The Gioi Di Dong, FPT Shop and other chains had to close temporarily during a lockdown.
At that moment, the chains had to limit the number of people entering stores. Buyers were given chairs and asked to sit two meters from each other.
The Gioi Di Dong even showed phone numbers of shop managers, so that buyers could call the managers. After calling managers, officers would bring products out of the shops to show to customers outside.
Since retailers did not have experience, they applied social distancing in different ways. Some shops only received loyal clients, while others applied a 'half-open' policy.

With the sharpest revenue decrease in history, mobile phone retail chains in Vietnam experienced a memorable year in 2020.
At the moment when the share prices plunged because of Covid-19, Nguyen Duc Tai, co-founder and president of The Gioi Di Dong, predicted that the outbreak in the country would be contained by June (2020) and the purchasing power would recover. With a vaccine, it would be controlled, but, if not, businesses would suffer in the future.
Most of Tai's predictions were correct. The pandemic has been controlled well in Vietnam and the market has recovered. Thanks to investments in Bach Hoa Xanh five years ago, The Gioi Di Dong still gained growth in revenue and profit.
2020 a successful year for Apple's officially distributed products
Covid-19, plus new policies, helped the market for iPhone products that are distributed via authorized resellers. But iPhone products imported through unofficial channels was worse than in previous years.
Because of Covid-19 and lockdown, very few products could be carried to Vietnam across border gates by travelers last October, when the iPhone 12 was officially launched on the market.
In addition, phone traders now hesitate to import and sell iPhone products with unclear origin because of Decree 98, which imposes heavy fines on making and trading counterfeit and prohibited products, and on individuals trading smuggled goods.
Apple introduced four iPhone 12 models in 2020. Of these, iPhone 12 and iPhone 12 Pro were marketed on October 23, and iPhone 12 Mini and iPhone 12 Pro Max in early November.
In the years before, private shop owners earned big money because they had next-generation iPhones for sale sooner than iPhone authorized resellers. But in 2020, officially distributed iPhone 12s became available in Vietnam soon, on November 27, or just two weeks after they were launched in other markets.
Meanwhile, unlike previous years, the prices of officially distributed iPhones were not much higher than the prices of unofficially distributed products. All these factors prompted consumers to turn their back to products with unclear origin.
At that moment, some private shop owners told VietNamNet that they had stopped retailing products carried across border gates. Later, some of them shifted to sell products that Apple officially distributes in Vietnam.
Apple recently said it will sell Macbook running M1 chip in Vietnam very soon with competitive prices. Analysts say that the manufacturer took the move to eliminate unofficially distributed products in Vietnam.
Stiff competition
2020 also witnessed stiff competition in the distribution of mobile devices. The last stores of Vien Thong A shut down in January 2020.
Vien Thong A was considered the 'oldest brother' in the mobile phone distribution sector, which once dominated the domestic market, especially in HCM City.
Analysts said mobile phone retailers will have to adapt to the 'new normal' in 2021, or they will be excluded from the market. 
Hai Dang

The mobile phone retail business is believed to be saturated and will continue to face difficulties in growth.

News about the launch of Vsmart Aris 5G smartphone made in Vietnam by VinSmart has appeared in Forbes, The New York Times, Reuters and The Star.