The dishes on Vietnamese people's offering trays for Tet days made of clay have attracted buyers. Many original products have been created to celebrate the nation's traditional Tet.
Dishes made of clay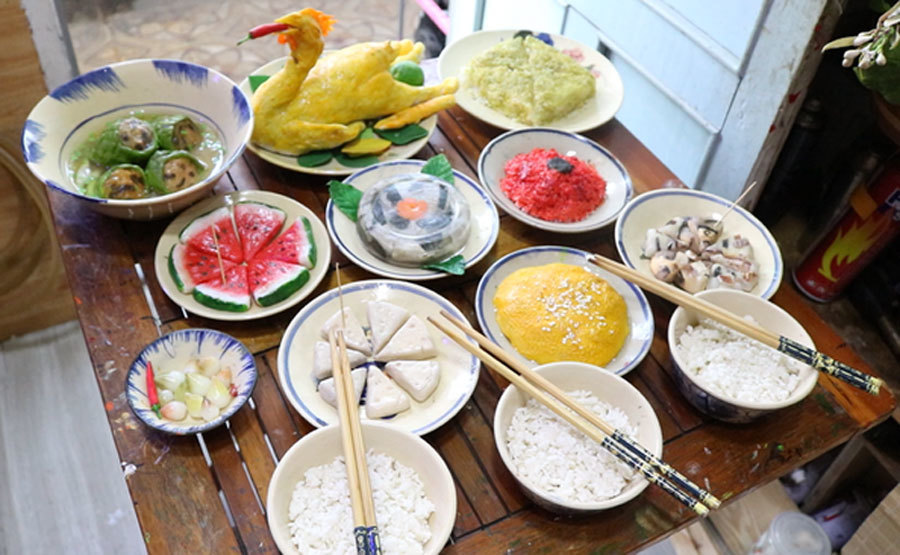 To help young people better understand the significance of offering trays on Tet days, Nguyen Tan Dat, a craftsman in district 3, HCM City, decided to create unique shapes of dishes on Tet offering tray.
Dat makes the products from clay because the material is cheap and is easy to shape. In addition to clay, Dat uses sand, resin plastic, acrylic and rice flour to make the dishes look lively.
It took him one or two days to make every dish, from concept design, and clay preparation to coloring and shaping.
Dat said when shaping the dishes with clay, it is necessary to make them look like real items, and decorate them in a way so that people want to eat dishes when looking at them.
Enormous Mexican yams
Tran Van Liem, 65, is famous in Thanh Ha district, Hai Duong province for his enormous Mexican yam (Pachyrhizus erosus). The special tuber brings huge income to him in Tet sale season.
Liem said in Lao Dong newspaper that 200 bulbs in his garden have been sold from VND300,000 to VND1 million, depending on the weight. Each bulb weights 8-15 kilograms. The ones weighing more than 10 kilograms are sold at VND1 million.
He said the giant Mexican yams attract people not only because of the unique appearance, but also the special taste, which is sweeter than jicamas.
Gold-plated 9-unicorn furniture set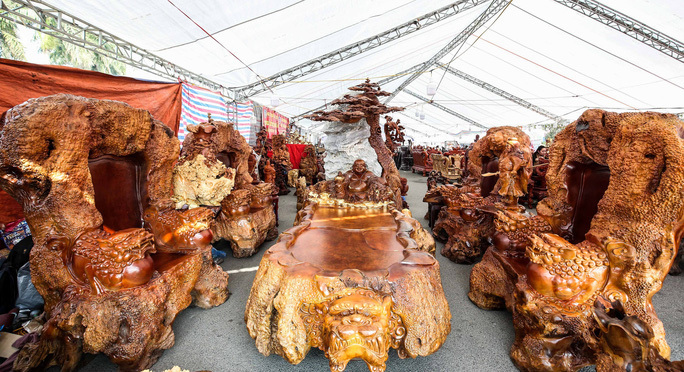 A lot of rare and precious furniture works and original ornamental plants were displayed at the Hanoi Ornamental Creatures Festival 2021. However, a furniture set weighting 4 tons, called 'Cuu lan quan tu' (nine unicorns join together), proved to be the most special.
According to Luong Long Nhat, the owner of the furniture set, a large monolithic log embracing a rock is extremely rare in Vietnam. The set of furniture is made of monolithic log, comprising nine items.
Eight craftsmen had to work one year to create the set of furniture.

The dishes on Vietnamese people's offering trays for Tet days made of clay have attracted buyers. Many original products have been created to celebrate the nation's traditional Tet.
The main table of the set is more than 3 meters long, with a statue of Maitreya Buddha sitting under the pine tree, his back leaning on a stone slab. At the foot of the statue, there are decorative details gilded with Taiwanese sheet gold. Nhat offered to sell the set of furniture at VND3 billion.
300-year-old King's bed
Dan Viet newspaper reported that at the antique display space on Pham Hong Thai street (Ba Dinh district, Hanoi) owned Trinh Thu Huong, there is a very luxurious and ancient King's bed, called 'long sang' by Vietnamese.
According to Huong, the bed is 300 years old and belonged to a king in the ancient citadel of Hue. It is still intact and in good shape.
The entire bed is made of rare and highly durable woods. The main decorative motif of the dragon is dragon - the symbol of the King's power. The bed is covered with 'hidden dragon' motifs, meticulously carved by artisans. And each motif is carefully gilded.
Apricot trees with 'dragon's scales'
This year's An Giang Ornamental Flower Market is full of apricot trees, including special ones priced from hundreds of millions of dong to several billions of dong.
Two apricot trees with 'dragon's scales' are popular with visitors. They have special roots with small nodules which remind people of 'dragon's scales'.
Tam offers the trees at VND700 million.
Bonsai-styled sanh tree with largest canopy
The Vietnam Record Organization has confirmed that the bonsai-styled sanh tree (Ficus benjamina L.) of Nguyen Phuoc Loc in Sa Dec City of Dong Thap province has the largest canopy diameter in Vietnam.
Vietnam Plus reported that the tree is 5 meters tall and has a canopy diameter of 6.2 meters.
Loc bought the tree from a garden in Tien Giang in 2004 and spent many years to style the tree. He said the tree has a life expectancy of 120 years and is worth VND5 billion.
The twin sanh trees with unique shapes of Nguyen The Tien in Thai Binh also catch attention from people. According to VTC News, these two trees won a silver prize at the Ornamental Creature Exhibition in Bac Ninh in 2020. 
Hanh Nguyen

Every December each year, the pomelo orchards in Phuc Dien ward are bustling with fruit harvesters and trucks lining up waiting to be loaded with pomelo.

Located in Tay Ho District of Hanoi, Tu Lien Village has been bustling in recent days with many local people coming to order kumquat trees ahead of the Lunar New Year festival or Tet.