After a serious illness at the age of 6, Mua Ba Tenh was unable to walk normally because of a leg problem. He had to put off school for 10 years.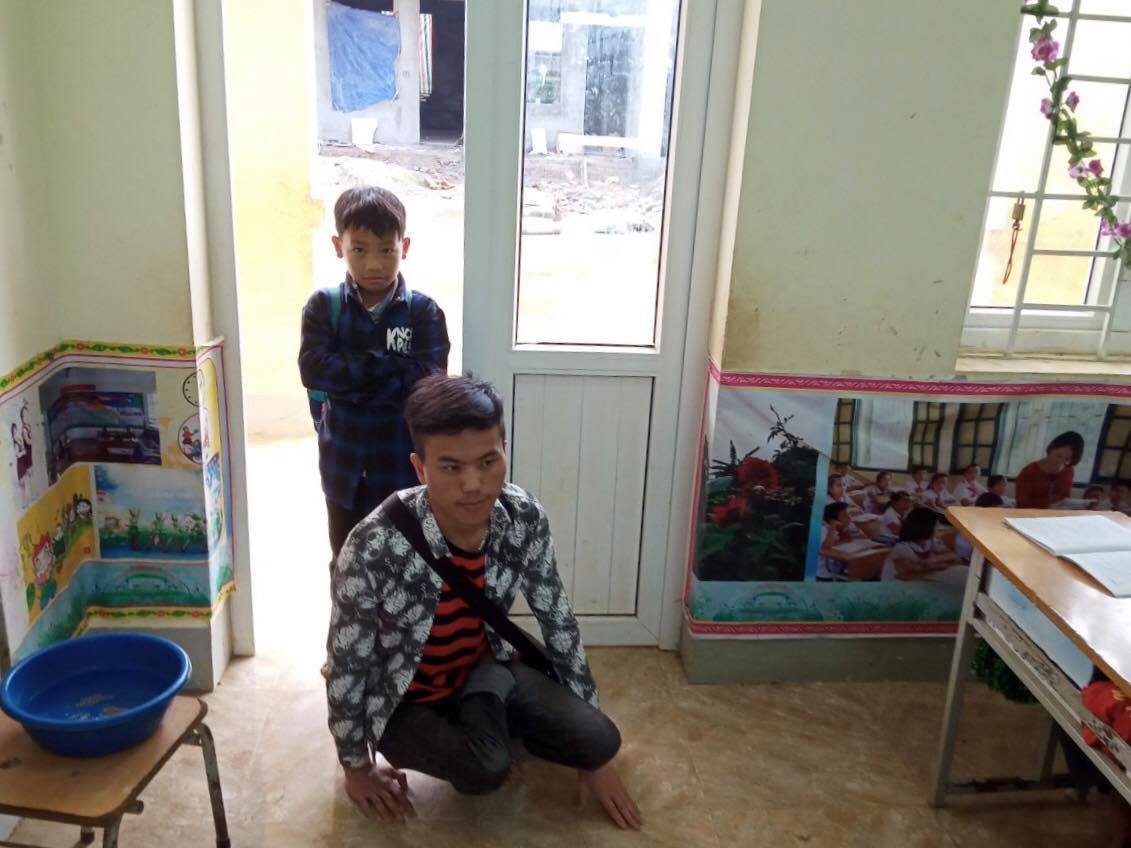 Mua Ba Tenh goes to school with his hands.
With the desire to rejoin school, Tenh has been practicing walking with his hands. Many of his peers who were born in 2000 already have their own families while he is still wearing a backpack on his education journey.
One day in 2006, a setback befell Mr. Mua Va Re's family (Phu Kha 2 village, Na Ngoi, Ky Son). His son Mua Ba Tenh had a fever, and one of his legs was swollen. It got worse, constraining his ability to walk.
"Many people advised me to take him to the hospital for examination and treatment, but due to poverty and the burden of raising all five children I could not afford that, " Mr. Mua Va De, Tinh's father, recalled.
Tenh spent all those 10 years of illness at home helping his parents with their work in the fields. In 2016 when his leg was no longer in pain, he started to practice hand walking. Then one day in that same year, Tinh astonished his family by expressing his longing to rejoin school. He entered first grade at the age of 16.
"According to the Law on Universalisation of Primary Education, Tenh was over-age, but we made an exception for this special case, and consulted with the Ministry of Education and Training in Ky Son district to authorise his enrolment," said Lam Nguyen Ngoc, Principal of Na Ngoi 2 Primary School.
Ardent desire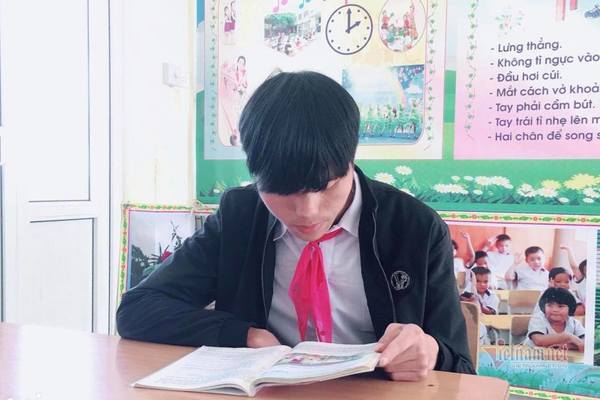 He is now a fifth grader.
Just looking his friends gamboling on their way home from school left Tenh disheartened. However, he finally overcame the barrier of self-doubt.
"I've felt far better than I ever was, and my confidence has also been uplifted as everyone at school is truly amiable and caring, which makes going to school no longer angst filled. Above all, I can now learn to read. My older brothers all finished high school, and another one is a senior at university, so I am motivated."
The greatest challenge has been traveling to school. A few years ago, the Union of Na Ngoi Primary School 2 gifted him a wheelchair to aid in walking. However, because of the bumpy roads as well as the need for someone to push the wheelchair, the fastest way for Tenh is still hand-walking to school.
"My house is only about 5-6 minutes' walk from school, I can go to school by myself without anyone's help. I've slowly grown used to this, so it's not too challenging except for rainy days when my clothes easily get dirty. If my parents are off from work, they give me a ride."
"Despite the 10-year age gap, Tenh has always been considerate and supportive of his peers in learning and other activities. He is a very good boy. Commuting by hands is not very much of an obstacle for him anymore. He goes to school regularly and on time, setting such an amazing example of vanquishing difficulties," said head teacher Ms. Bui Thi Nhan.
Tinh added that his legs no longer hurt and he is practicing walking on two legs for longer and longer periods of time. He will also continue to attend secondary school which is 7 kilometers from home and will not make further plans until he gets a stable job so that he will no longer be a burden to his family.
Huu Chanh

Having parents with severe illnesses who could not pay to send their kids to tutoring did not lessen Thong's eagerness to learn and achieve.

Giving birth to a child with soft body and hands folded down, San never gave up hope. Seventeen years later, the boy has seen success.