Tao experienced his first trekking trip in his life when he was 22 months old on August 29. He was able to "conquer" a primitive cave in Gia Luan commune on Cat Ba Island.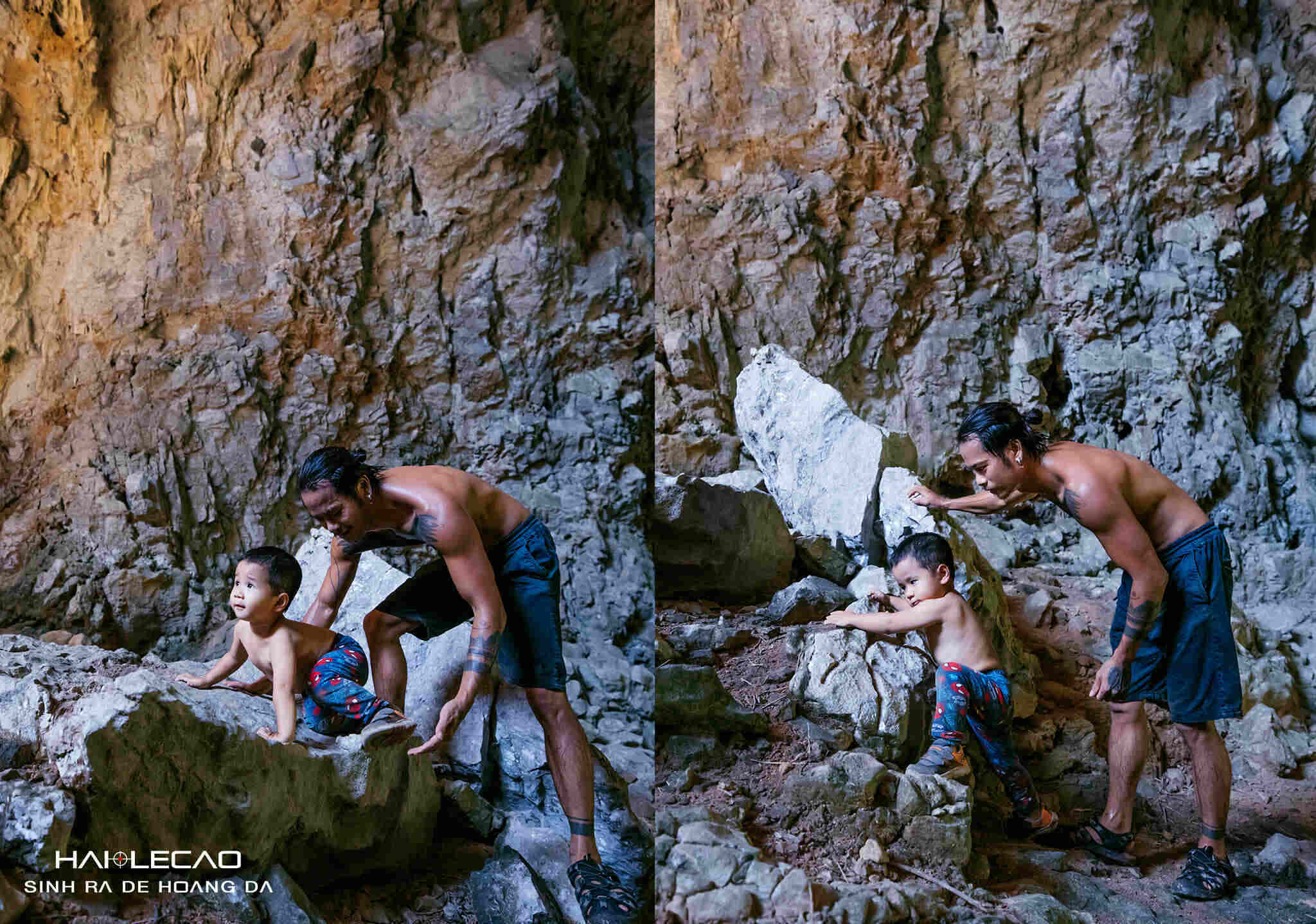 His father, Le Cao Hai, better known as Hai LeCao, 37, a photographer with a great passion for trekking and adventure tourism, recently decided to take a trip to Hang Thung (Thung Cave) on Cat Ba Island. His special companion was Tao.
Hai chose Hang Thung because there are forests and caves that attract small kids. The path to the cave is not too long. Hai wanted his son to use his feet to feel the slippery ground, the sharp hardness of the mountain rocks, the firmness and the decay of the trees.
"Of course, there were dangerous sections on the path and I had to carry him on my back," he recalled.
Hai said he loves wild nature and has been practicing adventure sports for many years. He wanted to share with his son his love for nature.
"The lessons from real nature are clearly more interesting than what he watches on TVs or in books," the young father said.
Hai and his son prepared thoroughly for the trip. The boy practiced walking on road sections of 100 meters and then 200 meters and then one kilometer, together with his father.
When the boy complained he was tired and wanted the father to hold him in his arms, Hai would encourage the boy to continue walking. "If you want to go out, you need to come home yourself," he said. This habit helped Tao become independent.
In the afternoon, Hai and his son did exercises, including push-ups, balancing and climbing a staircase.
"This process requires patience from both father and son. I need to design exercises suitable for him," he explained.
Before going to Hang Thung with his father, Hai took him to the pristine mountains and beaches of Hai Phong to take photos and let him "get exposed to the sun and wind".
Hai said he sometimes was surprised about the patience of the boy during the trip. Tao did not complain or cry when they were on slippery roads.
When practicing, sometimes the boy whined and harassed the father. Then he would say to his son "Boys never cry. If you feel tired, you can shout loudly. Do like this". After that he shouted" hey, aaa". And during the trip, Hai said he heard "hey, aaa" from his son and he felt happy.
When they reached the cave entrance, it was time for them to practice crawling and clinging to the cliff, which were the lessons they learned before the trip. Tao was excited when he reached the finish point.
Hai said he has discovered many places and has many times experienced happiness and joy trekking. However, the trip with the son brought him great feelings.
"I am sure that my son and I will still carry out many such trips in the future," he said.
Hai LeCao is the administrator of a Facebook fanpage 'Sinh ra de hoang da' (born to be wild) which now has 50,000 members. Hai and those with a passion for trekking and adventure tourism share experiences after trips and show their photos of the landscapes where they have visited.
Hai is well known for his impressive collections of photos about nature. 
Linh Trang

Bay Canh Island is the second largest of its kind in Con Dao Archipelago in Ba Ria – Vung Tau Province, where sea turtles come to nest and breed mainly between July and September every year.

Across Vietnam, major entertainment complexes like Sun World Ba Na Hills, Sun World Hon Thom Nature Park, and Sun World Halong Complex have attracted millions of visitors, helping the country be known in the global entertainment map.