Vietnamese farmers need to conduct a 'revolution' by going digital and creating a data store to do business.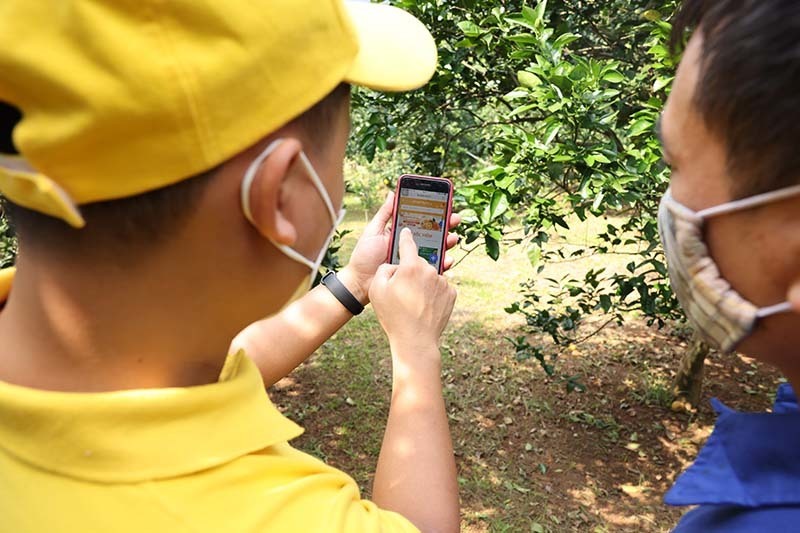 While attending a forum on digital agriculture in Hanoi on December 2, Le Van Quyet, Director of Long Thanh Phat Hi-tech Agriculture Cooperative, sold 30,000 fowl at his farm in Dong Nai province after just a few operations on his smartphone.
He said he could do this thanks to digital technology he uses on his farm.
As one of the youngest farmers pioneering digital transformation, Pham Van Loc, with his sustainable agricultural ecosystem project UCA in Hanoi, said he successfully "swam against the current" in 2020, earning revenue of VND50 billion despite the pandemic. This was attributed to digital application.
Bac Giang and Hai Duong farmers also had a successful litchi crop this year partially because they could market and sell products via e-commerce platforms and apply digital technology.
In remote areas, the "digital transformation" concept is unfamiliar to most locals. However, they have been doing it the last two years by selling products online.
According to CropLife's Asia Director Tan Siang Hee, Vietnam is taking the first steps in digital transformation in the agriculture sector, making fast progress during the pandemic, especially in connections between farmers and consumers.
CropLife Asia conducted a survey of 130 farmers in the first quarter and found that 42 percent of farmers wanted to shift to digital technology agriculture. More than 89 percent of Vietnamese use mobile phones and 68 percent of them are smartphones. This is a great opportunity for farmers to apply advanced technology.
However, Tran Cong Thang, Director of the Institute of Policy and Strategy for Agriculture and Rural Development ( IPSARD), pointed out that it's still difficult to digitize in agriculture. The biggest obstacle for businesses, small and medium scale, and 9.1 million farmers is the lack of capital and information about new technologies.
Data store for 7 million fields
To speed up digital transformation in agriculture, Thang suggested building a national database on agriculture, defining priority digital technologies and the fields for development in the short term, and medium and long term.
Policies are needed to give financial support to small-scale farming households; encourage land agglomeration; promote the collective economy and linkages of value chains; and to pilot a smart rural commune model in 2021-2025.
Regarding the livestock industry, Tong Xuan Chinh, Deputy Head of the Animal Husbandry Department under the Ministry of Agriculture and Rural Development (MARD), said the industry is still too small, with 2 million pig farming households, 8 million fowl and 2 million cow raising households.
He said that digital transformation needs to begin at farms.
Nguyen Van Long, Deputy Head of the Department of Animal Health, said that livestock establishments and aquaculture areas need to go digital. Also, a disease warning information system should discover epidemics and have prompt measures to deal with them.
Nguyen Thi Thanh Thuc from the Vietnam Digital Agriculture Association (VDA) said that farmers will be responding for building the database. They will have to update the dates of cultivation and the spraying of pesticides, and predict the harvest days. Once businesses have that information, they will make plans to collect farm produce. This will also help the traceability of produce.
Deputy Minister of Agriculture Phung Duc Tien noted that Vietnam has 4.1 million hectares of agricultural land, but the land is divided into 7 million fields.
Every year, Vietnam exports $42-43 billion worth of farm, forestry and seafood produce to 180 markets. This means that huge amount of data needs to be digitized. Separate figures under different forms need to be gathered in a data store to serve the agriculture sector's value chain.
"Digital transformation is a thorny path, but it will bring great opportunities to create great changes to the agriculture sector," Tien said.
Hoan said agricultural production doesn't depend just on weather but on data and smart devices.
"It's necessary to collect, analyze and update information for farmers, cooperatives, consumers and management agencies, and integrate it with automation and commercialization," he said.
"The train of digital transformation is advancing very fast. We must not miss the train and stand at the station with regret," Hoan said. 
Tam An

The national digital transformation program says Vietnam will develop hi-technology agriculture with a focus on smart and precise agriculture, while increasing the proportion of digital agriculture in the economy.  

"We have to figure out a new 'farm produce path' that allows us to connect fields and markets," said Minister of Agriculture and Rural Development Le Minh Hoan.