A special symphony orchestra in Vietnam has given disabled artists who only performed on the street the opportunity to stand on big stages like any other professional artist.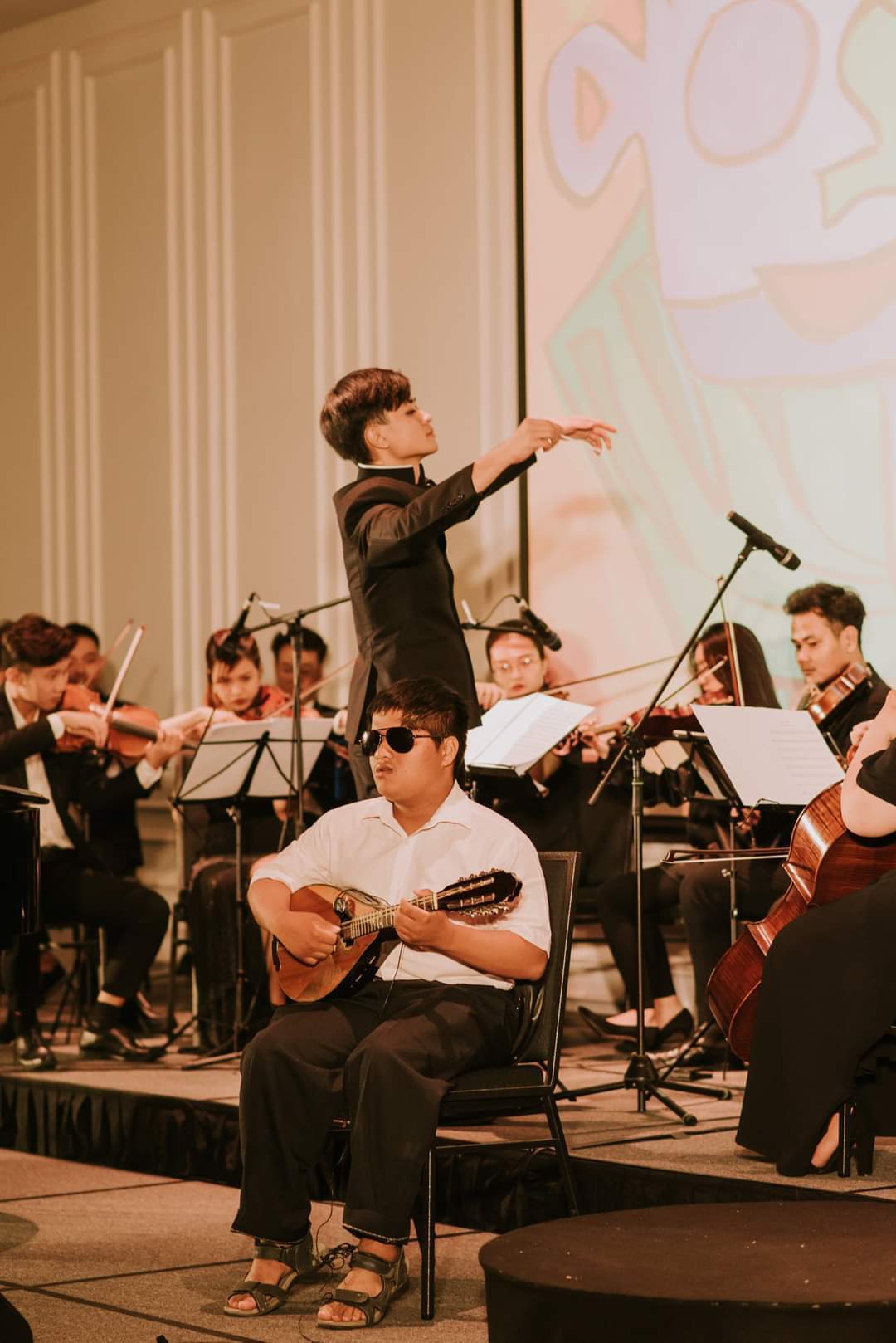 Nguyen Thanh Danh, born in 1990, the co-founder of Imagine Philharmonic, won't forget the first performance of the orchestra, with disabled artists in November 2020, on the stage of a 5-star hotel in HCM City.
In order to have the concert in a hall full with guests, the organizers and artists had to face many difficulties.
"Professional artists had to double and triple their efforts. The pay was several times lower, and the benefits to their fame were not as good as performances with other famous artists," Danh explained.
"However, the artists still felt happy about the performance. And this is exactly the change in perception that I want to spread to professional artists as well as the audience of this music genre – those who are considered the 'elite' in music," he said.
"If we remove prejudices and barriers, and if we create conditions for them (disabled artists), they will also be able to do well like us," he said.
Talking about Imagine Philharmonic, Danh stressed that he doesn't want to use disabled artists' performances to ask for a sponsor. This is a professional performance which provides a high-quality product deserving the money that people spent to buy tickets.
Prior to this, Imagine Philharmonic had only professional artists, trained well at the conservatory. Every month, they organized a show and sold tickets at VND800,000-2 million. Successful shows step by step brought fame to the orchestra and loyal clients.
Things became more complicated when the idea of bringing disabled artists to the orchestra was raised.
"When I introduced disabled artists as major artists of the orchestra, I could not sell tickets, because the artists were not famous, and more importantly, audiences lacked belief in disabled artists," he recalled.
Later, Danh and his co-workers had to run media campaigns to introduce the performance. Tickets sold out. The program was successful and the orchestra won the audience's confidence.
"Before gaining initial success, professional artists might feel dissatisfaction. They not only had to practice more, but also had to learn to lower their ego to work together with other members in the orchestra," Danh recalled.

A special symphony orchestra in Vietnam has given disabled artists who only performed on the street the opportunity to stand on big stages like any other professional artist.
The first difficulty was the difference in language between the artists well trained at school and the self-taught artists. The former can understand each other well with the 'music language', while disabled artists might not understand many concepts.
The second difficulty was that a symphony orchestra requires a high level of teamwork spirit, i.e. members have to look at conductor and look at each other to play music, while visually impaired people cannot do this.
In such a special orchestra, musicians don't follow a conductor, but the entire orchestra has to follow disabled artists. This was a big barrier for Danh to persuade professional artists to play with disabled artists.
When deciding to play with freelance artists, professional artists have to put down their ego.
"Street artists like playing light easy-to-listen music, while professionals like playing academic works. We have to 'make a compromise' and play light music. This is what we have to overcome," Danh said, adding that the difficulties were resolved step by step.
In order to implement the special orchestra, confidence and understanding were needed.
Besides Imagine Philharmonic, Danh is the founder of many non-profit projects. In general, he gives support in the first stage of implementation and then hands it over to others.
As a former deputy director of a center for people with disabilities, and coming from a conservatory (he began studying the violin at 10 years old), Danh can understand and connect the two groups.
Danh said he likes to do something to serve the community and all of his projects target the community. After finishing studying social policies in the US, he returned to Vietnam to work for the Vietnam Green Startup Fund.
Imagine Philharmonic has so far organized three symphony concerts in HCM City and Quy Nhon with the participation of disabled artists.
They planned to have a show with HBSO (HCM City Ballet and Symphony Orchestra) two weeks ago, but the new Covid wave broke out. More than 400 tickets had been sold. This would have been the first time that HBSO had a performance with a private orchestra.
Three disabled artists regularly join Imagine Philharmonic in shows.
"We decided that disabled artists can receive remuneration 3-5 times higher than other artists because they have fewer opportunities than us. However, it's too early to say if they will have a stable income from the orchestra," Danh said.
"We are just organizing shows ourselves, and we still are not booked regularly and don't have sponsors," he explained.
But he strongly believes that once the orchestra is better known, the number of disabled artists who can play with the orchestra will increase, and the artists will be able to work together. 
Nguyen Thao

Scrap fabric of tailors in Van Phuc Silk Village (Ha Dong District, Hanoi) have been turned into colorful folk paintings, thanks to the diligent skillful hands of people with disabilities.

The overall labor force participation rate of people with disabilities (PWDs) in Vietnam remains low compared to the total population, with 31.7% of PWDs joining the labor force compared to 82.4% of people without disabilities between 2016-2019.