The call at midnight from Prime Minister Pham Minh Chinh to HaNam's leader led to a breakthrough in the Covid-19 prevention and control strategy.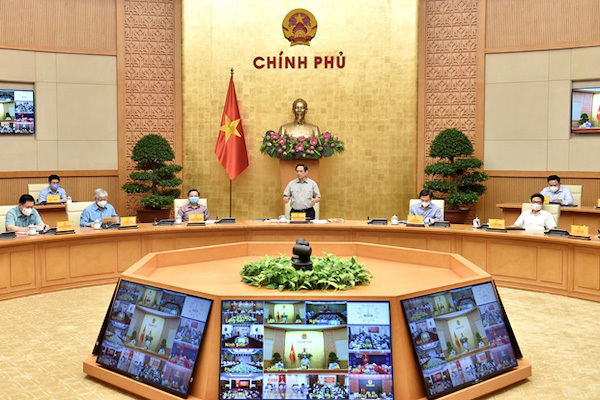 An online meeting of the Steering Committee for Covid-19 Prevention and Control
Ha Nam Chair Truong Quoc Huy related that on the night when Ha Nam province was preparing to isolate Phu Ly City in accordance with Directive 16, he received a call from Chinh who told him to reconsider the decision.
Chinh, who is Head of the National Steering Committee for Covid-19 Prevention and Control, had reasons to worry.
"It was just one hour before social distancing began in Phu Ly City. At 11pm, I called the province's leader," he recalled.
The Prime Minister raised a question: Phu Ly has nearly 200,000 people and 250,000 workers. Will the province have enough resources for a long social distancing campaign and ensure social security for nearly 500,000 people during two weeks?
And the Prime Minister reminded the province's leader that with the large-scale social distancing, the province would face difficulties in goods circulation and essential goods supply.
The Prime Minister's call then made HaNam's leaders rethink.
According to Huy, the province leaders then convened a meeting at night and finally decided that only some places in the city would be isolated. In a ward with 12,000 people, for example, only one alley with 36 families and 100 people was isolated.
"The narrow isolation allowed the province to save resources. We did not have to spend too much in resources on providing essentials and could gather strength on other works, including testing," Huy explained.
Turning point
The story was related during an online meeting of the steering committee on September 25.
This marked a turning point in Vietnam's actions to prevent and fight the pandemic. There was no need to isolate entire districts or provinces when only several cases were found.
Meanwhile, the steering committee and local authorities came to an agreement that Vietnam needs to shift from a 'zero Covid' to 'adapting flexibly and safely to the pandemic' strategy.
The Prime Minister needed step by step to preparew in terms of psychology and awareness, for the entire political system before the agreement was reached.
Two days before, at a meeting, the Prime Minister said since the situation had changed, the measures to fight the pandemic needed changing.
"It'll be difficult to obtain 'zero Covid'. This is an impossible mission even in developed countries with a vaccination rate of over 90 percent. We are building guidance on how to safely and flexibly adapt to the new situation, and effectively control the pandemic."
At a meeting with scientists a couple of weeks ago, Chinh also mentioned the unreasonable isolation.
"Only one residential quarter had positive Covid cases, but the entire communes and wards were isolated. Only one commune had cases, but the entire district was isolated. Meanwhile, no one could say what the isolation aimed at. There was no goal, no roadmap and no measure," he said.
Zero-Covid strategy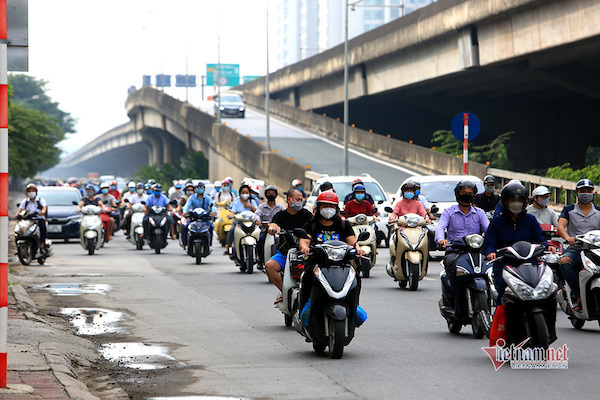 The appearance of Delta variant, which is highly contagious, changed everything, especially the experience which brought success to Vietnam in 2020.
The principle of 'tracing, isolating, localizing and stamping out the pandemic', which strives for 'zero Covid', proved to be no longer reasonable as the number of infections increased too rapidly, especially in HCM City and neighboring provinces.
Under the 'zero-Covid' philosophy, 23 cities and provinces nationwide imposed social distancing in accordance with Directive 16.
The lockdown has caused serious consequences to the national economy. Ministry of Planning and Investment (MPI) estimated that if the pandemic can be controlled in September and the economy returns to the new normal from Q4, Vietnam's GDP growth rate may reach 3.5-4 percent.
If so, this would be the second year that Vietnam will not t be able to implement its GDP growth plan and this would affect the 5-year development plan in 2021-2025.
Don't be extremist
The pressure from the business community and the new way of thinking 'adapting safely to Covid-19' have led to changes in the pandemic control strategy.
Minister of Health Nguyen Thanh Long late last week announced the draft document expected to replace Directives 15, 16 and 19, and Decision 2686.
"This is an important document which adjusts all the strategies and solutions to cope with the pandemic in the time to come," Long said.
With the removal of the 'no Covid' principle, the Ministry of Transport has publicized the draft transport resumption plan which does not require full vaccination for passengers.
According to experts, isolation on smallest possible scale may be applied in some cities and provinces. However, the principle needs to an official policy throughout the country.
First, if imposing social distancing on small scale, localities won't have to spend too much in financial and personnel resources.
Second, local authorities can organize social distancing for 14 days, during weed out positive cases from the community, and implement testing.
Third, narrow isolation allows flexible mobilizing and organizing medical staff to take care of every household. 
Tu Giang

The draft document that guides how to adapt to Covid-19 safely strives for 'zero Covid' goal, not 'living together with the pandemic', the business community says.

The downward trend in new COVID-19 infections and a high ratio of vaccination have been among good signals creating the momentum for Ho Chi Minh City to reopen its economy after September 30 as planned.