Digital technology will be the key for Vietnam to realise the target of growing into a powerful nation with a thriving economy over the next quarter of a century. 
At a recent meeting with key members of the local IT community, Minister of Information and Communications Nguyen Manh Hung, highlighted businesses' decisive role in Vietnam's journey to achieving its ambitious growth goals. 
Minister of Information and Communications Nguyen Manh Hung
Minister of Information and Communications Nguyen Manh Hung this year outlined that digital transformation could bring enormous opportunities for Vietnam, with sweeping changes across the board to every business, organisation, and citizen. Most importantly, it will lead to a unique "once in a thousand-year" shift.
Minister Hung noted that digital transformation is associated with changing mindsets, but is not much related to the material base factor. Albeit a latecomer on the digital transformation bandwagon, the prospects for Vietnam are apparent given the fact that the Vietnamese people are adaptive and studious as well as very creative in implementing new applications.
While reaffirming that missing out on this means failing future generations, Minister Hung believes that Vietnamese IT businesses must be the nucleus of the digital transformation process, as big commercial services enterprises with solid financial stead, plus market and management expertise that have been shifting into industry and technology.
Next will be well-established IT businesses that have been operating in the field for one or two decades but are mainly engaged in assembling and processing. Now they must take on the mission of creating Vietnamese-made products, helping the country to thrive in development and rise to a global level.
Then, tech startups and those active in technology transfer holding the mission of bringing technology to every nook and cranny of life, every business, trading household, and citizen.
Finally, the startups create innovations, giving birth to technology breakthroughs and fresh business models.
According to the minister, these four kinds of businesses all have their own share in the digital transformation journey for a powerful Vietnam. Vietnamese IT businesses must have a common grand aspiration as this will help lessen challenges, attract more talent to their organisations, and also give birth to more talent.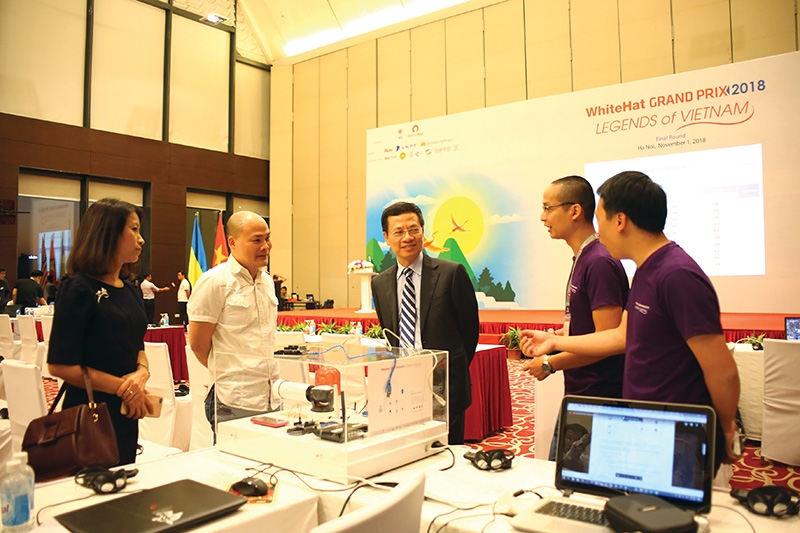 Minister of Information and Communications Nguyen Manh Hung partakes in programmes and events like the WhiteHat Grand Prix series
Foundation of digital operations
To go further afield, businesses must regard the national mission as their own. Vietnam has proclaimed to grow into an industrialised nation with prosperous development by 2045 when the country will celebrate its centenary of gaining independence.
At that time, Vietnam will be keeping abreast with powerful nations around the globe and materialise the life-long dream of our ancestors, according to Minister Hung.
Whenever the question is raised as to who will steer the country in the correct direction, he is quick to provide the answer. "Businesses, both private and state-owned, will do this but they can only do so when they make national goals their own," he said.
The minister voiced concerns if there is a way to facilitate digital the transformation process as it would be extremely time-consuming if digital transmission was carried out by each organisation, business, or family household on a case-by-case basis. As a result, Minister Hung suggested a breakthrough by creating digital platforms at the disposal of all groups, so that everyone can work in the digital environment.
In the press domain, for 15 years now, many media print agencies want to realise digital transformation dreams, but still fail. A late bloomer in IT application, more than half of the revenue of Vietnam's communications industry has fallen into the hands of foreign players. For example, a local IT company, Yeah1, has invested in a digital platform for media agencies that launched last July.
Minister Hung also cited the example of Misa, an IT firm on accounting software. This company has built up a platform in both software and human resources in order to provide accounting services to micro, small- and medium-sized businesses.
This will help them smooth their accounting work, while simultaneously encouraging private trading households to shift into business as they no longer need to hire accountants, which is difficult in rural and remote areas.
Creating a fresh style
Regarding the digital ecosystem for the Vietnamese, Minister Hung said that it is now time to adopt a new approach towards social networking sites, and users of the sites should have a share of the value these sites have created. In other words, users are also the game-changers whose rights are also protected.
He added that networking sites are also a society so that basic ethical values must be respected while national rules observed. These new social requirements have opened space for the development of new sites and new search tools for a modern ecosystem.
IT businesses and Vietnamese startups have been grabbing the chance to develop new ecosystems with fresh philosophy and business models for Vietnam and other countries. Minister Hung cited Facebook as an example.
Facebook is valued at around $600 billion and reported nearly 2.4 billion users each month in the first quarter of 2019.
In his words, this great financial value has been created by all Facebook users. However, it benefits Facebook only.
Zalo is currently the second-most used social media network in the country. With a large focus on privacy, faster local use, and a messenger function on par with the very best, it has become a strong template for other domestic groups to emulate or surpass.
Other apps such as travel-focused Astra, which launched in September, is attempting to lure users through an innovative rewards system for posting travel reviews.
But this is not enough, said Minister Hung, if the country wants to reach government goals. By 2022, the MIC wishes to seize 60-70 per cent of the local advertising market for domestic social networks.
Thus, he said, it is time to form a new social networking site, with more search tools that pay more regard to users and empower people to be the masters. VIR
Huu Tuan

Vietnam strives to have at least 100,000 digital technology firms by 2030. It is expected that the digital economy would make up 30 percent of GDP by that time.
The digital sector is expected to contribute 30% to Vietnam's economy by 2030.