Parents and teachers were surprised at the math questions raised at ASMO (Asian Science and Mathematics Olympiad) 2021 which required second graders to conduct operations with decimals, fractions and fixed numbers.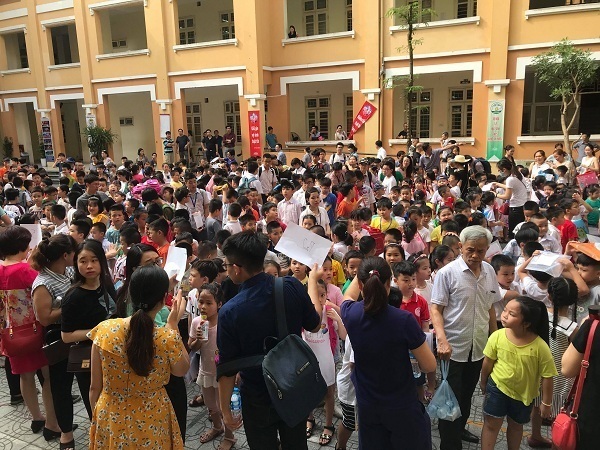 Vietnamese students register for many international competitions
"The question required knowledge beyond what Vietnamese second graders receive at school. I believe that many students will circle answers at random. They also don't understand the nature of the calculation," a PhD in mathematics said.
The mathematician, in an interview with VietNamNet, pointed out that there is a movement of Vietnamese students registering to attend international mathematics competitions. While some parents want their children to attend the competitions 'just for fun', or to 'rub shoulders with other students', many other parents want their children to win prizes at any cost because the prizes are the pride of the families.
"Many Vietnamese are greedy for fame. They believe they will lose face if the children of their friends win prizes at competitions, and their children don't," he explained.
"They want their children to win prizes so that they can show off the achievements on social media," he added.
Meanwhile, registering children for international competitions i part of the plans drawn up by parents. If their children receive prizes at competitions, they will be given privileges at entrance exams to schools for the gifted. The achievements also 'embellish' the students' profile when they apply for scholarships to study abroad later.
Not only parents but schools and education departments also encourage their students to attend such competitions.
"Headmasters of the schools may not have a true understanding about the competitions. They believe the competitions are good as they are international," he said. "The prizes won by their students can help polish the image of the schools and they are cited by school leaders in their year-end reports to the education departments."
Meanwhile, an analyst pointed out that school leaders want as many students to attend the competition as possible because of the commission they can receive from competition organizers.
"Most of the import competitions are backed by private institutions," he said. Organizers come to every school, introduce their plans and promise to give commissions if schools can bring more attendees to the competitions.
"The students encouraged to attend the competitions are mostly from well-off families that can afford the fee of tens or hundreds of millions of dong," he said.
"Schools come forward and send the students abroad to attend the competitions. But in fact students go abroad with their parents' money," he explained.
Organizers of the competitions all say that the competitions help promote students' learning, and they offer many prizes.
Since the questions at the competitions don't match the curricula in Vietnam, parents have to send their children to private tutoring classes. Competition organizers not only can make money from the competition, but also from the expensive classes to prepare students.
A math lecturer at a pedagogical school said in principle he advocates competitions but warns parents about low-quality competitions.
"Attending too many competitions, including low-quality ones, won't help children have a passion for mathematics, and they may even become disoriented," he said.
"Every competition has its own target. When preparing for the competitions, students have to follow specific ways of learning. As a result, students will have to receive knowledge in an unmethodical way, which is dangerous for them," he explained.
The parents who don't send children to such classes may feel anxious when their children cannot solve the questions. And children may feel discouraged if they cannot get prizes.
"I believe that taking part in too many competitions may spoil the mindset of a child rather than better it," the lecturer said, adding that parents should only register their children for the prestigious competitions. 
Thoi Vu

Even students in second and third grades have obtained many medals from international mathematics competitions.

The winner at the 2005 'Road to Olympia' competition, Le Vu Hoang, believes Australia is a favorable environment for him to create products and then offer them to Vietnam.