Bac Giang's Deputy Chair Mai Son affirmed that only workers who can meet requirements on safety will be sent back to their home provinces.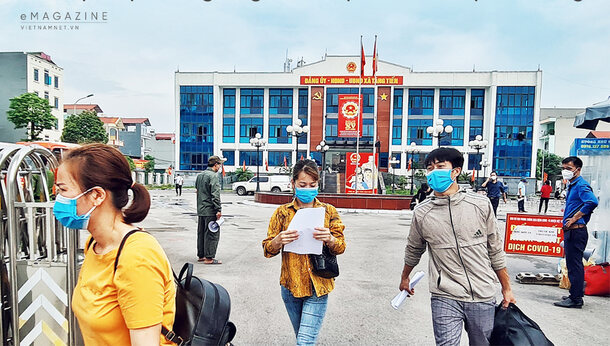 Bac Giang hands over 35,000 workers to their home provinces
When Covid-19 broke out in Bac Giang province, local authorities decided to retain 67,000 migrant workers in the province. Now, as the Covid outbreak has abated, Bac Giang has started to send 35,000 workers back to their home localities.
Son described the provincial authorities' decision to retain 67,000 migrant workers in Bac Giang a result of 'brainstorming'. They made a difficult decision on handing over half of the number of workers to other provinces.
"Both are difficult decisions made in special conditions. We have to think carefully and draw up detailed plans to implement the decisions as well as assess possible impacts," he said.
Bac Giang had to carefully weigh pros and cons before making the first decision. If they had announced production stoppage and declared the outbreak at a dangerous level, tens of thousands of workers would have flocked to other localities, which would have put pressure on provinces and on Bac Giang itself.
The second decision was made as Bac Giang began controlling the Covid wave, found exactly where infection sources were and who were at high risk. So it has reasons to ask other provinces to 'share fire' with it.
According to Son, there are two reasons for Bac Giang to conduct the worker handover. First, the outbreak has forced the province to carry out a 'revolution' to change the operation model of enterprises.
The new business model runs on the principle of 'four togethers' – working together, eating together, living together and sharing vehicles together. It will take Bac Giang a lot of time to reach that goal, and for the time being, a high number of workers will stay redundant.
Meanwhile, the quarantine and social distancing zones in Bac Giang show that if workers are retained too long, negative problems arise. The workers under quarantine must be put under authorities' tight control. If control is loosened, workers will travel freely, which will worsen the situation.
Workers staying in small spaces have to bear psychological pressure. There have been signs of overloading in logistics and environmental sanitation. The province has to take care of nearly 100,000 people, including 60,000 migrant workers.
Waste accumulated after many days has posed a risk of disease, not only Covid-19.
"Bac Giang's first decision on retaining workers was made for the sake of the whole country, while its second decision on handing over workers to other provinces aims to ensure their health and psychological wellbeing," Son said, adding that many workers want to return to their home villages.
Son said that Bac Giang has prepared a plan to deliver workers back to their home provinces. Everything has been considered thoroughly, from the conditions for workers to be delivered to the handover and transport method.
"Migrant workers must fulfill the quarantine as regulated. They will only be delivered after they have had multiple negative testing results. F0s will be delivered after they are cured and complete the tests and supervision time, as stipulated by the Ministry of Health," Son said.

The new business model runs on the principle of 'four togethers' – working together, eating together, living together and sharing vehicles together. It will take Bac Giang a lot of time to reach that goal, and for the time being, a high number of workers will stay redundant.
At first, Bac Giang decided that other provinces would bring vehicles to Bac Giang to fetch their workers named in the list. This method was used in Lang Son, Son La and Vinh Phuc. However, Bac Giang sent a dispatch to other provinces, saying that it would arrange vehicles to carry workers if asked.
After one week of implementation, as of June 15, more than 3,000 workers have been taken to their home cities and provinces. Lang Son has received 932 workers, Son La 440, Tuyen Quang 230, Bac Kan 249, Hanoi 265, Thai Nguyen 500 and Lao Cai 265.
Son estimated that 17 provinces would plan and fix the time to receive 20,000 workers in the next 10 days. The process has been implemented with the close cooperation of the health sector, the Ministry of Labor, War Invalids and Social Affairs (MOLISA), and the police to ensure the highest safety level.
According to the Bac Giang Deputy Chair, the two decisions on retaining and handing over workers radically changed Bac Giang's outbreak fighting situation.
"With the first decision, we could localize Covid-19 in one place, which helped us fight the outbreak. The second decision, made when the outbreak step by step was being controlled, will help ease the overload on us, not only in fighting the outbreak, but also in solving social problems," he said.
Son said that the worker handover is being carried out in a methodical and organized way, so everything is under the control. The aims of Bac Giang when implementing the campaign are meeting workers' aspirations and not putting pressure on other localities.
Son admitted that at first the province's leaders were worried they might acquire a bad reputation if people thought they had tried to pass difficulties to other provinces. However, the worry no longer exists as other provinces are willing to 'share fire' with Bac Giang.
Witnessing convoys of buses carrying workers leaving the province, Son said this is a situational decision that Bac Giang had to make.
"Bac Giang has a total of more than 167,000 workers in industrial zones (IZs), including 67,000 migrant workers. We really want to retain workers who are the ones who create material wealth and create a good investment environment in Bac Giang," Son said, adding that Bac Giang plans to receive workers back when the pandemic is completely contained. 
Doan Bong

Bac Giang province has been gathering strength to fight the Covid-19 outbreak for one month, vowing to stamp out the outbreak by the end of June.

Soon after the first infection cases in the province were discovered, Bac Giang province immediately decided to test all the workers in IZs, trace and isolate high-risk cases, and implement medical quarantine and social distancing in at-risk areas.