Forbes Vietnam magazine has announced the "Top 30 Under 30" list to honour the most influential faces in the country, including artist Thu Hue from the Vietnam National Opera and Ballet Theatre (VNOB) for her impressive contributions in 2019.
The great success of the ballet "Swan Lake" witnessed the significant contribution of the young artist. However, for her, the journey to conquer the peaks has just begun.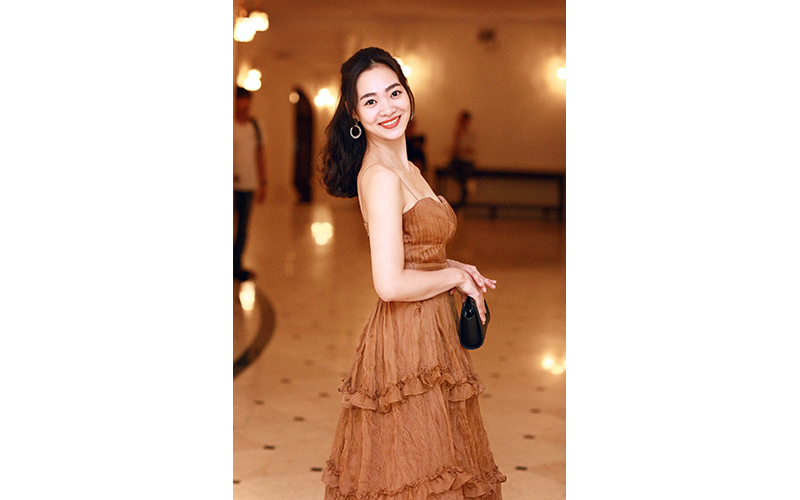 Ballerina Thu Hue
Congratulations to Thu Hue for your presence in the "Top 30 Under 30" list by Forbes Vietnam magazine. Were you surprised with this result?
I am very happy and surprised to be ranked in the same list with other prominent people in different fields. It was an honour and great motivation for me and my colleagues to nurture our passion for ballet. I hope that Vietnamese audiences will increasingly love ballet in particular and dancing in general, contributing to inspiring younger generations.
In the introduction of the honourees, Forbes Vietnam affirmed that "Thu Hue is the first Vietnamese ballerina to play the main roles as white and black swans. The roles require talent, good health and hard work to achieve the desired technique. This is a big challenge in an environment where there are few conditions for performances and training like in Vietnam. Do you think you have touched your dream?
My dream was not to play as a white swan or black swan or both important roles. However, "Swan Lake" was an important milestone in my career and its success has become the foundation and great motivation for me to keep pursuing my dream.
When did you begin dancing? How have you nurtured your dream in difficult times when the classical dance was not famous as other entertainment industries?
I liked dancing when I was very young. When I was 12 years old, I left my hometown in Cam Thuy mountainous district in Thanh Hoa to Hanoi to learn dancing with a love for arts. I do not know why I pursued dancing because my parents were small traders in a remote mountainous region. They were not absolutely related to ballet – a noble artform.
I have been fortunate to have always gained scholarships through my school years and have never dropped out of school, even though I had to work daily to earn my living. For me, ballet helped me discover myself.
Without dancing, I never found my life as interesting. The passion makes me forget the difficulties and hardships that I must face. I just feel that every day goes by, I am very interested in experiencing and discovering new roles. That is also the uncanny attraction of this form of art, which helps me forget all my tiredness and worries.
You are one of the few ballerinas who can perform four acts in a major play. Despite playing many roles, "Swan Lake" was a great milestone in your life. You performed the play with your own creativity. How did you incarnate simultaneously into two characters in a play?
For me, when standing on stage, the soul of the character and I must be one. If I think that I am trying to perform for just audiences, it means that I have not yet entered my heart. If I am forced, it won't feel genuine for the audiences. The black and white swans highlighted an opposition between the personalities of the two characters, or the good and the evil within each person.
In order to express the opposition so that the audiences would not recognise whether it is white, black or Hue, I had to spend evenings, when I was alone, feeling those emotional states with my own soul rather than imitating or acting like anyone. For example, with the role as a black swan, the evil inside of people must be revealed.
However, it is difficult because everyone wants to show the gentle beauty and honesty. Moreover, artists must always change and refresh the style of performance, which means not allowing ourselves to stop creativity. That is a process of learning and practicing hard.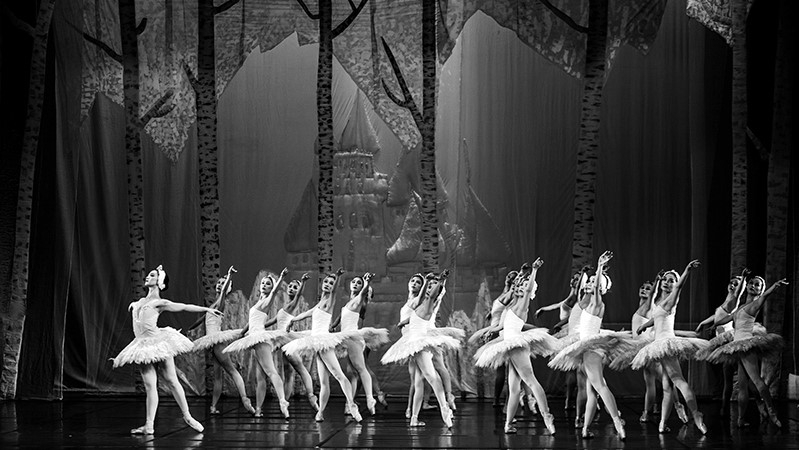 A performance of the play "Swan Lake"
Are you under pressure to accept other roles following the peak success of "Swan Lake"?
Oh no, I feel the opposite. The success of the "Swan Lake" performance has pushed me to go ahead and challenge myself in other roles because I feel a "store of emotions" inside me. Through the roles, I can show and live with those emotions that I cannot easily share in my daily life. The different personalities of characters in ballets can help me satisfy my exploration.
A ballerina must train and sacrifice a lot to gain great achievements. What do you think about this?
When I decided to work for the VNOB, I hoped that I would have an opportunity to stand on stage and perform ballet until my health no longer allowed. I think that not only in ballet but also in any field, we have to train hard to work seriously.
I admire artists who have sacrificed their personal happiness to devote themselves to the arts. However, in no case are artists forced to choose either career or personal happiness. I always try to balance both and feel very lucky to make the balance. Right now, I am feeling happy with my choice.
Have you ever dreamed of bringing Vietnamese ballet abroad or winning the world's prestigious awards in this art form?
As a ballerina, I wish I will have more chance to contribute to the country's ballet arts, bringing this art form closer to Vietnamese audiences. Certainly, I also always hope that Vietnamese ballet will be developed increasingly and promoted to international friends. 
Nguyen Thu Hue was born in Cam Thuy District, Thanh Hoa Province. She graduated from Vietnam Dance College and joined the Vietnam National Opera and Ballet (VNOB) in 2012. Earlier on the same year, Thu Hue won the gold prize at the competition for "talented students from the cultural and arts schools nationwide". She took the roles as soloist for many ballet plays including Chopiana and Giselle. In 2019, Thu Hue marked a great milestone in her career with the roles of white and black swans in the famous play "Swan Lake" which was reproduced by the VNOB following 35 years of its absence in Vietnamese stages. The play set a new record with seven nights of performance at the Hanoi Opera House and an outdoor show. In the coming time, Thu Hue will join her colleagues from the VNOB on a tour to bring the play to many major cities around the country.
Hanh Nguyen (Nhan Dan)

To many Vietnamese ballet fans, Meritorious Artist Dam Han Giang is popularly known as Vietnam's "Ballet Prince".

Forbes Vietnam has announced the "30 Under 30" list in 2020 which featured the most influential faces in the field of business and start-ups, social enterprises, arts and creative industries, entertainment, education and science.