Commercial banks have been performing well thanks to improved provisioning and more sustainable sources of income.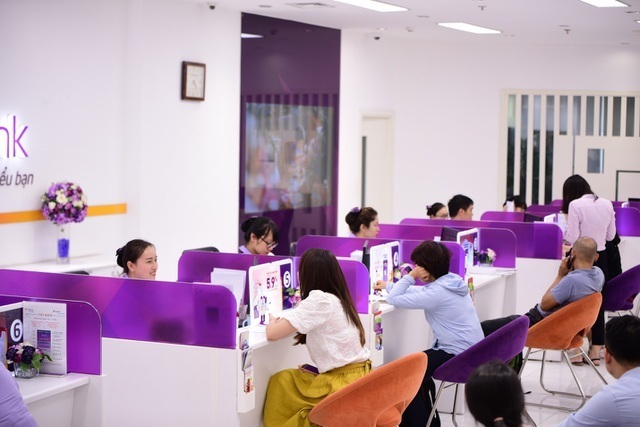 Joint stock banks all reported satisfactory business results for the first six months of the year. Some banks have nearly reached business targets set for 2021.
TP Bank, for example, gained pre-tax profit of VND3.007 trillion, Techcombank VND11.5 trillion, Maritime Bank VND2.8 trillion and Lien Viet Post Bank VND2 trillion.
However, analysts warn that conditions in the second half of the year will no longer be favorable because the pandemic has hit businesses hard. Banks will have to share difficulties with businesses to support their clients.
Saigon Securities Incorporated (SSI) predicted that banks' growth rates in the second half of the year would be lower because there are not many favorable conditions.
However, in the last two years, banks tightened credit policies to adapt to new circumstances. Thanks to this, credit risks have decreased and new bad debts have been better controlled.
A senior executive of TP Bank said the banks' risk management capability has improved considerably thanks to the application of Basel II.
The early application of all three pillars of Basel II helped banks choose better clients and allocate credit flow more effectively.
Though the national economy is facing difficulties and the bank had to restructure debts and offer preferential loans to many clients, credit keeps growing rapidly, and its bad debt ratio is at a very low level.
TP Bank was recently allowed to lift the credit limit from 11.5 percent to 17.4 percent in 2021, among the highest level in the banking system.
The State Bank of Vietnam (SBV) has approved credit room extensions for some banks. It encourages commercial banks to reduce lending rates to support businesses hit by the pandemic.
Banks not only seek profit in lending, but they also have diversified sources of revenue. The General Department of Taxation (GDT), which analysed the banks' profit structure in the first six months of the year, found that banks' profits also came from services, including digital banking, payments, treasury, entrustment and consulting services.
Analysts noted that non-interest income in many banks was double-digit. At TPBank, non-interest income increased by 117 percent compared with the same period last year, accounting for 33.2 percent of total income, higher than the 29 percent of the same period last year.
As for Techcombank, the earnings from services increased by 31.5 percent to VND2.8 trillion.
Analysts say that banking is one of the sectors with the best resilience to the Covid-19 pandemic. SSI estimated that the H2 profit growth rate would be 13 percent.
Techcombank is predicted to have yearly profit of VND22.3 trillion, higher than the target of VND19.8 trillion.
Meanwhile, Bao Viet Securities last week raised its expected profit for TP Bank by 3.2 percent to VND6 trillion in 2021, from the VND5.8 trillion target set by the bank. In 2022 the predicted pre-tax profit will be VND7.5 trillion, instead of VND6.9 trillion.
Meanwhile, CSI Securities predicted that TP Bank would pocket VND6.136 trillion worth of profit this year, up by 39.8 percent.
Pandemic tests digital capability
Nguyen Quoc Hung, the Vietnam Banking Association (VNBA) Secretary General, said one of the important factors behind the banks' profit increases is the development of digital banking, which helps banks expand market share and reduce input costs.
State Bank of Vietnam reported that by the end of April 2021, transactions via internet, mobile phones and QR Code increased by 65 percent in quantity and 31 percent of value compared with the same period last year.
This shows that high tech applications, the popularity of smartphones, plus Covid-19 as a catalyst, all have changed clients' consumption behaviors.
The online trend is gradually changing the way consumers travel and buy goods and services. The behavior of clients using banking services has also changed.
In recent years, TP Bank has applied 4.0 technologies including automation technology with hundreds of robots, AI (artificial intelligence) and Deep Learning, and Big Data.
In the first half of the year, the number of clients registering to use online banking services increased by 87 percent over H1 2020.
With the launching of eKYC (Electronic Know Your Customer), the number of of clients opening accounts via eKYC soared by 790 percent.
Many commercial banks have recently sped up digital transformation, which has increased the number of new accounts and demand deposits.
Currently, online transactions account for 92 percent of total transactions of TP Bank. Meanwhile, revenue and profit growth rates were 17.46 percent and 47.8 percent, respectively. The increase in operation costs of the bank was curbed at 6 percent.
Techcombank said the bank is planning to put apps and infrastructure into the cloud. It is expected that a data lake will be supplemented with new functions to better serve clients' demand.
According to Hung, banks leading in digital transformation will see good profits in the second half of the year, despite the pandemic. 
Tran Thuy

In a recent report, Agribank Securities Corporation (Agriseco) said that Viet Nam's stock market is in the greatest period in its history. 

In a short time, many managers of real estate groups become leaders of banks.