The owners of many beer houses in HCM City are preparing for reopening but will serve soft drinks only as requested by state agencies.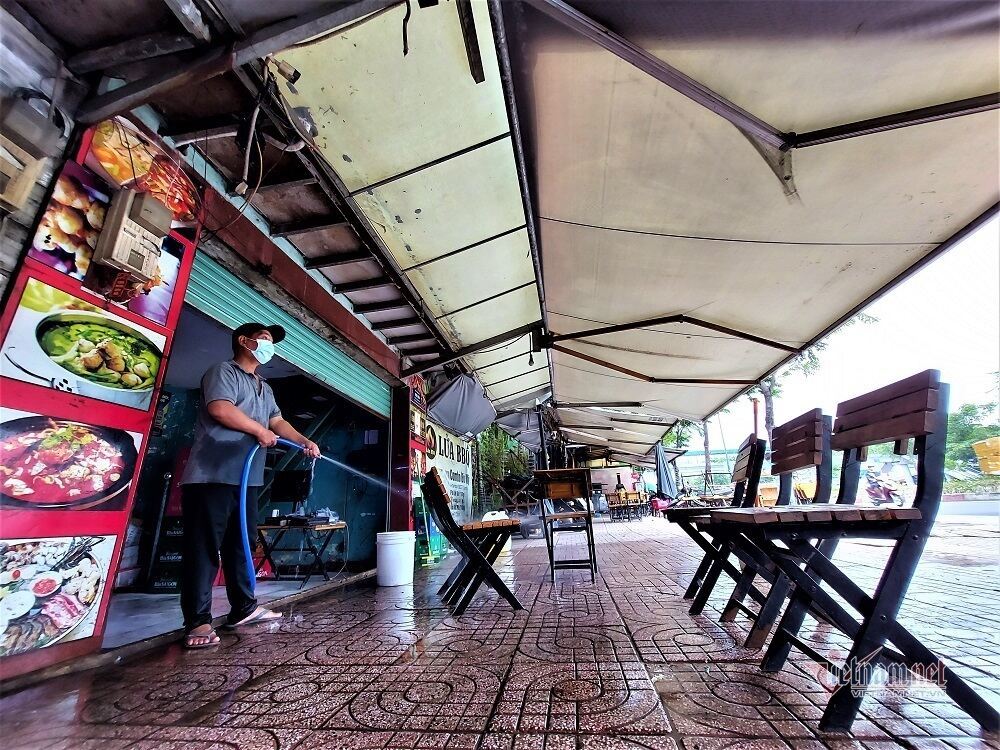 Workers begin cleaning up the restaurant to get ready for the reopening
"We cannot close the doors any longer," said Quang, the owner of Quang Map, a well known site in district 1, said while preparing broth for Bun bo Hue (Hue-style beef noodle soup) he sells for lunch.
Quang said his family has been trying every possible way to earn money and maintain jobs for workers. He sells chao long (pig's tripe soup) in the morning, bun bo Hue at lunch and drinks in the evening. All the food is sold by take-away, which brings a modest income.
Quang had heard that municipal authorities might allow eateries, restaurants and beer houses to reopen after a long lockdown. But he was unhappy about the news, because beer and alcoholic drinks won't be prohibited.
He said he doesn't intend to reopen. "We must serve alcoholic drinks," he said.
"People come to enjoy cheap draught beer and fresh air when sitting on pavements. If they just want food, not beer and wine, they need to go to eateries," he said.
However, other beer house owners are not as pessimistic as Quang. They said providing soft drinks will be okay, though this means that revenue will decrease.
"I'd rather reopen and follow strict regulations of the city, than continue closing the door," a beer house owner told VietNamNet.
Dat from 6A – Ma Hong La Restaurant in district 1 said he has never fallen into such difficulties over the last 10 years. He is committed to strictly observe regulations set by management agencies to be able to resume operation.
"My only wish is that the operation can be stable and authorities won't reopen shops today and tell us to close the door tomorrow."
His workers on October 25 began cleaning up the restaurant to get ready for the reopening.
"All the workers at our restaurant have been fully vaccinated. Clients will be required to show 'green passports'. The tables will be placed in a way to ensure necessary distance and we will run the restaurant at the permitted capacity," he said.
"We will only sell soft drinks, not beer and wine," he added.
Kim Doan, the owner of Lua BBQ, a restaurant in Binh Thanh district, said she would reopen the restaurant though she will only serve soft drinks.
Doan said she had to borrow money to feed 10 workers during the lockdown and she has to resume operation to get money for debt repayment. To prepare for the reopening, she will have to borrow more money to buy more kitchenware and other items.
Safe adaptation
The Food Safety Management Board has submitted to the HCM City People's Committee a set of six draft criteria for assessing the safety levels of eatery houses in the city.
Criterion No 6 says indoor dining eateries must not use air conditioners in closed spaces and must not sell wine and beer. Also, they will also have to observe regulations on the maximum numbers of buyers and sellers at the same time, which will be set depending on the pandemic risk level in the area.

Eateries will be allowed to open until 9 pm every day with the maximum capacity of 50 percent. There must be no more than 2 clients per table and the minimum distance between tables is 2 meters.
Asked about the tentative regulation on wine and beer ban, head of the management board Pham Khanh Phong Lan said customers talk more when drinking alcoholic beverages communications, which leads to a higher risk of virus spread.
Prior to that, on October 19, the HCM City Industry and Trade Department sent a dispatch to the People's Committee, proposing to allow eateries in the city to resume normal operation (both take-away and on-site), except for the establishments which sell beer and wine.
To be eligible for reopening, eateries have to satisfy the requirements on pandemic prevention and control set by the Ministry of Health and the set of criteria for pandemic risk
assessment.
Eateries will be allowed to open until 9 pm every day with the maximum capacity of 50 percent. There must be no more than 2 clients per table and the minimum distance between tables is 2 meters.
The HCM City Industry and Trade Department, citing a report as saying that 98 percent of HCM City residents have had their first vaccination shots and 75 percent have been fully vaccinated, believes that the conditions have become good enough for normal operation of eateries.
At present, eateries in HCM City can only provide take-away food. Some shops cooperate with online platforms providing take-away service, but the business performance is low.
Hoang Sa, Truong Sa, Pham Van Dong, Bui Vien and Phan Xich Long streets, which have well-known restaurants, remain deserted after the long lockdown. Many retail premises have been given back to landlords.
Six criteria for eateries in HCM City to meet for reopening
1. Having certificates on meeting requirements on food safety ands registered QR Code at http://antoan-covid.tphcm.gov.vn/.
2. Ensuring food safety conditions at the facilities (equipment, workers, preservation, input material sources and shipping)
3. Taking responsibility for anti-pandemic measures set by the Ministry of Health (MOH); setting up product delivery areas; providing washing liquid, soap or disinfectant; having the tools to dry hands or using disposable napkins.
4. Workers and people coming to eateries (shippers, clients) have to follow 5k principle, scan QR Code when arriving and follow regulations on medical declaration, vaccination and testing.
5. Observing requirements on maximum numbers of buyers/sellers at the same time.
6. No air conditioners in closed spaces, and beer and wine are prohibited.
Tran Chung 

The long lockdown in HCM City has caused karaoke parlours to hover between life and death. While struggling to survive, they have thought of a new service – renting karaoke equipment out to clients.
The tourism industry has become paralyzed and many eateries have shut down because of Covid-19. This has adversely affected the consumption of drinks, especially alcoholic drinks.