While legal football betting businesses remain "immovable", illegal betting sites have been bustling. Billions of dollars go abroad every year to football bets.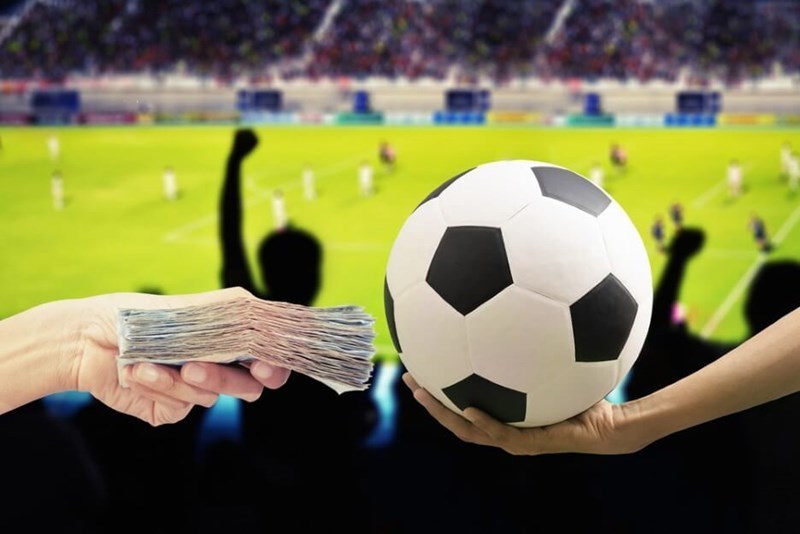 The State Bank of Vietnam has just released Document 4347 instructing credit institutions and other units in the system to strengthen measures to prevent violations and crimes related to gambling and illegal football betting.
The agency requires payment service providers to warn people against performing prohibited acts, such as renting, leasing, borrowing or lending payment accounts; buying, selling, renting, or leasing cards or card information, opening cards for others; and renting, leasing, borrowing, or lending e-wallets, or buying and selling e-wallet information.
The institutions also need to warn people against using or creating favorable conditions for subjects to use payment accounts, bank cards and e-wallets to carry out remittance transactions related to gambling, football betting and other illegal purposes.
Betting online is easy
The document was released in the context of the ongoing Euro 2020 and Copa America 2021, when online footballing betting becomes busier.
Betting online from Vietnam is easy. One can use bank cards or e-wallets to remit bets and get winnings. Most bank and payment intermediaries in Vietnam now support international payments and online payments, so gamblers feel comfortable in registering football betting accounts.
It's also easy to register football betting accounts. One just needs to access betting websites and follow the steps to create accounts and see the lists of bookies with attractive promotions and awards.
Most bookies are foreign companies, but the websites for Vietnamese are in Vietnamese language, and payments can be made in Vietnam dong. Gamblers can bet from tens of thousands of dong to hundreds of millions of dong
"Online football betting has become extremely simple. Players can see the odds and make football betting online on their phones. Never before have we been able to access and play online football betting with bookies so easily like today," says the introduction to a betting website.
In mid-June 2021, when Euro 2020 and Copa America 2021 were taking place, the police announced they had raided two illegal football betting nests, one case in HCMC and the other in Hanoi. The amount of money put up for transactions was up to VND1.5 trillion for each ring.

While legal football betting businesses remain "immovable", illegal betting sites have been bustling. Billions of dollars go abroad every year to football bets.
The arrested subjects admitted they had organizing gambling via websites with servers located overseas.
These are just two of many illegal football betting rings in Vietnam discovered by the police so far. They include a high number of illegal betting cases with transaction value of up to tens of trillions of dong.
Real demand, large market
According to the UK-based Ladbrokers, Vietnam's illegal football betting market is estimated to have a value of $10 billion, or 3-5 percent of GDP, and most of the money flows abroad every year.
Vietnam has regulations on horse races, dog races and international football betting businesses, which took effect in 2017 (Decree 06). This is a legal framework for legal betting. However, investors are not attracted. The problem lies in provisions of the decree which are not feasible in reality.
The decree, released in 2017, stipulates that only international football matches and tournaments announced and approved by FIFA are subjects for the betting business in Vietnam.
This means that national championship football tournaments are not subject to betting, including European championships such as English Premier League, German championship (Bundesliga), Spanish championship (La Liga) and Italian championship (Serie A), tournaments that take place all year round and attract the highest attention from the public.
In fact, the problem was realized soon after Decree 06 was promulgated. The tournaments organized by FIFA don't take place regularly, just once every 2-4 years, while the time for each tournament is only 10-30 days.
The low frequency of organizing betting, plus the high required investment capital (the minimum charter capital is VND1 trillion) make betting organizations an unattractive business for investors. They find it difficult to recover capital within five years, the time period the pilot betting business is valid as stipulated in the decree.
This explains why no investor has injected money into the business field four years after the decree promulgation.
The Ministry of Finance (MOF) in June 2020 began collecting opinions about the amendment of the decree with a hope to 'untie' the betting business in Vietnam.
The draft of the new decree to replace Decree 06 being compiled by MOF allows betting on tournaments organized in Europe every year.
However, MOF insists in the regulation that bettors can only bet via phones, and cannot use internet.
The tentative provision is facing opposition from experts, who pointed out that this is an unreasonable requirement in the context of rapid development of the internet, and warned that the regulation would restrict the number of bettors.
One year has elapsed since the day that MOF planned the amendment, but the new decree has not come out yet. As the legal framework for legal betting has still not been issued, illegal betting nests have been mushrooming. 
Tran Thuy

Football betting has existed in social life in Vietnam for decades. Gamblers bet on football matches at both domestic and international tournaments.

Having fewer than 10,000 members, the Vietnamese community of game makers on Facebook is staying busy, selling and buying mobile apps of all kinds.