For Nguyen Tu Anh, books are everything. In his hundred-square-metre rented house in HCM City, books can be found literally everywhere. 
They line metal shelves from floor to ceiling, with stacks piled up on the floor waiting to be classified.
Bibliophile brings books to children
Helping many children turn the page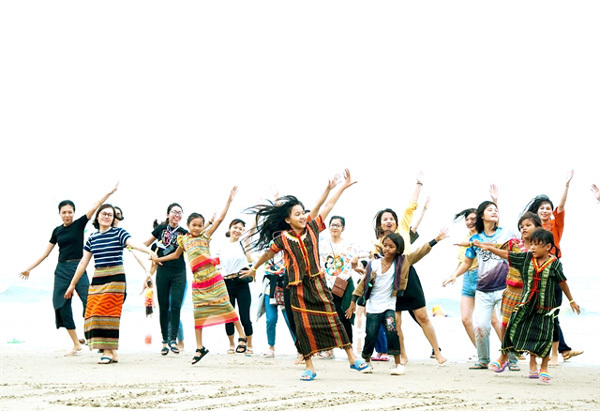 FUN TIMES: A group of Stieng ethnic minority children take part in outdoor activities with the volunteer group during their trip to Vung Tau Beach last July. Photos courtesy of Nguyen Tu Anh

Stashed between the shelves are boxes of neatly packed children's books. These boxes will be sent to schools in remote mountainous villages for ethnic children next month.
Anh, 35, is a co-founder of the Chủ Nhật Yêu Thương (Beloved Sunday) volunteer group in HCM City. He, together with his fellow volunteers, spends every Sunday purchasing children's books, then classifying, packing and sending them to remote areas.
With the hope of cultivating and maintaining a reading habit among ethnic children, Anh and his team have been dedicated to their work for more than 13 years.
"My goal is to bring as many books as possible to children in remote and impoverished areas across the country. This year's target is one million books," he said.
"Already this year, more than 25,000 books have been donated to create community libraries for children in disadvantaged areas.
"We need more books – a lot of books. We believe children should have access to good books."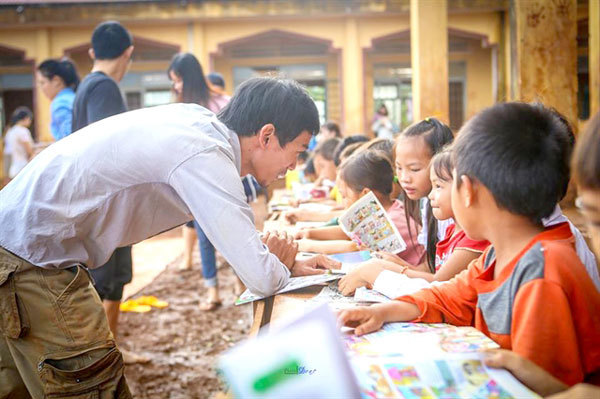 MORE THAN WORDS: Nguyen Tu Anh talks to children during a visit to donate books in the northeastern mountainous area last November.

'I choose books'
Anh was born into a poor family in the northern mountainous province of Yen Bai. He and his two siblings spent their childhoods in poverty.
The family often didn't have enough food, but the children were always encouraged to study.
"My parents always told me they would do everything they could, including selling what little they had, to ensure I could continue my studies. They nourished a learning spirit in me, and helped me realise that people would be forever stuck in poverty without a good education," he said.
The most effective and cheapest way of doing this was books.
When he was a kid, Anh had limited access to books as his school did not have a library. When he was at college in HCM City, he used to stay behind during big holidays to work and earn money to buy books.
"Books have changed my life. They made me dream of going beyond my village and finding a better life, and helped me fully understand what I truly desired and how to be a better person," he said.
"That's why I decided to help children who are growing up in similar conditions. I believe books can do the same thing for them," he added.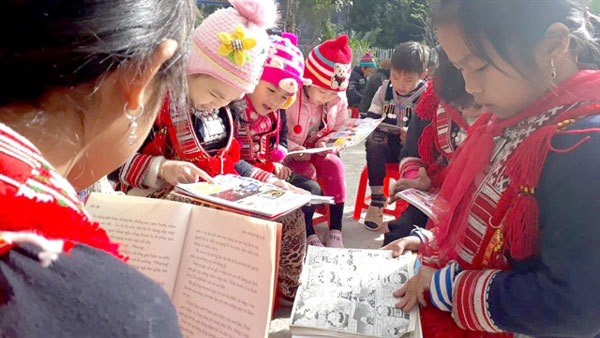 READING IS LEARNING: Ethnic minority children read books donated by the Chủ Nhật Yêu Thương (Beloved Sunday) volunteer group.

Anh recalled the first time he went to visit ethnic people in Yen Bai in the spring of 2007. Seeing children wandering around aimlessly in front of their worn-out wooden houses and playing games with them, Anh realised they needed more than warm clothes and sweets.
"Most people feel sorry for them running around in threadbare clothes and bare feet in the cold weather, so they donate rice, noodles and clothes. This is not a bad thing, but it's not the solution because they will become dependent on handouts," he explained.
Several months later, Anh started bringing the first books to children in the province.
He, together with some friends, contacted teachers in remote villages to establish reading rooms for children. He also set up libraries in village communal houses.
The more he visited remote villages, the more he realised children face a serious shortage of books.
That's when the Beloved Sunday volunteer group was established. Every Sunday, Anh and his volunteers go to second-hand book stores in HCM City to buy books for children.
Cultivating hope
Over 13 years, the group has set up 504 libraries with thousands of books for ethnic children across the country. Last year, 500,000 books were sent to remote villages to promote reading among children.
Funding for the project comes from various sources, including publishing houses and book companies.
Anh said it was worth the effort when he saw children developing an interest in books.
"Teachers send me pictures of students reading books, and ask me to bring more books for them. This is a good sign," he said.
Anh chooses books with lively cartoons for beginners and quality books for young readers. The children who finish their books are given crayons, reading lamps or globes as a reward.
In addition, Anh tried to cultivate hope. He, with support from the group, holds BBQs with fresh shrimp, squid and fish for children in mountainous areas, and tells them stories of the ocean.
He also organised a summer camp for 21 children from the S'tieng ethnic group in Bù Gia Mập District in Binh Phuoc Province. The children were taken to historical sites in HCM City to offer them a glimpse of what they had been reading about.
Pham Thi Ut Mai, a volunteer in the group, said she found life more meaningful now thanks to her efforts to support children in remote areas.
"Unlike children in big cities, they face shortages of everything – food, clothes, school equipment – but they thirst for new things from books. Be it a beautiful book or a plastic globe, now they have something to study at home, which is a first in many cases," she said.
Anh has a dream. His dream is to see a country where every child wants to read, is able to read and has access to good books.
"It may take me another 20 years to help children in remote areas have access to books. When we achieve that, I will be ready to retire," he said. VNS
By Khanh Linh

Since August last year, an old house in Hanoi's Hai Ba Trung District has been a familiar destination for students, children and even retirees living near and far.

Sam Van Binh was proud to be one of the attendees at an event held in Hanoi recently to honour role models from across the country who study and follow the ideology, morality and lifestyle of President Ho Chi Minh.