"I could not believe my eyes," said Tran Thanh Son, head of the human resources department of Song Ngoc Garment Company when talking about the current busy production lines at his company.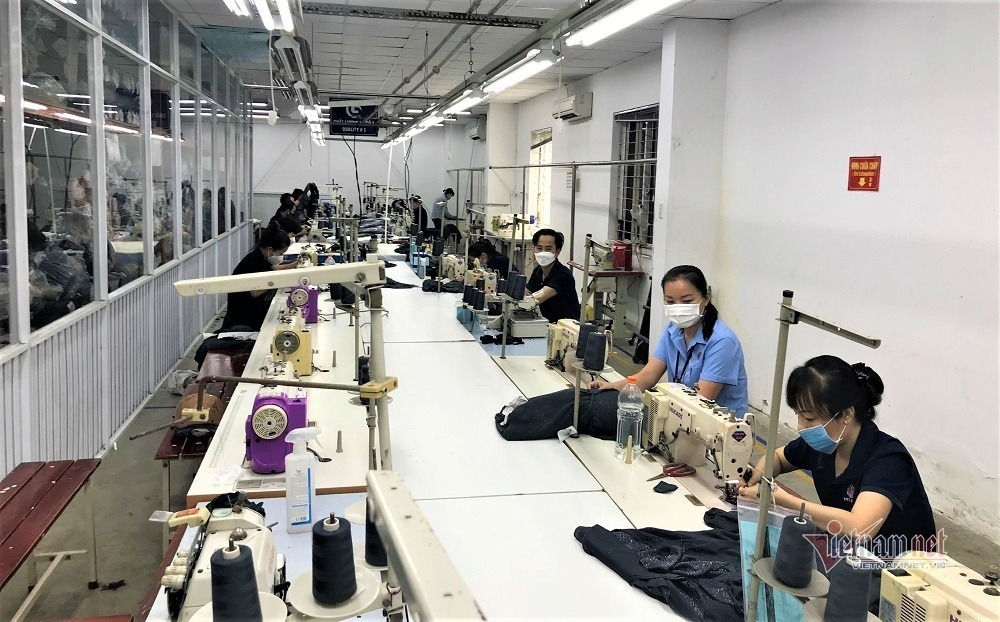 Son was busy with his smartphone on November 1. He was in charge of taking pictures of the 20 new members of the company who were recruited for the fifth production line which officially became operational on the first day of November.
Song Ngoc had previously operated under the 'three on-site' production mode until September 24 and resumed normal operation on October 5. To fulfill the high number of orders and offset the production capacity reduction during the pandemic, the company decided to set up one more production line.
The company makes garment products for export to the US.
"We have production plans until April 2022. It's now the time to gear up towards the finish line," Son said.
"I could not believe what was happening in front of my eyes. Around 280 workers are gathering strength to march towards the goal. This is what I did not dare think of two months ago. After the pandemic, everything is okay. It's now the time for recovery," he said.
The manager of an enterprise in HCM City said positive COVID cases are sometimes found in the factory, but he has become experienced in dealing with the situation. All close contacts have good health conditions as 97 percent of workers have been fully vaccinated. The enterprise is keeping stable production and is going to reduce the testing frequency to cut costs.
Chu Tien Dung, Chair of the HCM City Business Association (Huba), said enterprises are adapting well to the new circumstances.
Manufacturing enterprises with hundreds of workers have resumed 90 percent of their production capacity with a stable workforce. Larger enterprises with several thousand workers have recovered 50-60 percent of production capacity, because they cannot find a high number of workers at one time.
Meanwhile, service and trade companies are recovering more slowly because of the drop in demand. They are still considering a time for reopening.
"The manufacturing sector is recovering very rapidly, and the service and trade sector more slowly. Large enterprises are not as in tune with the new way of life and are adapting more slowly," he said.
State's role as nurse

The monetary policy needs to continue to support the economy and ensure liquidity. Meanwhile, the fiscal policy needs to aim at stimulating demand. Vietnam should accept high budget over-expenditures and kick off a medium-term public investment program (2022-2025).
Nguyen Xuan Thanh from Fulbright University said HCM City began reopening in early October in accordance with Directive 18, and the Government released Resolution 128 on safe adaptation to the pandemic, so the economy will see a positive growth rate in Q4.
However, he said production and business recovery will begin only from November. If the GDP growth rate is 3.5 percent in Q4, the growth rate of the whole year 2021 will be 2.2 percent.
Thanh thinks that it's too late for support packages to bring effects in 2021. The economy in Q4 will only recover thanks to the gradual reopening plan. The growth in 2022 needs to be supported by both monetary and fiscal policies.
The monetary policy needs to continue to support the economy and ensure liquidity. Meanwhile, the fiscal policy needs to aim at stimulating demand. Vietnam should accept high budget over-expenditures and kick off a medium-term public investment program (2022-2025).
Tran Du Lich, a member of the Government Advisory Board, said two goals should be set when providing support to enterprises to recover production and create livelihoods for people.
First, recover production and business; recover the disruptions in production and supply chains, helping enterprises re-join the market.
Second, accelerate the growth recovery process in association with a digitization program and economic restructuring.
Under the principles of a market economy, economic activities will recover after the State allows business fields to resume operation, the "no-go zones" are narrowed, inhibitions caused by bans are removed, and national and international logistics networks are put through.
However, according to Lich, with the current conditions, businesses will not be able to just rely on a natural recovery. Therefore, the State should serve as the "nurse" and give the support that businesses need. Most countries use financial support packages and apply loosened monetary policies to stimulate growth.
Lich, citing four key industries and nine service fields that have suffered heavily from Covid-19, said they have different self-healing capabilities, so the solutions for support need to be based on three criteria – the contributions to HCM City's GRDP (gross regional domestic product); influence capability; and self-healing capability.
The business fields that most need support are tourism, construction, real estate, enterprises in the four key industries, and trading enterprises. The subjects that need support are enterprises with difficulties in capital arrangement, SMEs, cooperatives, and business households that serve people's welfare.
Regarding enterprises in industrial zones (IZ) and export processing zones (EPZs), the HCM City Industry and Trade Department has reported that 1,342 out of 1,412 businesses resumed operation after the lockdown. In the hi-tech park, 88 out of 88 businesses have resumed operation. 
Tran Chung

Many businesses are running three production shifts a day to fulfill orders from Europe and the US. Some of them have enough orders for production until April 2022.
The number of enterprises returning to operation increased by 29.8 per cent month-on-month.