Nguyen Thi Phuong Thao, Cao Thi Ngoc Dung, Dang Thi Hoang Yen and Nguyen Thanh Phuong were in the news last week.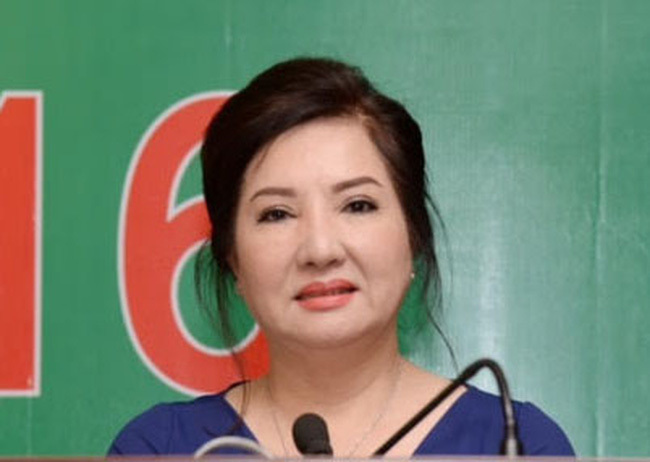 Nguyen Thi Nhu Loan
Pham Thu Huong, the wife of Pham Nhat Vuong, the first Vietnamese dollar billionaire, President of Vingroup, holds VND21.15 trillion worth of stock assets, approximately $1 billion. If VIC share prices continue to rise, Huong would be the next name to be seen in the list of Vietnamese dollar billionaires.
Meanwhile, another member of Vuong's family, Pham Thuy Hang, the sister of Vuong's wife, holds VND14.1 trillion worth of VIC.
Topping the list of female billionaires, Nguyen Thi Phuong Thao, CEO of Vietjet Air saw the mildest increase in stock asset value, VND1.6 trillion. VJC share price increased by only 6 percent and Thao now has VND28.2 trillion. Thao has received the Legion of Honor from the French Government.
Prior to that, she became one of a few Vietnamese businesspeople receiving many honorable titles.
She was the most influential Asian in charity work recognized by Tatler magazine; and one of 100 people who changed Asian economy recognized by Business Insider Australia. She was among tge top 100 most influential women in the world, among the most female leaders in Asia and received the best businesswoman award in ASEAN.
Nguyen Thanh Phuong
The President and Founder of Viet Capital Securities (VCSC) holds only 6.75 million VCI shares, or only 4.08 percent total shares.
However, she also holds 14.7 million BVB shares of Viet Capital Bank. Her total stock asset value is VND685 billion.
The company successfully held its 2021 shareholders' meeting last week and approved the business plan for this year, targeting revenue of VND2 trillion and pre-tax profit of VND1.25 trillion. If this occurs, this will be the first time the company will make a profit of over VND1 trillion in the last three years. The trend is expected to continue in the next three years.
A representative of the company said the company estimated profit of VND360-400 billion in Q1.
VCSC is planning to issue 166.5 million shares to existing shareholders in 2021 after ESOP (Employee Stock Ownership Plan). After the issuance, VCSC's capital will rise to VND3.33 trillion from VND1.656 trillion.
Businesswoman pockets big money from gold sale
Thanks to good business performance in 2020, Phu Nhuan Jewelry (PNJ) plans to pay the dividend of 20 percent instead of 18 percent (VND2,000 per share).
The gold company has submitted to the shareholders' meeting a plan to obtain VND21.006 trillion in revenue in 2021, and VND1.23 trillion in post-tax profit, up by 20 percent and 15 percent, respectively, compared with 2020.

Topping the list of female billionaires, Nguyen Thi Phuong Thao, CEO of Vietjet Air saw the mildest increase in stock asset value, VND1.6 trillion. VJC share price increased by only 6 percent and Thao now has VND28.2 trillion.
According to PNJ chair Cao Thi Ngoc Dung, 2020 was the time for the company to regenerate, while 2021 is the time to gear up.
Regarding the 2021 business plan, PNJ said it would continue to optimize the operation system, renew experiences, services, products, and conquer new markets, and prepare for new business segments.
PNJ continues rising despite the ineffective investment of VND400 billion in Dong A Bank. Dong A Bank's former president is Tran Phuong Binh, who is Dung's husband.
Cuong's mother faces lawsuit
Quoc Cuong Gia Lai Group (QCG), owned by Nguyen Thi Nhu Loan, better known in Vietnam as the mother of "Cuong dollar", has released the 2020 audited finance report, which shows that it owes VND2.9 trillion to Sunny Island and faces a lawsuit raised by the company.
The debt is high compared with QCG's business result. The company saw revenue increasing considerably in 2020, but it was still below VND1.9 trillion, while consolidated profit was just VND80 billion.
QCG has borrowed hundreds of billion of dong from the leaders of the enterprise.
QCG also got involved in the problematic Phuoc Kien project. The managers of Tan Thuan Company, belonging to the HCM City Party Committee's Office, were disciplined after they were found selling land cheaply to QCG. Tan Thuan sold 30 hectares of land in Phuoc Kien commune in Nha Be district to QCG at VND1.29 million per square meter.
Because of the scandal, QCG shares were bargained off in the market for a long time.
In August 2020, Nguyen Thi Nhu Loan resigned from the post of president after her son, Nguyen Quoc Cuong, or Cuong dollar, left the company to develop his own projects. Prior to that, in November 2018, Cuong resigned from the posts of deputy CEO and as a member of the board of management.
Loan is the biggest shareholder of Quoc Cuong Gia Lai, holding 102 million QCG shares, or 37.04 percent.
Dang Thi Hoang Yen
Like Loan, Dang Thi Hoang Yen has also met problems recently. ITA shares are still traded at below VND8,000 per share.
Yen said her Tan Tao would divest from some projects to focus on industrial zone development. It will quit Kien Luong thermopower project, and trade and resort projects in Phu Quoc and Da Lat.
After a long period of difficulties, Yen and her brother Dang Thanh Tam, both industrial real estate developers, have shown signs of recovery as new FDI flows are expected. 
Bao Anh

Vingroup's billionaire Pham Nhat Vuong is taking an unexpected step entering the world's largest electric car market.

Globally-renowned business magazine Forbes has just released its annual list of the world's billionaires, including six billionaires from Vietnam.