In Vietnam, there are an estimated 182,563 new cases and 122,690 cancer deaths each year. Due to the high mortality rate, many people hope screening will help detect this disease early.
After reading a very credible advertisement on cancer screening services for women in their 30s at a private hospital in Hanoi, Diem Hang, 37, bought a cancer screening package worth VND4.5 million (about $200).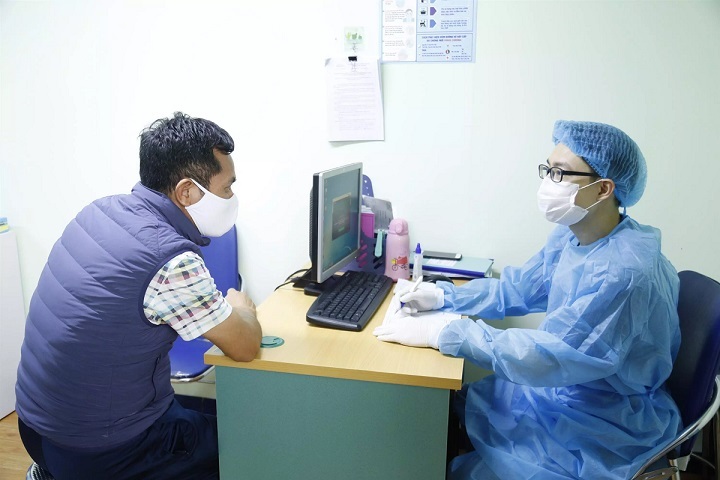 The results she received showed that her Tirads was up to level 5, so she might have thyroid cancer. Hearing the news, Hang shivered. She and her husband immediately flew to Ho Chi Minh City to see a famous oncologist for re-examination. It turned out that she only had normal fibroids.

Dr. Phung Thi Huyen, Head of Internal Medicine 6, Hanoi-based Central Hospital for Cancer Treatment, said that she sometimes was asked for advice by her acquaintances, who gave her their blood test sheet with 'abnormal cancer test indicators'. These people had only blood test results, which gave a warning of suspected cancer, without any other examinations.

Doctor Huyen affirmed that blood tests for cancer screening have no value in diagnosing cancer.

As Head of Oncology Department of HCM City-based Thu Duc City Hospital, Doctor Nguyen Trieu Vu shared many stories of patients who came to him with all kinds of emotional reactions.

Thu, 36, a woman in District 9, Ho Chi Minh City, asked for doctor Vu's advice because she thought she had ovarian cancer. The woman took a periodic health check organized by her company. At the hospital, Thu was encouraged to buy an additional cancer screening package worth VND2.4 million (over $100).

According to the cancer test, Thu had abnormally high CA 125, suggesting cancer. Not only Thu but her whole family was extremely confused. Thu and her husband rushed to the hospital to "ask" for Vu's advice. They came to see the doctor with only the blood test sheet.

Doctor Vu asked them to take other tests, which showed that the woman only had inflammation, which also caused the CA 125 to rise. Thu and her husband were overjoyed as if they had just 'missed death'.

In another case, a 65-year-old man from District 2, Ho Chi Minh City came to Thu Duc City Hospital for examiniation because of fatigue. Doctors concluded that he was in the end stage of liver cancer. The patient did not believe because he spent tens of million dong for cancer screening.

Doctor Nguyen Trieu Vu said that currently the "cancer screening market" is extremely active with a lot of screening packages priced from a few million dong to tens of millions dong, even hundreds of millions of dong. Private hospitals and clinics without oncology wards also offer cancer screening services.

According to GLOBOCAN's statistics in 2020, the number of new cases of cancers and deaths caused by cancer tend to increase worldwide.

In Vietnam, there are an estimated 182,563 new cases and 122,690 cancer deaths each year.

For every 100,000 people, 159 people are newly diagnosed with cancer and 106 people die from cancer.

Due to the high mortality rate, many people hope screening will help detect this disease early. Just typing the keyword "cancer screening," within 50 seconds, there are more than 14 million results about cancer screening with countless cancer screening packages advertised.

Readers can also easily find all kinds of information about screening tests for cancer, such as elevated CEA for colon cancer, high AFP for liver cancer, DR 70 test for screening 13 types of cancer... Many people believe that these tests are the "golden key" to detect cancer early.

Not only tests, many medical facilities advertise their cancer screening services using high-tech equipment such as CT-256 scanner or PET/CT scans. These services are priced tens of millions of dong.

According to Dr. Phung Thi Huyen, Head of Internal Medicine 6 of the Central Hospital for Cancer Treatment, in fact, cancer screening is a measure to detect cancer early, giving patients a good chance in cancer treatment but this must be based on professional factors.

For example, smokers are screened for lung cancer, those whose family members have breast cancer should be screened for breast cancer, and people with a history of stomach diseases should be screened for gastrointestinal cancer. Doctors will guide patients to screen for a certain type of cancer, not screening all cancers at once.

The American Cancer Society only recommends screening for cancers with specific methods, such as screening for breast cancer, cervical cancer, prostate cancer, cervical cancer, colorectal cancer, or lung cancer by specific methods.

Doctors also confirmed that there is no test to detect all 13 types of cancer as some clinics advertise.

Strategic solution

Vietnam is implementing the National Strategy for the prevention and control of non-communicable diseases for the period 2015 - 2025, including cancer with the hope to create positive and sustainable changes, contributing to improving Vietnam's ability to cope with cancer.

The Ministry of Health and the Vietnam Cancer Research Institute have launched many community cancer screening programs such as annual breast cancer screening in October, cervical cancer screening.

In 2019, the Ministry of Health also approved the "Pilot scheme on screening for early detection of cervical cancer and treatment in some provinces in the period of 2019-2025".

However, these cancer screening programs are still small in scale.

For example, every year the Bach Mai Hospital and Central Hospital for Cancer Treatment in Hanoi organize a month for breast cancer screening in the community in some areas. As for cervical cancer, screening can help people at risk to detect the disease early, but currently there is no methodical strategy to be implemented on a large scale, but mainly at the level of encouraging people to self-screen.

Currently, 70% of patients are diagnosed with breast cancer at a late stage. Screening services are also not included in the health insurance.

Health experts said that the proliferation of cancer screening packages in Vietnam partly reflects the fact that the health sector does not have a complete strategy for cancer screening.

Screening packages through blood tests, CT scans, etc. is not common in the world because it goes against medical ethics and has no scientific basis.

Cancer screening services are simply sales of medical services, and no longer mean cancer screening.

In order for cancer screening to be effective, it needs to be implemented on a community level instead of an individual level. The implementation of screening requires strict and specific regulations.

In developed countries, doctors prescribe screening for necessary cases and this is covered by insurance on the basis of balance of funds. This may be a strategic solution that the Ministry of Health can consider.

Khanh Chi

In the last 11 years of his hemophilia treatment, Phan Huu Nghiem experienced 26 surgeries. His medical file has at least 65 medical records.

Doctor Mai Hong Son, who works at the 108 Military Central Hospital in Hanoi, did not choose nuclear medicine in the first place yet 10 years of hard work and diligent learning have turned him into an award-winning expert and researcher in the field.