To Vietnamese, Chinese contractors means 'low quality'. However, they are not be the fatal problem of Vietnam's infrastructure works.
'Construction works implemented by Chinese contracts face doubts from the public because of execution quality, capital, construction quality and labor force.
The Cat Linh – Ha Dong urban railway project explain the concerns. The execution time was prolonged, the real investment capital of the project turned out to be 1.6 times higher than initially estimated, and accidents occurred. All these factors raised questions about the safety and quality of the railway.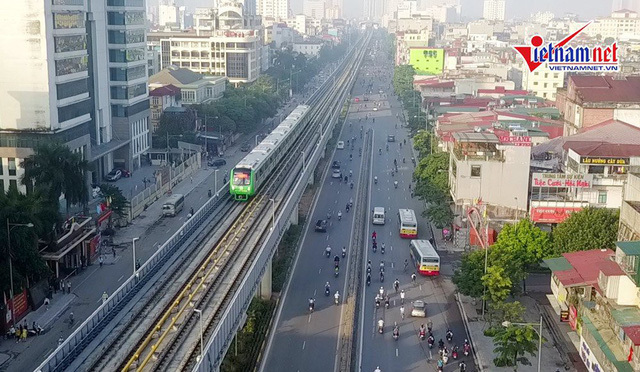 However, Vietnamese agencies and investors need to reproach themselves first in regard to these Chinese contracted projects.
China has the second largest road systems in the world after the US, with 20,000 kilometers of high-speed railway and subway networks in large cities.
The quality of infrastructure items in China is better than many Vietnamese think and they are in no way inferior to ones in western developed countries. The problems in construction and infrastructure projects in China are mostly seen in less developed areas instead of big urban areas.
Vietnam is not the only destination of low-quality Chinese contractors. A bridge in Kenya implemented by Chinese contractors collapsed last year one month after inauguration, injuring 27 workers. A hospital in Angola had to evacuate amid risks of collapse in 2010.
The common aspect in Vietnam, African countries and underdeveloped areas in China, where low-quality Chinese contractors are present, is institutional weakness, which means the lack of transparency in selecting investors and contracts, the low capability in supervising execution quality, and observation of the laws.
Chinese not only develop infrastructure projects in developing countries, but also in Europe and the US. However, the biggest concern there is not the quality of Chinese works, but sovereignty and national security.
They acquire large airports and seaports in the countries, and build bridges and roads, as well ascompete directly with prestigious European contractors.
This shows that the poor quality of Chinese infrastructure projects does not originate from their low capability, but their assessments about the importance of investment environments.
The quality of the works implemented by Chinese contractors is problematic. However, other works implemented by contractors from other countries and developed with non-Chinese capital also have problems.
Of the five biggest projects that cost more than initial estimates, the three subway projects implemented by Japanese contractors top the list. The subway section No 1, for example, required real capital 2.7 times higher than initially planned. The figures were 1.8 and 1.7 times for sections No 2 and 3.
Even the Nhon-Hanoi Station subway section funded by France and executed by many contractors, including South Korean's Posco, also had the same problem, while the execution process went very slowly.
Everywhere in the world, investors and contractors will try every possible way to optimize their profits. The aim, if accompanied by mismanagement, will lead to disadvantages to host countries.
Therefore, it is necessary to set up a mechanism that controls infrastructure works more strictly, especially ones developed with ODA (official development assistance) or foreign capital, to improve the supervisory capability of state agencies and ensure the enforcement of the laws. 
Nguyen Khac Giang