The Ministry of Culture, Sports and Tourism is finalizing the draft code of conduct for Vietnamese artists.
On September 10, the General Administration of State Administration of Radio, Television and Movies of China issued new rules for artists who perform advertising activities and act as the face of brands.
According to the new regulations, Chinese artists who commit wrong behaviors are subject to administrative fines and banned from being involved in advertising activities for three years.
That's in China. How about Vietnam? Two months ago, several Vietnamese celebrities were criticized by the public for exaggerating the functions and effectiveness of products they advertised, mainly cosmetics, dietary supplements to support fat loss and treatment of stomach cancer, fibroids, cysts, sore throats.
Only after the media raised its voice did some of the celebrities such as actor and event host Quyen Linh, People's Artist Hong Van, Miss Vietnam Mai Phuong Thuy, actresses Dieu Nhi and Nam Thu admit their mistake and offer an apology to the public for not carefully learning about the products before advertising them.
At the same time, some celebrities who advertised virtual money, which were defined as scams, such as Kieu Minh Tuan, Le Duong Bao Lam, Kha Nhu, Ngoc Trinh... quietly deleted their posts and said nothing about their mistakes.
Drastic measures needed to restore showbiz order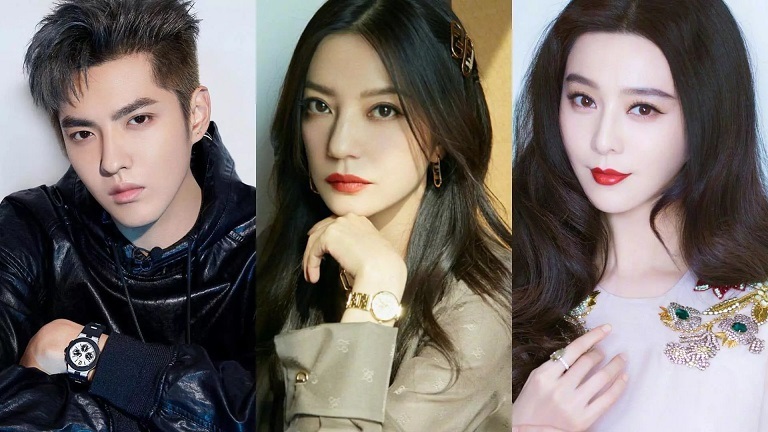 Chinese authorities are carrying out a purge campaign in showbiz. Many scandalous celebrities have lost their m career because of this new policy.
Chinese authorities have made an unprecedented purge in showbiz. Chinese top celebrities such as Zhao Wei, Zheng Shuang, Kris Wu, and Zhang Zhehan have lost their careers. This shows that the Chinese audience and authorities do not compromise with the behavior beyond the limits of morality and even private life of celebrities.
In Vietnam, the cultural management agency has never issued regulations or sanctions for violations of ethical standards and lifestyles. Vietnamese artists just make mistakes and then apologize or keep silent to wait for their mistakes to be forgotten. Some people even take advantage of scandals to attract public attention.
The Ministry of Culture, Sports and Tourism is finalizing the draft code of conduct for artists. Deputy Minister Ta Quang Dong said that the code is not a legal document, but this is a framework for artists to work and behave up to standards.
Tran Huong Duong, Deputy Director of the Administration of Performing Arts, told VietNamNet that it is necessary to issue a code of conduct at this time after many celebrity-related scandals were reported, which negatively affect the audience.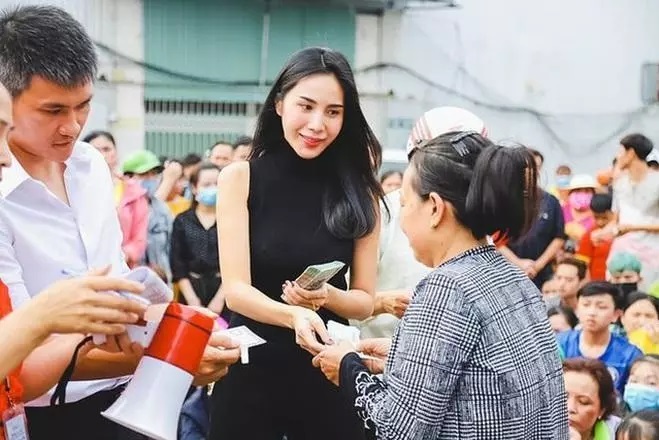 Singer Thuy Tien and her husband former football star Cong Vinh are engaged in a charity-related scandal.
"I think this (the code of conduct) will be a channel to guide celebrities' behavior. When celebrities make a mistake, relevant agencies can speak up and give a warning in time. Depending on the severity of the violation, the violator will receive the consequences that he or she causes," he said.
The public expressed support to the draft code of conducts for artists. However, many people said that this set of rules is not strong enough.
People's Artist Tran Ngoc Giau, chairman of the HCM City Theater Association, said that every artist who wants to fulfill his or her artistic mission well must first have the sense of a citizen. They must obey the law, work and act with ethical standards.
Giau added that from an ethical and social perspective, the above code applies to everyone, not just artists. In addition to monitoring artists, the management agency also needs to tighten the management of art products.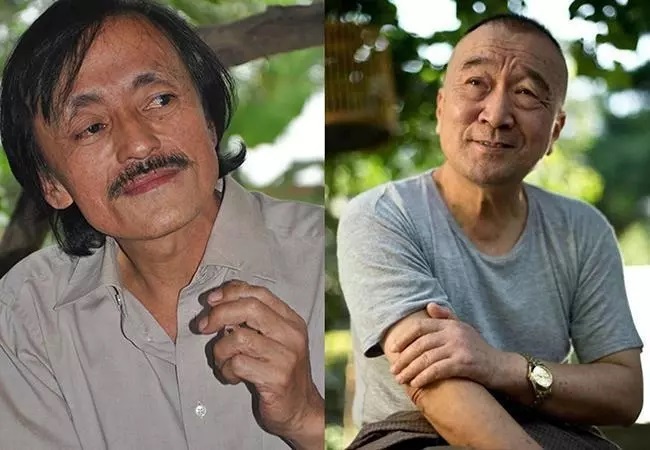 Vietnamese actor Giang Coi (left) and Chinese actor Li Baotian who have never done advertising for any product.
Dr. Le Hong Phuoc, a lecturer at Ho Chi Minh City University of Social Sciences and Humanities, said that the code of conduct is not strong enough. He suggested that management units need to take tough and drastic actions against violations committed by celebrities.
"A person working in the field of culture must have a cultural background. When they have position, reputation and social influence, they must have appropriate behavior. Artists who take advantage of their names to make profit, make false statements or break moral boundaries, must be severely punished. In addition to administrative fines, it is possible to consider suspending activities for a certain time, removing their art works on the internet platform or even banning them from practice if the violation is too severe," he said.
Tuan Chieu

The Ministry of Culture, Sports and Tourism is finalizing a draft Code of Conduct for Artists.