The chicken from Cua land is known for its prime taste and was once served as a royal food hundreds of years ago.
Farmers are considering taking this specialty of Cua to big business to gain a foothold in the world of cuisine.
The road leading from Highway 9 junction to the land of Cua (Cam Lo, Quang Tri province) was once described as a strip of silk laying across the verdure of mountains and the pass. Cua today is a rich land of red basalt with rubber forests, tea hills and pepper gardens that are verdant all year round.
Besides the exquisite green foliage, Cua is notable for its hundred-year-old specialty – chicken with indigenous quality flesh benefiting from termites as the staple nutritious feed. Rumour has it that this dish was once served in royal meals of King Ham Nghi.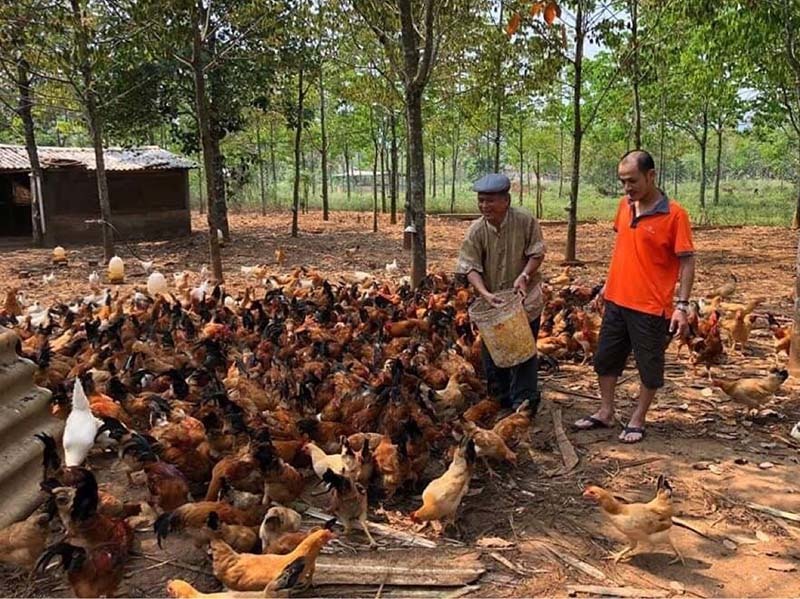 Cua chicken – the scrumptious specialty of Quang Tri
The story goes that around 130 years ago in the prolonged resistance against the French colonialism, mandarins under Nguyen dynasty commanded thousands of soldiers and people from different localities to gather in Tan So (presently Cam Chinh commune) to commence building Tan So citadel in 1883, which was mostly completed in 1885.
During this time, the Cu chicken dish gained some popularity. However, it was not until a battle failure on the night of July 4, 1885 in the Imperial City of Hue when the leading mandarin Ton That Thuyet escorted King Ham Nghi and his entourage to Tan So citadel for a backup plan that this cuisine became famous.
Upon the delegation's arrival, villagers offered them gourmet dishes including steamed Cu chicken and lotus seed soup. They since then have been included in daily meals of King Ham Nghi and the mandarins. The king during days of the French resistance war also expressed his wish to maintain Cua chicken as an ancestral product in later days of peace. It since has since been in poultry farming in Quang Tri.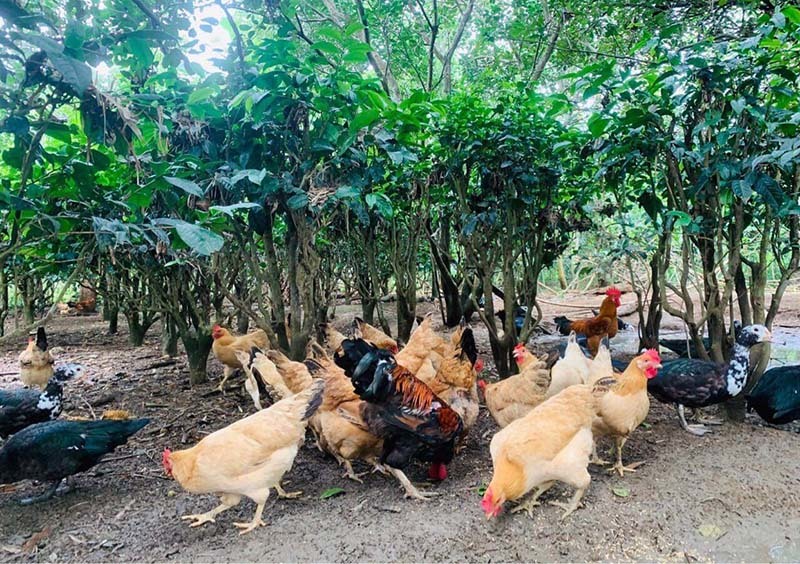 Cua chickens
"The origin of these chickens remains unspecified. Some say they were wild chicken that were domesticated by the local while others believe they were crossbred with bantam and wild ones," said Doan Tran Anh Minh of Quang Tri Department of Livestock and Animal Health.
People still follow a natural farming method in combination with topographical conditions, soil, and the abundance of insects. Minerals in the soil are factors that make up the quality of prime meat.
Cua chickens are medium-sized, weigh only about 1.2-1.3 kg. They have long bodies, high scale-covered legs, pointed and slightly curved beak of warm yellow; and a light red single comb.
The chickens retain over time their wild nature of sleeping in the trees. Boiled flesh served with pepper salt and lemon is the best way to enjoy the crispy delicious skin and meat of umami taste and moderate chewiness without being too greasy.
Large scale farming for business potential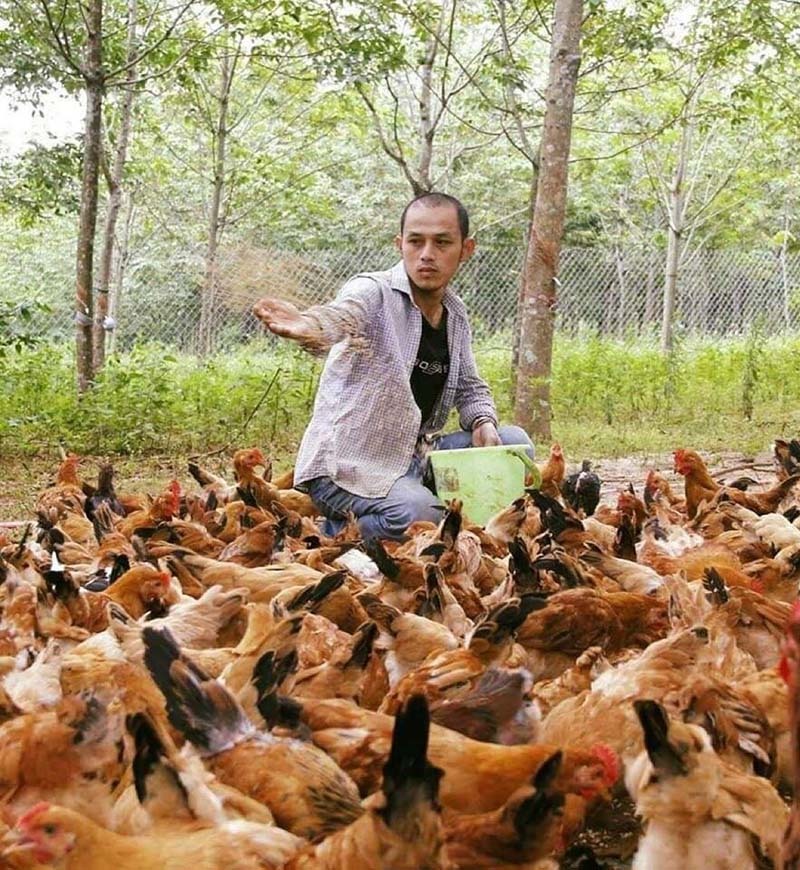 Cua chickens - high-value specialty
The specialty with high economic value can produce a very promising stable income. Working in cooperation to broaden chicken farming is of utmost importance to make that viable.
The farmers now raise chickens mainly for family consumption, and only the surplus is sold. Even though almost every house has their own farm, they are mostly small scale households.
Pham Huu Phuong, the first participant in the chain of chicken husbandry in Cam Nghia commune (Cam Lo), after seeing a very high demand for chickens in the market in 2017, decided to expand his farming scale by joining the chain production to give stable output.
Phuong used his 1 hectare of rubber plantation for chickens and fed them rice, beer residue, peanuts, corn, and rice bran for increased firmness of the meat.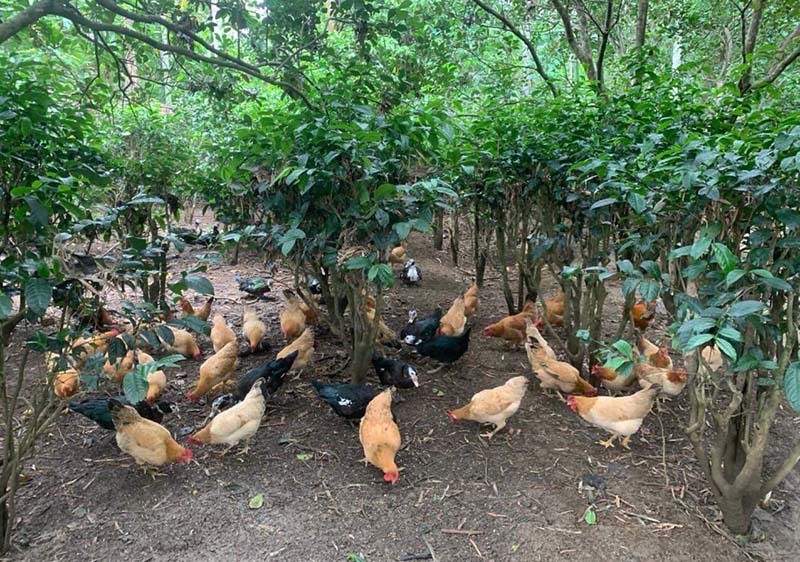 As a high-value specialty, Cua chicken is branded and traced
He said that this Tet, Cua chicken was extremely popular. He has 1,000 animals out of the house, but not enough for the chain of safe food stores. Daily selling price is about 100,000 VND / kg. Tet prices were 110,000 VND / kg, higher than many types of chickens in other areas.
Annually, Phuong's average sale is around 5,000-6,000 chickens. They are sold for 100,000-110.000VND/kg which generates a profit of 30,000 dong for one chicken. He makes 150-200 million VND in one year.
Mr. Doan Tran Anh Minh shared that, in order to have a signature brand of the locality, Cam Lo district has built a pilot biosafety model for Cua chickens, following value chains in Cam Nghia, Cam Chinh and Cam Thanh communes.
Nearly 30 households registered to participate in the program. There are households raising a scale of 2,000 chicken per What? HECTARE?? or even more. A typical instance is of Mr. Vu Van Bac who is raising up to 5,000 chickens on an area of 1 hectare by natural farming methods. He earns a few hundred million VND profit from the business.
Households in the program have mutual support during the process as well as linkages on the output of products. Traceability records will be the first step to bring the Cua chicken to the big market.
"Chicken in Cua has been trademarked and VietGAP certified, and is in the process to enter the One Commune – One Product project in the province in 2021", Minh said.
Tam An - Hoai Bao

Dong Tao chicken, which is an expensive delicacy in Vietnam, is often sold at very high prices on the Lunar New Year or Tet Holiday.