Many hackers conduct cyberattacks just to show their abilities and do not think that the cyberattacks will put them behind bars.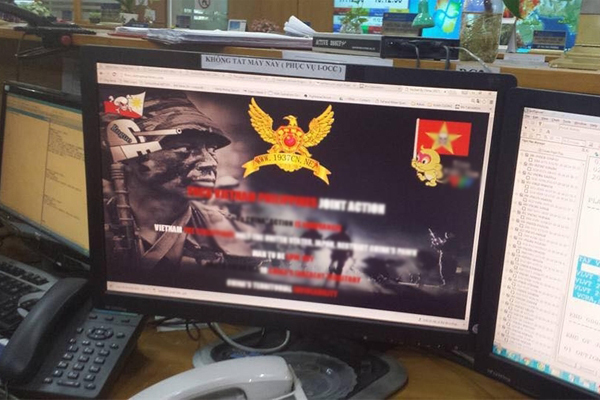 The DDoS (Denial of Service) attack on the Voice of Vietnam's (VOV) online newspaper (vov.vn) some days ago caused the newspaper to stop working temporarily and discontented the public.
The police said they have initially prosecuted one defendant in the group of attackers. Members of this group are all from Vietnam, with no foreign interference.
Lawyer Bui Dinh Ung from Bui Dinh Ung Law Office of the Hanoi Bar Association said in cyberattack cases, appropriate agencies need to clarify the motives and purposes of the subjects before deciding on how to handle them.
If the cyberattack is only intended to delay the operation of an organization or individual and does not aim to oppose the people's administration or appropriate property, the act will be handled in accordance with the Article 287 of the Penal Code on the crime of obstructing or disrupting the operation of computer networks, telecommunications networks and electronic means.
The lightest penalty for this act is imprisonment from six months to three years.
In case of intentional attacks, depending on the extent of damage in money, material and time, the violator may be sentenced to 7-12 years in prison, if his behavior causes serious consequences.
If the attacker is hired to attack or carries out the attack under the influence of other persons, the mastermind will take main responsibility before the law. The hacker will be a partner in crime.
So, in front of the law, cybercrimes can completely be criminally handled with sentences as heavy as the ones for murder and theft.
Real consequences of online jokes

There are two kinds of common cybercrimes nowadays. First, the attackers try to obtain access to computer networks or equipment of institutions and individuals. Second, cybercrimes use technology to commit fraud.
There are two kinds of common cybercrimes nowadays. First, the attackers try to obtain access to computer networks or equipment of institutions and individuals. Second, cybercrimes use technology to commit fraud.
According to the UK National Crime Agency, the average age of cyber-attackers tends to be young.
A recent report of the agency showed that cybercrimes are often committed by people around 17 years old. The average age of hackers is less than half that of drug criminals (37) and financial crimes (39).
For many young people, attacking well-known websites is a way for them to become famous and show their abilities. Not all of them understand that this is a wrongdoing which causes serious consequences to society.
According to Ung, the hackers who conduct cyberattacks with an aim to show off and don't have enmity toward their victims will have to take responsibility before the law, depending on age, behavior and consequences.
For those over 18 years old, they will have to be criminally responsible for violating the provisions of Article 287 of the Penal Code, regardless of whether the act aimed to just show off or to destroy.
Cyberattack is considered a terrorist act
Many people think that the Internet is a virtual world with loose regulations and laws don't exist. They may hack certain websites without thinking about possible consequences.
However, an act of hacking website, if placed in a specific case with a specific purpose, could be severely punished, and is even considered a terrorist act.
Lawyer Vu Quoc Toan from the HCM City Bar Association, when talking to the press after the attack on Voice of Vietnam online newspaper, said the hackers' behavior may be handled in accordance with Articles 8, 18, 19 and 21 of the Law on Cybersecurity.
This is also the view of Major General Le Minh Manh, Deputy Director of the Department of Cybersecurity and High-tech Crime Prevention under the Ministry of Public Security. The act of promoting and conducting cyberattacks is clearly defined in the Law on Cybersecurity.
Article 10 of the Law on Cybersecurity stipulates that the information system belonging to the press is also seen as an important information system for national security.
The Article also clearly stipulates the acts which are strictly prohibited, including instigating, enticing and inciting other people to commit crimes and carry out cyber attacks, cyber terrorism and cybercrimes, causing offenses, or attacking, infiltrating, or hijacking an information system important to national security.
As explained by the Law on Cybersecurity, cyberattack is an act of using cyberspace, information technology (IT) or electronic means to sabotage or disrupt the operation of telecommunications networks, the Internet, computer networks and information systems.
Cyber terrorism is the use of cyberspace, IT or electronic means to commit acts of terrorism, or terrorism financing.
The Law on Cybersecurity also stipulates that, depending on the nature and seriousness of their violations, those who commit acts of violating the law on cybersecurity will be disciplined, administratively handled or face criminal prosecution. If the acts cause serious damages, they will have to compensate for the damages as stipulated by the law.
The Article 299 on crime of terrorism in the 2015 Penal Code 2015, the destruction of property of agencies, organizations and individuals in order to cause panic among the public can be subject to 10-20 year imprisonment, life imprisonment, or even death penalty.
With such specific regulations, it is unfortunate that many young people become cybercriminals simply because of mistakes. Many people get involved in crime without understanding that they are breaking the law.
Not only in Vietnam but in many countries around the world, cyberattack is a serious criminal offense. For hackers, the cyber attacks they cause may become criminal convictions that they never can wash away for a lifetime. 
Trong Dat

The Ho Chi Minh City Police Department, on January 12, held a ceremony to announce a decision on the establishment of its new devision for cyber security and high-tech crime prevention and control.

Affirming that there has been no sign of massive cyberattacks on many newspapers, the Authority of Information Security said it would soon issue a procedure for quickly responding to cyberattacks on press agencies.