After selling property to pay for his education in the United States, Associate Professor Nguyen Huy Thang was seen as a "mad person" for turning down a large salary to work later at a state-run hospital in Vietnam.
The World Stroke Association has recognized Assoc. Prof. Dr Nguyen Huy Thang as one of only six doctors in the world to receive its award for exceptional individual achievement in stroke research.
Prof Thang is the first person from Vietnam or Southeast Asia to get this prestigious distinction. Brazil, India, Chile, Mexico, and Egypt are the other five countries represented among this year's prize winners.
"My devotion was not awarded for treating so many stroke victims. In actuality, I've helped found more than 100 stroke units in provinces and cities across Vietnam, which is the deciding element in the establishment of the stroke network. It took a long time and included many colleagues," he said.
Assoc. Prof. Dr. Nguyen Huy Thang - Head of Cerebrovascular Disease Department, 115 People's Hospital, HCM City.
As Vice Chairman of Vietnam's Stroke Association and head of the Cerebrovascular Diseases Department at 115 People's Hospital in Ho Chi Minh City, he is an expert in the field of strokes. Ho Chi Minh City and the southern region's busiest stroke clinic receives roughly 20,000 stroke patients each year.
Having completed a year of training at National University of Singapore in 2006, Dr. Thang developed a full stroke unit at the hospital. To begin, he uses cutting-edge treatments to treat stroke patients in Vietnam.
"There are no words for the joy I feel from helping people who were once paralyzed or who lost consciousness to be able walk and communicate again!"
A bold but at the same time prudent move was taken in 2007: he sold his family's land to attend a two-year training program in stroke expertise, based in the US.
"I have the full backing of the hospital's management in my pursuit of further education. I promptly chose to sell my property to pay for it and relocate my family to the United States. The youngsters were little at the time but readily acclimated to their new surroundings. My wife, as a cardiologist, made a lot of sacrifices when she decided to abandon her career to join me," said Thang.
For his studies in the US, he followed some of the most prominent stroke researchers there, worked on a number of projects, and gradually built up worldwide contacts. For both Prof Thang and Vietnamese medicine, this was a golden chance.
Why leave the United States?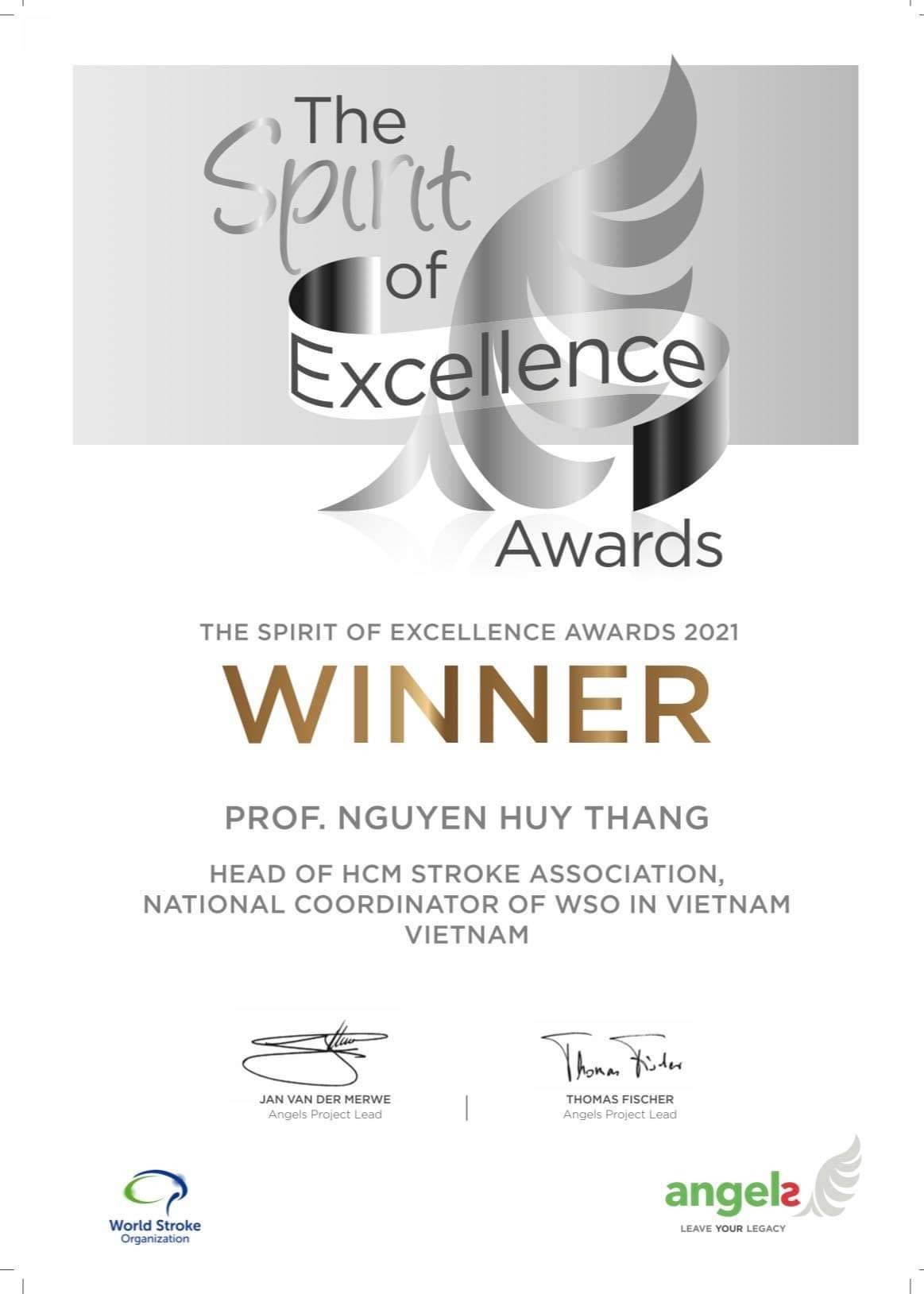 Assoc. Prof. Dr. Nguyen Huy Thang is the first Vietnamese doctor to be honored by the World Stroke Association.
"They don't need any more specialists, so it makes little sense for me to stay! Nonetheless, I hope to have a significant impact on the stroke business and patients in my own country when I return home."
Many of his patients have recovered beyond their wildest dreams thanks to him and his coworkers at 115 People's Hospital, which he recognizes with great pride. Fibrinolytic medicines and the use of an interventional thrombectomy are two of the most modern procedures used in Vietnam to treat acute strokes.
About 115 patients at People's Hospital are treated each month based on these two techniques. Approximately 1,500 cases are handled each year, accounting for approximately 40% of all cases nationwide.
When a stroke patient arrives at the hospital, the time it takes for a thrombolytic medicine to be given is 40 minutes, rather than the 60 minutes recommended by the American Stroke Association. Nearly all large stroke centers around the globe operate on a 30-minute schedule, and this index reflects that.
The American Stroke Association recommends that stroke patients receive a thrombolytic treatment within 60 minutes upon being hospitalized. However, the period from admission to a thrombolytic medicine injection is just 40 minutes. This rating is quite close to the global average of 30 minutes for major stroke centers.
Professor Thang felt that a specialized center and a network system were necessary in order to respond promptly and effectively in the world's crises. Otherwise, the patient is the one who suffers the most as a result of having to travel too far for treatment.
"To reduce disability and death from stroke, organization of stroke units is the most critical factor."
Dr. Thang has worked tirelessly since then to expand the Vietnamese stroke network.
Timely and appropriate treatment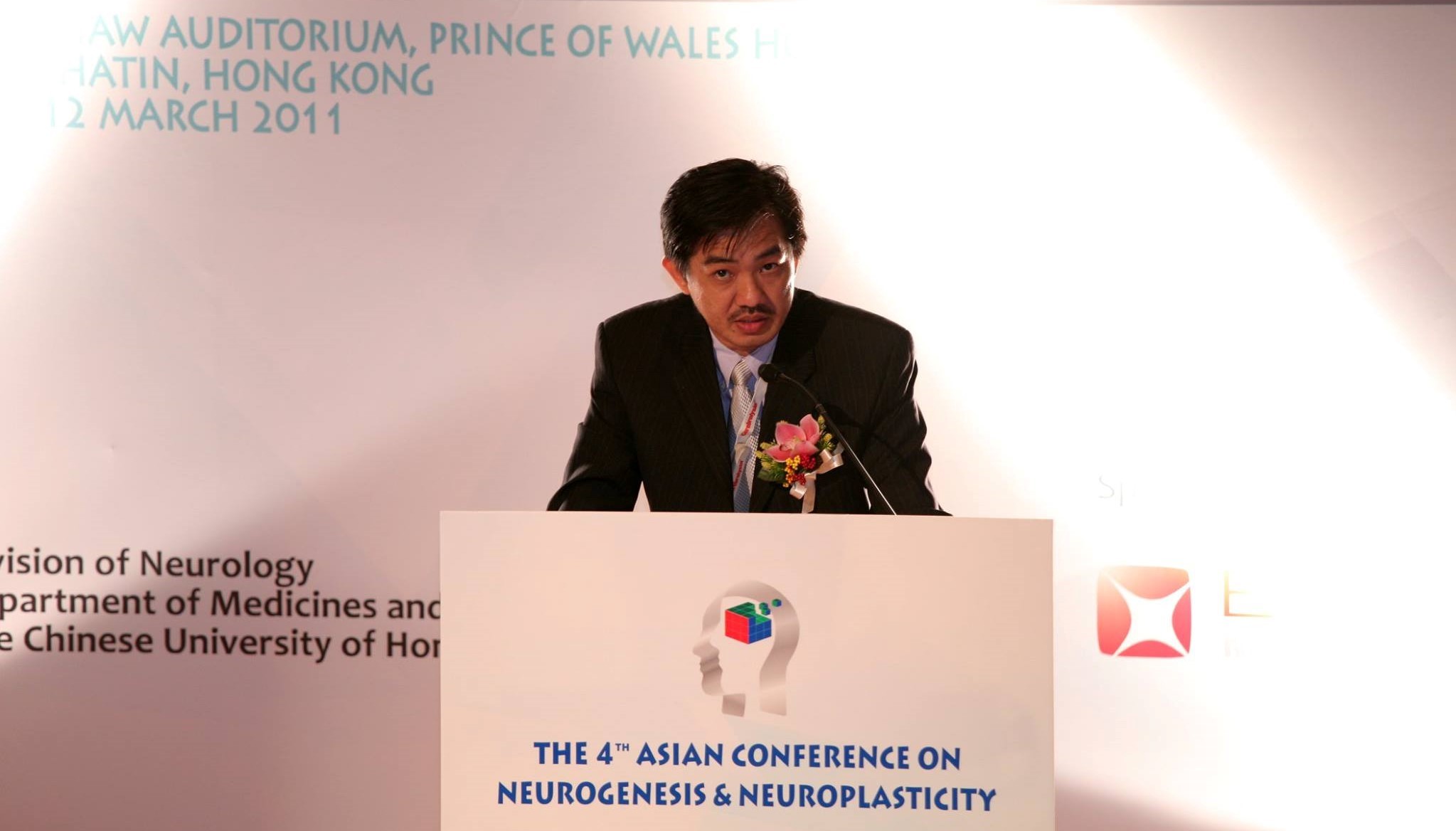 Assoc. Prof. Dr. Nguyen Huy Thang at an international conference.
A separate stroke unit was first available at People's Hospital 115 in 2006. With an annual growth rate of 10 to 20 units, there are already more than 100 establishments across the country. For technological transfer and people training, Dr. Thang and his team are responsible.
Stroke units have been supported by the Vietnam Stroke Association since 2016 as a criterion for grading hospitals by the Department of Medical Examination and Treatment.
Circular 47, released by the Ministry of Health at the end of 2016, governs how hospitals conduct stroke examinations and treatments. This is a huge step forward for the expansion of the network. As a result, in the last five years, the rate of unit creation has been significantly quicker than in the prior period.
"In Vinh Long, Can Tho, Kien Giang, Soc Trang and An Giang and Dong Nai, Khanh Hoa, Binh Hoa and Da Nang and Quang Tri and Thanh An and Nghe An, there are all stroke centers. A wide range of patients can benefit from these clinics, including those who live in and beyond the province.
"Using the 'Mothership' paradigm, satellite units will call major processing centers if the current competence is surpassed," said Dr Thang.
Another encouraging aspect was that 20% of stroke patients now come to the ER in prime time. This figure has doubled compared to 10 years ago.
115 People's Hospital, Pham Ngoc Thach Medical University, and the Vietnam Stroke Association all take up a large portion of his time, making it nearly impossible for him to do what he has to. In spite of this, he still visits a number of hospitals each week, leads seminars, and welcomes foreign specialists to share their experiences with Vietnam. It's also part of a larger effort to expand the network of more than 100 stroke centers, which he and his colleagues devote themselves to every day.
He turned down a very high income in order to care for patients at public hospitals, and at the same time, allow stroke sufferers across the country to have access to better treatment options. Dr. Thang, an associate professor of Vietnamese studies, said: "I was correct to come back to Vietnam."
Linh Giao

They are the doctors of the Ministry of Health's last unit under the assistance program which is still operating in HCM City. They continue to make every effort each day to save Covid-19 patients' lives.

HCM City is experiencing extremely difficult days as the number of Covid-19 infections continues to remain steady day by day.