Electronic sports (e-sports) is the rising star of the entertainment industry and Vietnam currently holds a significant advantage in this high-value business.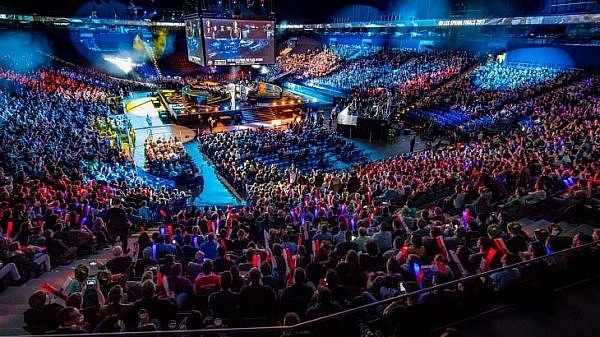 The e-sports industry is growing at a tremendous pace in Vietnam. Source: ispo.com
E-sports, a billion-dollar sport
E-sports have a decades-long history, with the earliest known video game competition taking place on October 19, 1972 at Stanford University for the game Spacewar.
For the past few years, with the development of technology and internet across the globe, e-sports have become a major money-maker in the entertainment industry.
Global e-sport revenues reached $906 million in 2018, a year-on-year growth of 38.2 per cent, according to statistics from Newzoo. In 2018, there were 737 major events, which generated $54.7 million in ticket revenues, a slight fall back against the $58.9 million in 2017.
The total prize money distributed in 2018 reached $150.8 million, a significant increase from 2017's $112.1 million.
In Vietnam, the youth soon caught on to competitive gaming with gusto and created gaming communities around their favourite games in schools or even local internet cafés.
With Facebook and YouTube gaining ground in the country, the Vietnamese gaming communities have been growing faster and are becoming more connected.
In the growing trend of interactive online entertainment, e-sports is an important component of the new demand among Vietnamese people. According to the latest statistics of Appota's Vietnam E-sports Guidebook 2019 (VEG), in 2018, Vietnam had 15 million e-sport gamers and the number is expected to reach 26 million players this year.
E-sports enthusiast viewers and players make up a gaming community of over 32.8 million and are a major driving force behind the success of gaming-focused startups in Vietnam like Garena, VTC, Appota, and SohaGame. They have also helped to generate Vietnam's first startup unicorn – Vinagame (VNG).
The gaming industry in Vietnam, therefore, has amazing growth potential, especially when it comes to e-sports, with the country climbing from 35th to 28th in Newzoo's ranking of the world's largest gaming markets, with an estimated revenue of over $365 million in 2018.
The major target audience of this industry is males (94 per cent of e-sports audience) and the younger generations.
61 per cent of Vietnamese e-sports viewers watch live streams via their smartphones more often than on their personal computers (PC). For the 13-18 age group, the preference is even more profound, as 71 per cent watch it on the phone. This finding is in line with the level of mobile phone usage in Vietnam and the smartphone penetration rate of 72 per cent in major cities.
The most popular games include League of Legends, Dota 2, and Counter Strike Global Offensive. In Vietnam, besides these three, FIFA Online, World of Tanks, and Crossfire also enjoy great popularity.
The market is growing well with the increasing investment of businesses such as VTC Mobile entering into a co-operation with Mobifone to organise Vietnam Pro League (VPL), Vietnam Esports Development JSC (VED) staging a League of Legends championship or most recently, the Samsung Championship for Counter-Strike Global Offensive.
Channels which broadcast professional matches live such as Vietnam Esports TV (VETV) and small groups also gradually improve quality by receiving technology support from giants like Twitch or YouTube Gaming.
E-sport eco-system
Source: Appota's Vietnam E-sports Guidebook 2019
According to Newzoo, this year marks a major milestone for the global e-sports market, which will for the first time exceed the billion-dollar revenue mark. Around 82 per cent of the total market will come from brand investments (media rights, advertising, and sponsorship).
Revenue in the local e-sports industry mainly come from fans and brands through different forms such as in-game purchases, goods, ticket sales, sponsorships, and advertising.
In a growing market like Vietnam, publishers and organisers are also pouring money into organising tournaments and supporting local e-sports communities.
Vietnam to join global e-sport tournaments
The more viewers, the higher the demand for content creation, advertisement, and e-sport events. Especially as professional Vietnamese players raise the country's flag in international sports tournaments, there will be more news on other channels, raising awareness of e-sports.
The number of viewers using smartphones to watch live streams is increasing fast, promoting e-sports games released for phones such as Garena Lien Quan Mobile, PUBG Mobile, Raid, Vainglory.
New games like Survival Heroes and Glory Arena will also enter the Vietnamese e-sports market in 2019. Currently with the help of leading Vietnamese publishers, promising even larger momentum for e-sports on mobile platforms in 2019.
Besides, Vietnam will be the destination of international e-sports events. Riot will organise the League of Legends and World Cup League Mid-Season Invitational tournament in Vietnam and Taipei in 2019. VIR