Education, especially tertiary education, will serve as a foundation for Vietnam to thrive. The reform of education can only be implemented through digital transformation.
The Ministry of Education and Training (MOET) recently organized a workshop on digital transformation in the education and training sector, an activity to deploy the national digital transformation program under which education is one of eight priority fields.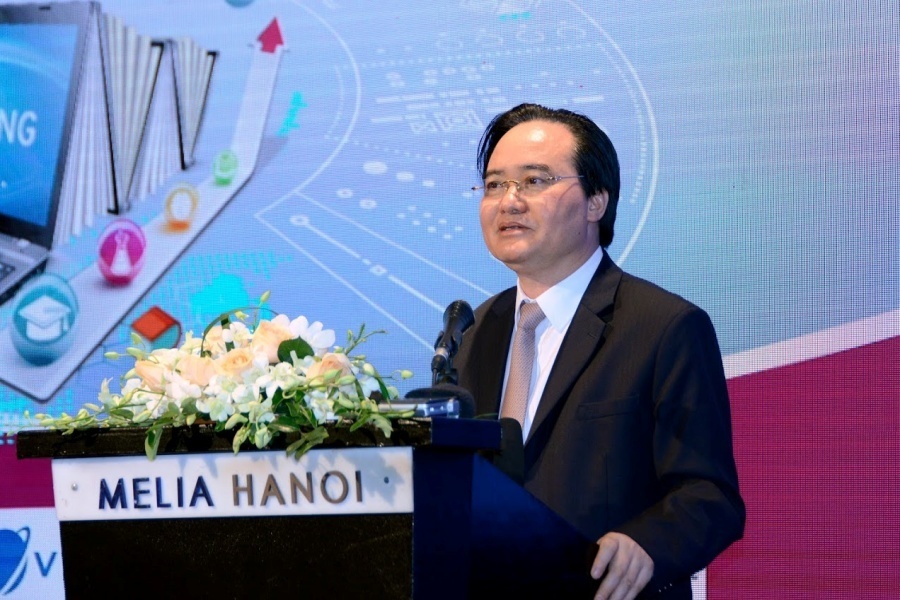 Minister of Education and Training Phung Xuan Nha
Some policies on digital transformation in education have brought encouraging results. Schools have organized online training courses.
Teaching is provided through TV and internet. Students' online learning results have been recognized. And schools and teachers now use e-grade books and e-school resports.
MOET has put into use a database on preschool education and general education with an aim to digitize all information on management subjects.
The ministry has completed digitization and identification codes for 53,000 preschools and general schools, more than 1.4 million teachers (records, qualifications, assessments in accordance with standards) and nearly 24 million students (biography, learning process, practice…)
It has cooperated with Tri Thuc Viet (Viet Knowledge) Project to develop a shared digital courseware, including open courseware, with about 5,000 e-lectures, 2,000 videos of lectures on TV, 200 virtual experiments, 200 textbook items, 35,000 multiple-choice questions and over 7,500 doctoral dissertations.
During Covid-19, MOET has used AnToanCovid.vn to build a database and draw maps about pandemic information for education establishments. Over 18,000 schools update information daily.

Education, especially tertiary education, will serve as a foundation for Vietnam to thrive. The reform of education can only be implemented through digital transformation.
MOET Minister Phung Xuan Nha said at the workshop that Vietnam is striving to become a leading country in digital transformation in the educational sector. It wants to produce Vietnamese citizens with digital transformation knowledge and skills who can be become global citizens.
Nha thinks the educational sector needs to be re-organized to carry out digital transformation in a more methodical way. First, it is necessary to have a national technological platform for institutions, individuals, students and teachers to work on.
Strong determination
Making recommendations to MOET, Minister of Information and Communications Nguyen Manh Hung said to ensure the success of digital transformation, the first thing MOET needs is strong determination from the leader. The ministry needs a resolution and plan on digital transformation, to be followed by institutional changes and teaching models.
The goals of digital transformation in tertiary education are improving training quality but easing teachers' overloads, changing teaching and learning models, providing new teaching tools to teachers, and changing training models through the application of digital technology.
Hung said the educational sector is lacking a platform tool to ensure effective implementation.
These must be open platforms that can be updated and improved every day. The platforms have not only content but also teaching and learning methods, and the forms of exams and tests. Vietnamese digital technology firms can help build such platforms.
To carry out digital transformation in tertiary education, Hung suggested turning each university into a miniature digital country. All teachers and students' activities will be implemented in the digital environment. Everyone at universities will have a digital identifier.
Living, studying and working in a digital environment is the best way to offer training in digital skills.
New thinking
Deputy Minister of MOET Hoang Minh Son, who was Rector of the Hanoi University of Science and Technology, spoke how the school applied digital solutions.
The school's leaders had a meeting one Saturday afternoon to discuss whether to shift to teaching online and made a decision on the evening of the same day.
Online teaching was deployed immediately the next day. When the new week began, 30 percent of classes shifted to online teaching and the figure rose to 90 percent after two weeks.
The students just needed to go to events and scan QR codes. The system automatically recognized them and provides information to assess their diligence.
"So, we can see that once we have high adaptation and capability, digital transformation will be feasible," Son said.
Single online platform needed
Nguyen Dinh Duc, head of the training division of the Hanoi National University, many schools face problems when deploying digital transformation.
One of the questions for them is which software to use when organizing online classes. He suggested creating a platform for online teaching for universities in Vietnam.
He also thinks that it is necessary to set up criteria to assess the digital transformation process of schools. 
Thuy Nga

The Vietnam Digital Transformation Day (DX Day Vietnam) 2020 is scheduled to take place in Hanoi on December 14-15 with the direct participation of more than 2,500 delegates and over 10,000 others online.

The Ministry of Education and Training has announced a draft circular providing three e-learning methods for the new academic year this August due to COVID-19 pandemic concerns.