At 8 am May 16, Hai Phong, a 12th grader at a Hanoi high school was sitting in front of his laptop, checking the internet, camera and headphone, waiting for his turn to be interviewed for admission to the Hanoi University of Science and Technology.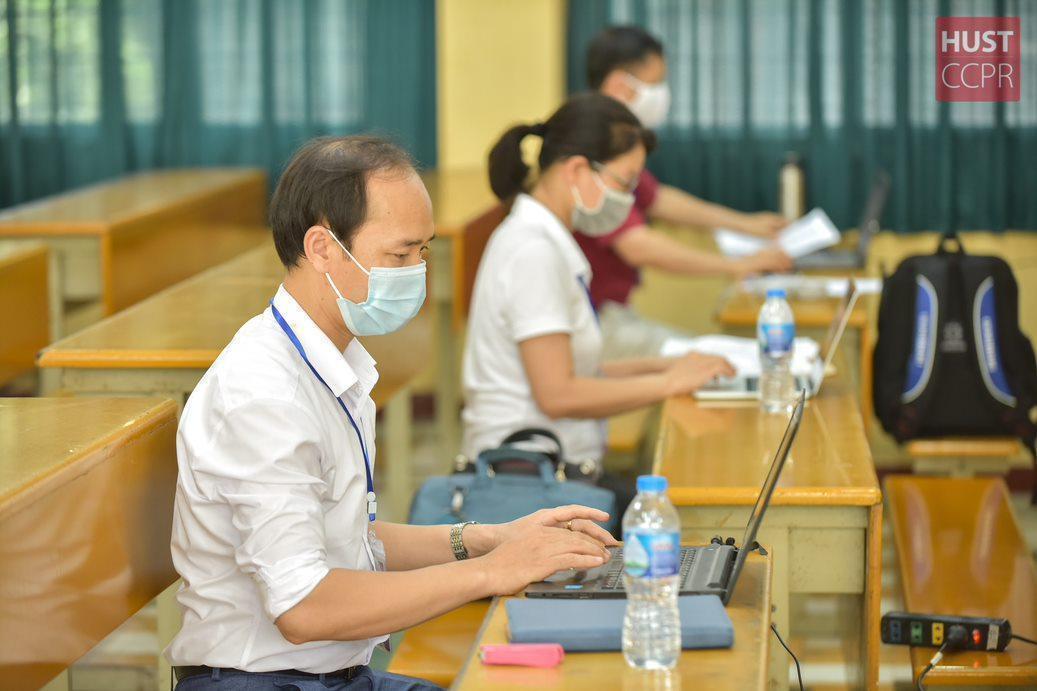 This was part of the exam organized annually by the school to admit talented students. In previous years, students had to come to the school to attend in-person interviews.
As the Covid-19 outbreaks have reoccurred, the school has decided to interview students online this year.
The online interview attracted 2,000 students who had been shortlisted. Each student was interviewed for 15 minutes.
Phong was the ninth student interviewed that day. As he was used to online learning in the last year, he felt comfortable and answered five questions from the jury board.
After 15 minutes, Phong clicked his mouse to leave the exam room and waited for the result.
The student said the online interview allowed students to save time, and ensured health safety.
Online studies
Nguyen Phong Dien, Vice Rector of the Hanoi University of Science and Technology, said the interviewd on May 16 were a large-scale activity that the school had never held before.
Dien said the school prepared for the interviews very carefully to be sure that the transmission lines were smooth, the interview content was reasonable, and the procedure was strict, while ensuring the most favorable conditions for students.
The interviewing was done on Microsoft Teams, the online platform that the school has a lot of experience in using.
The internet connection infrastructure and support equipment was upgraded the previous day, and more than 300 lecturers had been trained.
At present, online exams are only considered an alternative, a temporary solution when students cannot go to school amid the pandemic.
The central city of Da Nang and the northern province of Vinh Phuc decided to allow schools to organize online exams, while Hanoi has allowed 12th graders to do tests online, and the use of technology in examining and assessing students.
Deputy Director of the Da Nang Education and Training Department Mai Tan Linh said that secondary and high school students in the city will have online exams on Google Forms, Quizizz, vnEdu LMS and Microsoft Teams platforms. Teachers will compile exam questions for every subject based on the knowlege level that students have to reach.
The biggest concern for online exams is how to prevent exam cheating.
Linh said the department has asked to film the entire process of students doing exams and apply a closed exam procedure to ensure strict student supervision in order to minimize cheating.
Tran Manh Tung, a maths teacher at Luong The Vinh High School in Hanoi, said that online exams are the only choice now.
He said, however, that it is difficult to ensure the seriousness of exams and assess students' abilities through online exams. Technological solutions are the key to minimize exam cheating.

The central city of Da Nang and the northern province of Vinh Phuc decided to allow schools to organize online exams, while Hanoi has allowed 12th graders to do tests online, and the use of technology in examining and assessing students.
Schools need to make decisions on which platforms and software to use for online exams to prevent interventions from outside.
He suggested using diverse forms for online exams, including multiple exam questions, which allow teachers to mark students' work on software; online oral tests, essays, and project implementation and presentation.
Luong The Vinh High School has also tested students online. Students had 30 seconds to give an answer to the first question. After that, a second question was raised. This means that questions were only asked after students finished the previous questions. This prevented students from sending questions to other people and asking for help.
Online university entrance exam
Educators believe that online exams could be applied not only to semester-end exams, but also to exams at provincial level, and to national high school finals and university entrance exam.
Dien believes that online exams are convenient and economical for examinees. However, he admitted that there would be great challenges in technical infrastructure, exam content and exam procedure.
Meanwhile, the Ministry of Education and Training (MOET) said it is impossible to organize online high school finals, because this is not allowed under current law.
OLM (Olm.vn), the website developed by the Hanoi University of Education, has a system for online exams.
In related news, MOET has asked schools to organise tests and assessments in line with the local situation to ensure safety for students and teachers. 
Ngo Huyen - Hoang Thanh

Three conditions are needed to make online teaching more common in Vietnam: parents' support, teachers' capability of shifting to new teaching methods and students' readiness for a new style of interaction.

University and school students from more than 30 cities and provinces nationwide on May 10 entered the second week of online studying since their schools were shut on May 4 due to the serious ongoing COVID-19 outbreaks.