The solitary out-of-the-way hills, where people cultivated maize and cassava, have turned out to be land areas worth millions of dollars since the day people shifted to grow other crops more than a decade ago.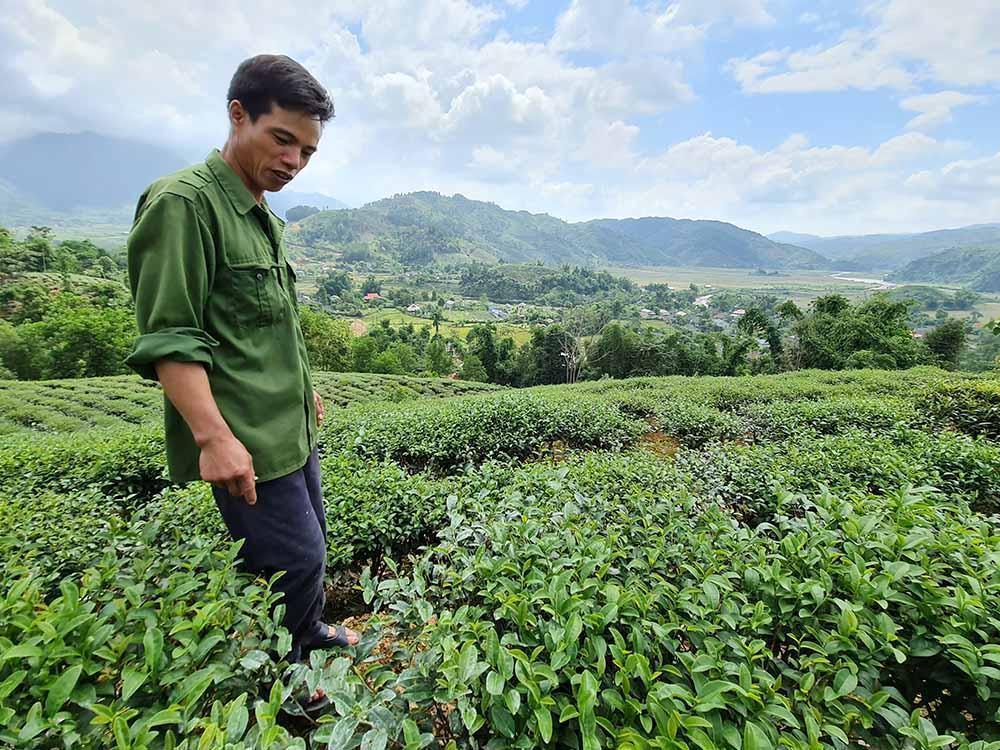 In September 2009, Lo Van Van, born in 1980, in Ban Bo commune, Tam Duong district in the northern province of Lai Chau, decided to clear his maize field to grow tea, though it was about to be harvested, ignoring protests from villagers.
Local people thought that Van made an unwise decision, because maize was could bring the highest value and it fed thousands of families in the northeastern land area.
Van's lonely tea field was surrounded by maize and rice fields.
The story about Van, who gave up his maize field, which was his fortune, to grow tea in anticipation of the provincial tea development project is often recalled by the Thai ethnic minority there.
Three years later, Van began harvesting tea. Since then, the tea growing hills have brought a steady annual income of nearly VND100 million to his family.
"If I till rice on the area of 2,000 square meters, I would harvest one ton of rice, worth VND16 million. If I grow tea on that area, I can earn VND60 million," Van said.
Van's success has triggered a revolution in the locality. Households in Ban Bo commune and neighboring communes are rushing to shift to grow other crops.
From 2013 to 2019, the tea growing area in Ban Bo commune alone increased from 60 hectares to 1,000 hectares, while the figure was 1,300 hectares in the entire district. Every year, Ban Bo's households earn VND40 billion.
According to the Lai Chau provincial Department of Agriculture and Rural Development, the total tea growing area in the province had reached 7,000 hectares by 2019. The local tea production can bring VND120 billion a year.
The province exports dried tea to choosy markets worth millions of dollars.
Contrary to people's assumptions about small dilapidated houses in the solitary northwest, the houses in Tam Duong district are spacious and well equipped. There are asphalt roads linking every village. Tea plants have created a completely new look for the locality. Ethnic minority groups not only have escaped poverty, but have become well off.
Vietnam's tea value

The solitary out-of-the-way hills, where people cultivated maize and cassava, have turned out to be land areas worth millions of dollars since the day people shifted to grow other crops more than a decade ago.
Vietnam ranks fifth among the largest tea exporters in the world and the seventh among largest tea producers. Seventy four countries and territories import tea from Vietnam.
According to a report, 34 cities and provinces in Vietnam were growing tea as of 2020 on a total area of 120,000 hectares. Tea is mostly grown in the northern midlands and mountainous areas which account for 70 percent of total tea growing area in the country.
More than 170 tea varieties are being grown in Vietnam which give high yield and special flavor. Shan tea (a wild tea mostly grown by ethnic minority people in mountainous areas), PH1 and LDP1 are some of them.
The soil and climate conditions in the provinces of Lai Chau, Son La and Dien Bien are favorable for growing shan tea (24 percent of total growing area of the country) which can bring high value.
The report from the General Department of Customs in December 2019 showed that Vietnam's tea is present in large markets, including Pakistan (48,000 tons), Taiwan (19,000), Russia (15,000) and Indonesia (10,000).
However, Vietnam mostly exports tea as raw material which has low prices. Tea products made of Vietnam's tea now bear importers' brands.
According to the Department of Crop Production, because of problems in variety structure, black tea remains Vietnam's key export product which accounts for 70 percent of total output (the figure is just 10 percent in the world).
Also, the problems in tea processing and consumption are still hindering the development of the potential farm produce. There are big differences in value created by different tea processing workshops. Bad branding and food hygiene problems are also obstacles that hinder access to choosy markets.
Experts believe that to solve these problems, the quality of tea products should be improved by shifting to new varieties.
They have advised to make investment in high-quality processed products to form a modern tea processing industry. Enterprises need to diversify their products and meet
VietGAP standards.
VietGAP, or Vietnamese Good Agricultural Practices, means good agricultural practices. It is the application of production methods to produce clean and safe products, especially fresh fruit and vegetable.
If tea processing enterprises can cooperate with farmers, this will allow them to have stable material supply for processing. Also, enterprises in the industry need to restructure the black and green tea ratio to better satisfy domestic and export markets.
Despite Covid-19, tea exports remain stable with 475,000 tons exported in the first six months of 2020. Vietnam is one of the biggest tea exporters in the world, but it mostly exports raw tea, which brings low added value. 
Ha An

Hai Duong's first farm produce, including cabbage and chicken eggs, are being sold on voso.vn, an e-commerce website, while an online stall distributing Hai Duong's produce has been set up.

After Hai Duong, the country's Covid-19 epicenter, imposed social distancing beginning at midnight on February 16, distribution of nearly 100,000 tons of farm produce was disrupted.