With its engagement in many free trade agreements, Vietnam is becoming an enticing destination for foreign investors who want to engage with the country to improve their supply chains.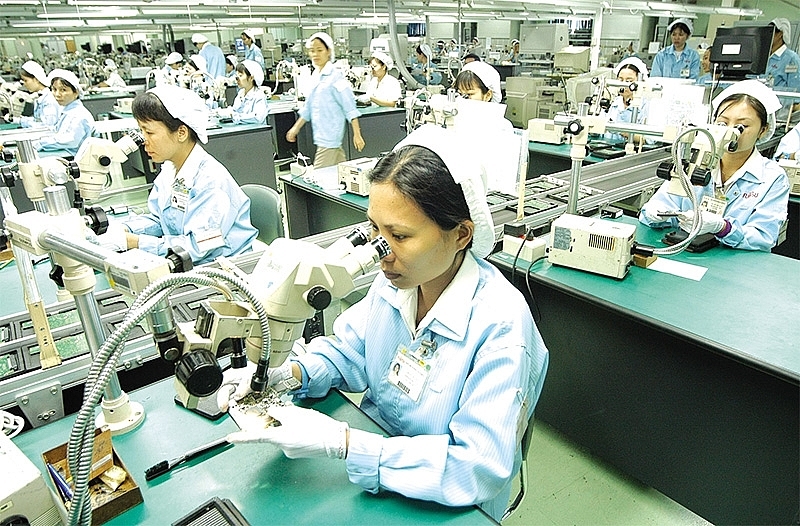 The EU-Vietnam Free Trade Agreement will further create interest from investors looking to relocate
Barring any drastic changes, in the third quarter of this year Tony Chu, sales and development director of US logistics firm KPL will come to Vietnam in search of investment opportunities, after carrying out the same mission in other Southeast Asian nations such as Thailand, Indonesia, and Malaysia.
"We are seeing a shift in investment from big groups to Vietnam where the demand for developing infrastructure is huge," Chu told VIR. "Many US investors in Vietnam are also in need of co-operation with partners to develop their own logistics networks in Vietnam. So we may work with them in this regard."
Nick Miller, chief financial officer of Australia's AgUnity – a mobile blockchain platform that helps farmers share resources – is eager to commence a pilot project around the rice value chain in Vietnam. He is working with Mekong Agritech Challenge (MATCh), which can help him introduce the platform into the country.
Through MATCh, AgUnity is connecting with two Vietnamese agricultural companies, Trung Thanh Hi-tech Farming JSC, and the PAN Group.
"If our platform is implemented successfully in Vietnam, we will seek to expand it to other value chains and local partners," said Miller.
AgUnity's app allows farmers to perform transactions such as hiring custom seeders and harvesters, co-operating with other farmers for taking crops to market, and monitoring it through the production process. This ability to build trust with other farmers, vendors, and processors is life-changing for these farmers.
AgUnity's standard deployment model is to provide a phone, with the AgUnity App pre-installed to the farmer for free. However, that cost still needs to be funded by the project.
"In considering a pilot with Trung Thanh, we will work collaboratively with them to assess how financial support can be provided to support the cost of the phones and other project deployments costs whilst delivering benefits to all project participants," Miller added.
In fact, KPL and AgUnity are among many companies seeing Vietnam as an attractive and safe investment destination in Southeast Asia. While the country's business climate is improving, its young workforce is tech-savvy and diligent, two major factors in the recent moves being made.
"Vietnam is now becoming a hotspot for many foreign companies to develop their supply chains for the region and the wider world," Deputy Prime Minister Trinh Dinh Dung told a recent forum on Asian economic co-operation in the southern province of Binh Duong, which was attended by hundreds of senior representatives of both foreign and domestic businesses.
Magnet to investment
The Vietnamese Ministry of Planning and Investment reported that as of May 20, Vietnam attracted 28,632 foreign-invested projects from nearly 130 nations and territories, with the total registered capital of $350.53 billion.
From January to May 20 this year, the country lured in 1,363 new foreign-invested projects with the registered capital of $6.45 billion. If added capital from operating projects and capital from stake acquisition are taken into account, the total foreign capital registered in Vietnam in this period reached $16.73 billion, up from $9.9 billion in the same period of 2018.
"With the policy of intensive international integration, Vietnam has become a reliable and dynamic trade partner for the international community," DPM Dung said.
Vietnam, a member of the World Trade Organization, has engaged in 12 free trade agreements (FTAs) so far, including six between the ASEAN and the bloc's major partners such as China, India, Japan, and South Korea. This year is also seeing the implementation of the Comprehensive and Progressive Agreement for Trans-Pacific Partnership (CPTPP) in Vietnam, while the country and the EU are scheduled to officially sign a bilateral agreement (EVFTA) imminently.
"These FTAs are opening up the doors to more than 50 economies for Vietnam's exports and investment," DPM Dung added. "They create big opportunities for the country to connect and engage more in the global supply chains and production networks."
Mauro Petriccione, EU chief negotiator and deputy director-general for trade at the European Commission, highly values the EVFTA as a great enabler for European investors to increase their value chain in Vietnam as compared to other nations.
"The agreement is a great opportunity for European exporters. Vietnam has a vibrant economy of more than 90 million consumers, a growing middle class, and a young and dynamic workforce. It is a market with great potential for the EU's agricultural, industrial, and services exports," he said.
Vietnam is also one of the fastest-growing countries in the ASEAN with an average GDP growth rate of around 6.6 per cent between 2000 and 2018. The EVFTA will put EU exporters at least on a par with those from other countries and regions which have already concluded FTAs with Vietnam. At the same time, it will put Vietnam in the same league as, for instance, South Korea and Singapore, who have concluded FTAs with the EU.
"It will create new opportunities for growth and development on both sides – for example, by making cuts in customs duties which will come into force quickly, while protecting those sectors which are especially sensitive," Petriccione added. "The EVFTA will also help promote high-quality investment between Vietnam and the EU."
According to DPM Dung, with its open economy, Vietnam currently holds an important position in the world's supply chain that cannot be seen in all nations. The participation in many important economic links in the world has created the diversity in Vietnam's supply chain, and helped the country reduce negative impacts caused by international trade.
"It can be said that after putting capital into Vietnam, investors can have opportunities to access almost all the major markets in the world in a more favourable manner," DPM Dung stressed.
In fact, over the past 20 years, Vietnam has signed more FTAs than any other country in the region, becoming one of the world's largest integrated economies with over 170 per cent proportion of trade to GDP.
In addition, the country's export growth has averaged 15 per cent in the past five years, almost five times as high as growth in global trade. As a result, Vietnam is emerging as an international industrial production hub and one of the world's leading destinations for foreign direct investment.
Need for improvement
Vietnam jumped 25 spots in the World Bank's Logistics Performance Index for 2018, ranking 39th among 160 countries, compared to 64 in 2016. Among the ASEAN member states, its rankings rose from 5th to 3rd during the same period.
Nonetheless, Vietnam's export and import costs are still higher than the ASEAN average, reducing its ability to participate in the global value chain. This is largely due to the fact that the country's logistics costs are still high that they account for more than 20 per cent of its GDP, nearly twice as high as the GDP of other developed economies.
The World Bank also suggested that the country still improve its logistical efficiency in order to attract more investment.
Since early 2017, the Vietnamese government has resolutely implemented the tasks that the prime ­minister proposed in Decision No.200/QD-TTg, which approved for the plan to improve the development and competitiveness of the country's logistics services by 2025.
The decision aimed to increase the growth rate of these services by 15–20 per cent, reduce the contribution of logistics costs to GDP by 16–20 per cent, increase the country's LPI to that of the top 50 or higher worldwide, and increase the sector's contribution to GDP by 8–10 per cent.
The decision also focused on attracting investments to the development of logistics infrastructures, forming leading logistics services enterprises capable of competing in both domestic and international markets, and improving the connection between Vietnam and other countries so as to transform the country into a regional logistics hub.
For Chu of KPL, if Vietnam wants to increase competitiveness, it needs to encourage manufacturing corporations to further invest into the supply chain. "As far as I am concerned, the US-China trade war is prompting ­investors to move their facilities out of China to Southeast Asia," Chu said. "If Vietnam wants to attract these ­investments, it should improve ­logistics services, which can help shorten the flow of goods through the application of new technologies in ­logistics and professional human ­resources." VIR
Thanh Dat

The doors to export markets have opened after the signing of government-to-government agreements. However, enterprises still have to overcome many challenges.

Nearly 100 percent of materials needed to make textile and garment products must be imported, limiting Vietnam's to take full advantage of preferential tariffs in FTAs.

Vietnam's textile and garment may not be able to take full advantage of the preferential tariffs of two important FTAs, CPTPP and EVFTA, because of problems in input materials.