Some Vietnamese enterprises have invested in electric-car manufacturing and charging stations, but an overall electric car strategy has yet to be developed by the government.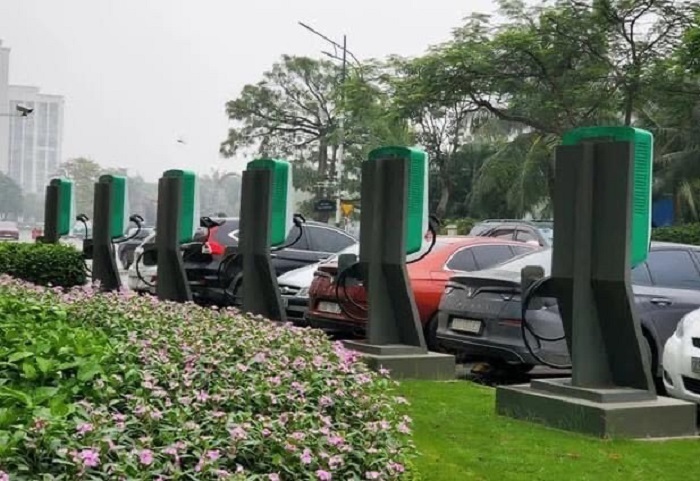 The Government Office recently released a notice about the Deputy Prime Minister Le Minh Khai's decision on electric car policy in the next five years.
Khai asked the Ministry of Finance (MOF) to join forces with the Ministry of Industry and Trade (MOIT), Ministry of Transport (MOT) and Ministry of Natural Resources and the Environment (MONRE) to collect opinions on Vingroup's proposal about the development of electric cars and report to the Government.
At a working session with Government leaders and ministries on May 19, Nguyen Viet Quang, CEO of Vingroup, proposed that the Government offer tax and fee incentives so that enterprises can have more favorable conditions in a fiercely competitive business field like automobiles.
In April 2021, VinFast announced that it had begun taking orders for its first electric car model VF e34. The first products will be delivered to clients by November 2021.
VinFast said it is cooperating with Taiwanese ProLogium Company to research and develop solid-state batteries for electric cars.
Vingroup has made significant investments in making VinFast electric cars on a large scale. It has also been developing charging stations and researching batteries.
However, while the enterprise is following a methodical investment strategy, there still has not been a national electric car manufacturing strategy.
At this time, electric cars can only enjoy incentives in car parts import tariff (zero percent) and in luxury tax (70 percent of the tax rate applied to cars using internal combustion engine). Meanwhile, other taxes and vehicle registration tax are the same.

At this time, electric cars can only enjoy incentives in car parts import tariff (zero percent) and in luxury tax (70 percent of the tax rate applied to cars using internal combustion engine). Meanwhile, other taxes and vehicle registration tax are the same.
In the past, Mitsubishi wanted to manufacture and assemble electric cars in Vietnam. However, it became discouraged while waiting for policies on electric car development.
Some foreign-invested automobile manufacturers have become impatient recently, having working sessions with ministries about the country's intention to develop an electric car industry.
The enterprises want to scale up investment in Vietnam and make electric cars in the future.
Lagging behind
As for countries with developed automobile industries, challenges will arise once the automobile industry shifts to making electric cars. The car parts used for internal combustion engine cars, such as the engine and gear box, will be gradually eliminated. This means that the manufacturing of these parts will decline, which may cause the loss of hundreds of thousand of jobs.
However, Vietnam won't be affected because its automobile industry has not developed, and the industry doesn't rely heavily on cars using internal combustion engines. In other words, it won't be too costly for Vietnam to shift to making electric cars.
Moreover, Vietnam has great potential to develop an automobile industry thanks to its market and geographical position for global logistics activities. The country also has a skilled and industrious labor force.
Unlike Malaysia, Thailand and Indonesia, Vietnam applies right-side traffic law, which helps optimize production organization and cost.
All these factors are enough to turn Vietnam into an automobile industry headquarters in the future.
In Southeast Asia, Thailand and Indonesia are competing fiercely to lure investment in electrified automobile manufacturing, including HEV (hybrid electric vehicle), PHEV (plug-in hybrid electric vehicle), FCV (fuel cell) vehicle and EV (electric vehicle). They also want to become an electric automobile center of the region and the world.
This goal is being realized by the two countries through policies such as lower tax for lower CO2 emissions. In addition, they also offer incentives to investors and financial support to electric car buyers.
With these policies, both Thailand and Indonesia have attracted billions of dollars worth of capital from the world's leading automobile manufacturers, including Toyota, Honda, Hyundai and LG, which have invested in electric car and battery manufacturing.
Meanwhile, Vietnam has no policy yet, despite increasing air pollution.
Nguyen Minh Dong, a respected automobile expert, said that in order to develop electric cars, it is necessary to offer more incentives and give support to manufacturers, including capital access for technology development, and infrastructure and supporting industry development. In addition, financial support should be offered to encourage people to shift to electric cars.
"In one word, it's necessary to build an electric-car manufacturing development strategy with feasible policies," Dong concluded. 
Tran Thuy

Vice Chairman of the National Traffic Safety Committee Khuat Viet Hung talks about proposals to the Government to promote green and environmentally friendly traffic in Vietnam.

Only when fast-charging batteries along with a nationwide system of charging stations will electric cars become popular in Vietnam.