Hanoi leaders have mentioned the possibility of loosening social distancing from September 15 if the spread of the coronavirus can be curbed. HCM City is also considering loosening social distancing regulations two weeks after September 15.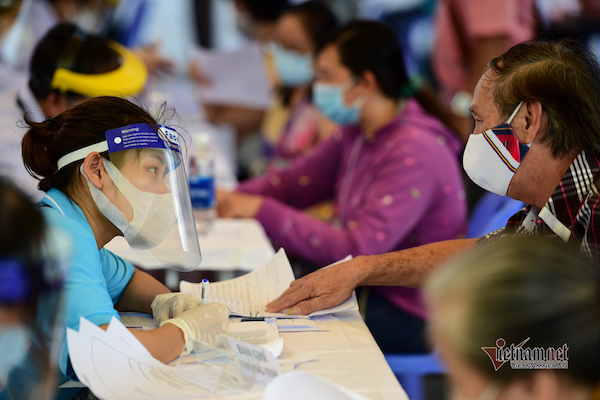 Hanoi and HCM City, which make up 45 percent of the country's GDP, have been under lockdown for 2-3 months. The demand for reopening to resume production and business has become more urgent than ever.
However, Hanoi and HCM City Party Committee Secretaries have reasons to keep cautious. Prime Minister Pham Minh Chinh warned against being complacent about the initial achievements after a long social distancing time. He warned about resuming production and business activities when the conditions are not safe enough and localities have not prepared well for reopening.
Criteria
Hanoi, HCM City and other localities are required to refer to regulations on pandemic control stipulated in Ministry of Health (MOH) Decisions 3979 and 3989 released in mid-August to decide whether to loosen lockdowns.
The documents say that localities under lockdown under the Prime Minister Directive 16 can only reopen when satisfying two criteria on the number of new Covid cases and the index on infection risks.
The number of weekly new infections in the community must drop compared with the two previous weeks, and fall by at least 50 percent compared with the peak week of the pandemic wave.
The daily ratio of PCR (polymerase chain reaction) test positive samples to total samples must continuously decrease over a period of 14 days.
Moreover, localities must not report any clusters of new infections for at least seven days.
Regarding indexes about infection risks, they must decrease by at least 50 percent in districts and communes at 'very high risk level', by at least 50 percent in districts and communes at 'high risk level', and by at least 50 percent in districts and communes which have infection risks.
In HCM City, the required index decrease is 30 percent.
The criteria cannot be satisfied by localities now, especially when the virus has been spreading in the community as in HCM City, Binh Duong, Long An and Dong Nai.
In Hanoi, the total number of infections in the fourth wave has reached 3,780, including 1,595 community transmitted ones. In HCM City, about 100,000 cases are under home quarantine.
Hanoi, HCM City and all other localities cannot meet the criteria set in Decisions 3979 and 3989 to reopen.
Changing way of thinking
Analysts say that the criteria in the two decisions might have been designed to cope with other viruses in the past, but not with Delta which has been spreading rapidly.
According to scientists, the British variant is over 1.7 times more contagious than the previous variants, but the Delta variant is 1.4 times more contagious than the British variant.
They pointed out that at the moment of designing the criteria, the Ministry of Health did not consider a 'weapon' to fight the pandemic – vaccinations.
Meanwhile, localities all are gearing up to enlarge vaccination coverage. Hanoi, for example, can give 1 million shots every two days. The capital city estimated that 100 percent of the population would get the first shot by September 15, 2021.
In HCM City, 250,000 shots on average are being given daily. It is expected that 100 percent of population will get the first shot and 33 percent the second shot by September 15.
Experts believe that the number of people with Covid-19 antibodies might be up to millions, if noting that the number of real infections is 3-4 times higher than the number of reported infections found by testing.
HCM City Party Committee Nguyen Van Nen said: "We cannot continue to apply complete social distancing and we won't be able to eliminate the virus. Instead, we will reopen step by step and live in the new normal."
Dr Vu Thanh Tu Anh said 'living together with virus' is different from 'living together with the pandemic'.
"We can live together with small floods, but not with the deluge," he explained. "We accept a certain number of Covid-19 infections in the community, but we must not let the infections spread and develop into a pandemic."
He said that if the answer is 'no', we will continue to follow the 'Zero Covid' strategy, i.e. continuing to impose lockdown, despite vaccinations and economic recession.
if the answer is 'yes', we will accept to live safely together with Covid, stop pursuing the 'Zero Covid' strategy which no other country in the world does except China and New Zealand.
New circumstances need new policies
Israel, the UK, US and other countries show that even when the majority of people have two vaccine shots, SARS-CoV-2 will continue to exist in the community.
As such, amendment of the criteria in Decisions 3979 and 3989 and the risk assessment methods has become urgent. 
Tu Giang

A trial reopening in HCM City will be implemented on September 16-30 in districts 7, Cu Chi and Can Gio before following steps are taken.

In order to speed up mass testing and vaccination against Covid-19 for its residents, Hoan Kiem district in Hanoi has organized vaccinations both day and night.