Hanoi has changed its view about the treatment of positive Covid cases and the home quarantine of their close contacts.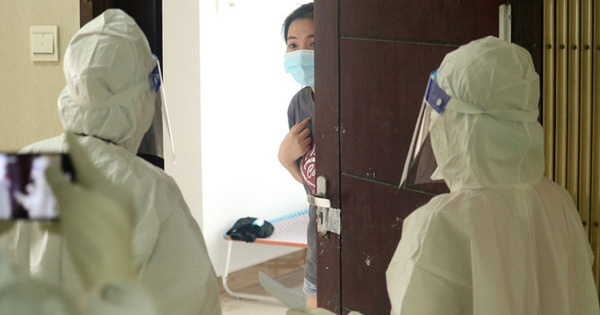 Deputy Director of CDC (Centers for Disease Control and Prevention) Hanoi Khong Minh Tuan said asymptomatic positive cases won't be hospitalized for concentrated treatment, and Hanoi will set up mobile clinics to treat mild cases.
The model of mobile clinics in Hanoi has differed from that in HCM City. In HCM City, positive cases stay at home and medical workers go to their homes to give examinations and provide drugs.
In Hanoi, mobile clinics have received patients and treated them at certain places (cultural houses or facilities). All districts, communes and wards arrange facilities for gathering and treating asymptomatic cases.
Hanoi plans to establish 508 mobile clinics, including 20 commune clinics located in industrial zones and export processing zones.
Truong Thuy Phong, Director of Ha Dong Medical Center, told VietNamNet that the center is checking possible locations.
The center on November 16 found two wards which have favorable conditions to serve as treatment facilities. Phu Luong 2 Preschool in Phu Luong Ward is one of the two facilities.
"It is difficult to find suitable locations because a facility needs to be large enough for 150-200 patients and have toilets and shower," he said.
Previously, Ha Dong district had 17 clinics located at cultural houses which treat patients at home, a model like the one in HCM City. Medical staff visit patients' houses to treat them.
However, Hanoi doesn't give treatment to patients at their homes, but sees patients at certain facilities under local management. They have to change locations, because the cultural houses are small and are located in residential quarters.
Phu Do Ward is now a hotbed with complicated developments. There are positive Covid cases with unclear sources of infection.
The locality has a small area and high population, where a village community culture exists. Locals have the habit of communicating and visiting each other every day, so it faces a high risk of rapid spread of the virus.
The municipal authorities said one mobile clinic should be set up in every ward and commune.
According to Nguyen Anh Tuan, Head of Nam Tu Liem District Healthcare Sub-department, 10 clinics in 10 wards of the district have been set up and have enough workers.
"The purpose of mobile clinics is treating patients at home, but Hanoi doesn't plan to treat them at home," Tuan said.
"There's a high number of cases in Phu Do Ward, so the district has activated the mobile clinic located at Phu Do Primary School, prepared six sickrooms and medical equipment. Once the city allows to treat them at home, the force will be able to work immediately," he explained.
Le Van Chu, Deputy Chair of Phu Do Ward, said the district's medical center on November 15 began building a mobile clinic which will be completed soon. The clinic will provide initial health examinations to people.
Home quarantine for close contacts?
While other cities and provinces have successfully applied the model of allowing close contacts of positive cases to have home quarantine, Hanoi has decided to allow home quarantine on a 'trial basis'.

If satisfying the requirements set by the Ministry of Health (MOH), Hanoi should apply the home quarantine model immediately. There is no need to undergo implementation on trial or pilot basis, because the model has been applied in many other cities and provinces and has shown its advantages.
Meanwhile, experts have repeatedly urged Hanoi to follow the model immediately.
Tuan of CDC Hanoi said home quarantine for positive cases is not a new model as it has been applied in many other cities and provinces. But it has not been used in Hanoi so far, and Hanoi is just 'piloting' the model.
"Home quarantine for positive cases is just temporary, and if it is not okay, the pilot program will be stopped," Tuan said. "Hanoi People's Committee's Official Telegram No 23 also says the home quarantine will be implemented until there is new notice from the municipal authorities."
Tuan pointed out that the risk of the virus spread is very high in Hanoi, with its high population, so it's necessary to consider the home quarantine model thoroughly.
Some areas in Hanoi are allowing patients' close contacts, including old people, people with underlying health conditions, and pregnant women and children, to have home quarantine.
To be able to have home quarantine, they must have favorable conditions like private rooms and private toilets, have relatives to take care of them, and satisfy requirements on waste collection. They also must have periodic testing.
Tran Dac Phu, former Head of the Preventive Medicine Agency and Senior Expert of the Vietnam Public Health Emergency Operation Centre , affirmed that if satisfying the requirements set by the Ministry of Health (MOH), Hanoi should apply the home quarantine model immediately. There is no need to undergo implementation on trial or pilot basis, because the model has been applied in many other cities and provinces and has shown its advantages.
Phu stressed that concentrated quarantine for all close contacts of positive Covid cases as currently applied is not necessary, because the vaccination rate in Hanoi is relatively high. Moreover, as people have to adapt to the pandemic, their awareness about applying anti-pandemic measures has been heightened.
Nguyen Huy Nga, an expert in preventive medicine, agrees with Phu.
"My view is that Hanoi should abandon concentrated quarantine," he said.
An official in Cau Giay District said there are currently a high number of close contacts of Covid patients in the locality, and if they all were put under concentrated quarantine, this would put pressure on infrastructure. 
Huong Quynh - N. Huyen

The capital is set to allow F0 and F1 cases to quarantine at home in an effort to ease pressure placed on concentrated isolation facilities and reduce the risk of cross-infection occurring at concentrated quarantine centres.

COVID-19 patients in HCM City who do not meet the criteria for home quarantine will be allowed to stay at a designated quarantine facility in their local area or at their company,