Hanoi needs to find solutions to prevent the coronavirus from spreading and causing overloading of the healthcare system.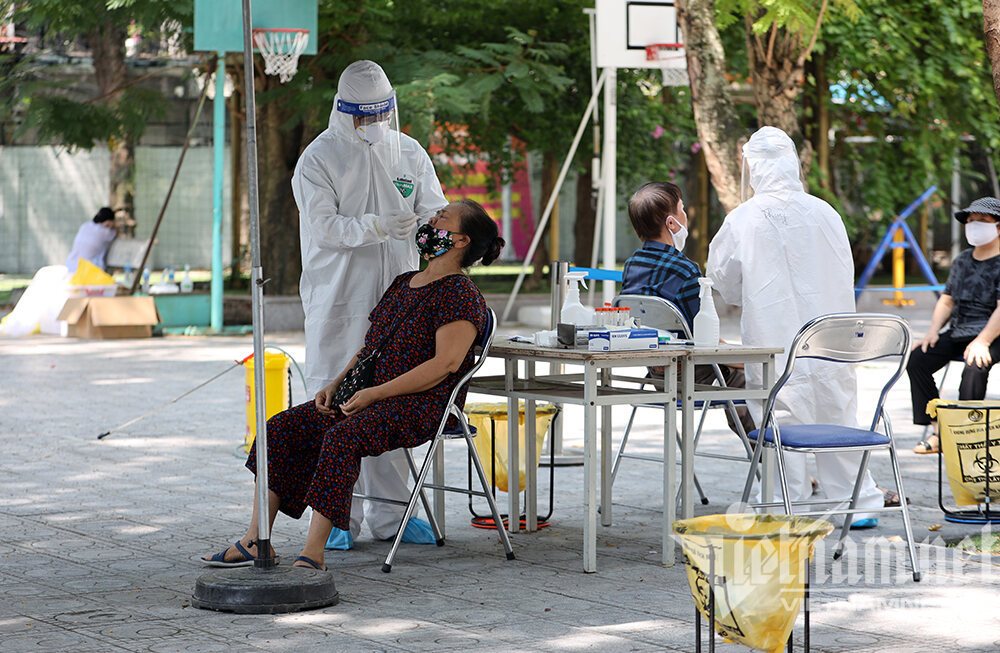 Hanoi has reported 3,922 Covid-19 patients in the fourth wave, including 1,597 cases found in the community and 2,325 in isolated areas.
After a long social distancing period, about two third of districts in Hanoi are considered green zones which are allowed to return to the 'new normal'. The municipal authorities allowed a number of business and service establishments to resume operation on September 16.
Nguyen Viet Hung, vice president of the Hanoi Association for Infection Control, said Hanoi has been doing well in fighting the pandemic. Previously, the city reported 100 cases a day, but there are now below 20 cases a day, mostly found in isolated areas.
One of the most impressive achievements is that Hanoi is running the largest vaccination campaign in history. Most people aged 18 and over have had at least one shot.
"The results of the fight against the pandemic and vaccinations are important factors for municipal authorities to decide to remove social distancing in most districts," Hung said.

After a long social distancing period, about two third of districts in Hanoi are considered green zones which are allowed to return to the 'new normal'. The municipal authorities allowed a number of business and service establishments to resume operation on September 16.
However, Hung said that the removal doesn't mean the coronavirus has been eliminated, and that the virus won't be able to penetrate into areas.
A new hotbed with no clear infection sources was recently found on Alley 22 Kim Quan, Viet Hung Ward in Long Bien district, the area where social distancing was lifted some days ago. Local authorities have temporarily blocked the alley, with 58 households and 183 people.
However, with its experience in controlling hotbeds, Hanoi is believed to be able to control the new hotbed.
"When lifting social distancing to live in the 'new normal', our top target is living safely together with the pandemic, not completely eliminating the virus," Hung said.
Asked by VietNamNet what Hanoi needs to do to 'live safely together with the pandemic' when social distancing is lifted, Hung said at first it's necessary to clarify what "safe from Covid" means.
"'Safety doesn't mean that people stay at the same place forever and wait for the number of cases to reduce to zero. Safety means not letting the virus break out strongly and cause serious consequences to people's health and the economy amid no social distancing," Hung explained.
5 solutions
Hung said Hanoi should focus on five major solutions for pandemic prevention and control.
First, keeping up the vaccination pace to increase coverage. Those who have received the first shot need to get the second shot on schedule. People highly vulnerable to severe illness or death from the virus need to be fully vaccinated with two doses. This is the top solution for the long-term fight against the pandemic.
Second, speeding up Covid-19 testing, with a focus on high-risk areas and high-risk groups of people.
Testing aims to discover infections, allowing isolation of hotbeds. Testing needs to be speeded up and PCR (Polymerase chain reaction) test results available within 12 hours.
If localities cannot carry out the testing campaign, they should ask for help from central hospitals or neighboring cities and provinces. Rapid antigen testing should be prioritized to use when screening the community. People should be encouraged to test themselves periodically.
Hanoi needs to use the media well so that people report themselves soon after they have symptoms (high temperature, cough.. ), and test these people immediately.
"I think this is a very important solution. A lot of people have symptoms but do not make medical declarations, but try to treat themselves at home. There was a case of a woman selling goods online for weeks before she was discovered as positive to SARS-CoV-2," he said.
Third, isolate hotbeds strictly. However, isolation needs to be implemented reasonably, depending on the risk level. The city could isolate one building or one alley, for example. There is no need to isolate a large area after discovering cases.
Fourth, isolate close contacts of patients, manage and treat mild asymptomatic patients at home.
"As we decide to live safely with Covid, we should not maintain the mode of concentrated quarantine and treatment. Patients who meet requirements and strictly comply with regulations can quarantine themselves at home," Hung said.
Home quarantine will help ease pressure on the healthcare system, promote the role of grassroots authorities and grassroot medical units and more importantly, help lift people's anxieties.
People don't want concentrated quarantine because they fear that conditions in quarantine areas are not good enough. They don't want to share rooms or toilets with others and have uncomfortable living conditions.
Fifth, strictly apply the 5K (in Vietnamese: Khau trang – facemask, Khu khuan – disinfection, Khoang cach – distance, Khong tu tap - no gathering, Khai bao y te - health declaration) principle, including in green zones.
"5K will be an important prevention strategy for a long time," Hung said. 
Nguyen Lien

Since August, Vietnam's export sector has started to feel the devastating effects of the pandemic and strict social distancing measures in many localities nationwide plus the disruption of supply chains and production.

The economy reflects the operation of all 13 southern cities and provinces, and different behaviors of each is hindering economic development.