Many resources in society have been mobilized for testing, vaccination and medical quarantine, which has improved service quality and helped businesses earn revenue.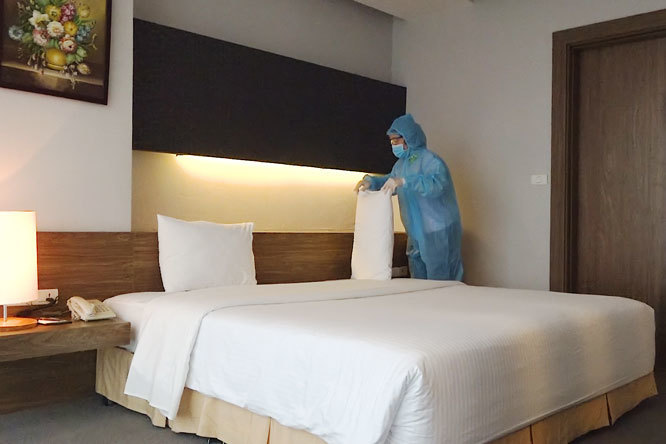 On July 30, the Ministry of Health (MOH) released an urgent dispatch signed by MOH Minister Nguyen Thanh Long on mobilizing medical facilities for the fight against the Covid-19 pandemic.
Hotels used as medical facilities
As a steward on international flights during the pandemic, Nguyen Thanh Trung has completed his medical quarantine period at a hotel in Hoan Kiem District in Hanoi. The fee for the quarantine period was paid by the airline where he works.
For Trung, the quarantine at the hotel was a new experience. He received adequate medical care in modern facilities.
"Workers at the hotel were available round the clock. I had nutritious meals every day. They helped me enjoy my quarantine time," Trung said.
A recent survey found that demand is high for hotels for quarantine.
According to the HCM City Tourism Department, in the first days when paid quarantine was launched, the users were mostly foreign specialists, managers and investors entering Vietnam. They are willing to pay for good services and safe quarantine.
But now, all citizens from overseas entering HCM City can register to spend their quarantine time at hotels and pay for it.
The Ministry of Health recently asked the Prime Minister to allow resorts, hotels, guesthouses and dormitories to be used as facilities for treating mild Covid-19 patients. The fees and the regime of treatment will be stipulated by MOH and Ministry of Finance (MOF).
The facilities receive, supervise and give initial treatment to mild or asymptomatic Covid-19 patients, which eases the overloading at hospitals and helps prevent the spread of the coronavirus in the community.
The model was successfully implemented on a trial basis in Bac Giang, and then in HCM City.
Analysts say that turning hotels and resorts into quarantine zones was a good solution, because no one can say for sure when the pandemic will end.
According to Savills Vietnam, eight hotels were put into use as quarantine facilities in the second quarter, raising the total number of hotels for quarantine in HCM City to 25. The facilities provide more than 3,000 rooms.
In Hanoi, 10 3-5-star hotels have been chosen to serve as quarantine facilities. This improves service quality, but also helps hotel owners get revenue.
Other cities and provinces such as Da Nang, Nha Trang and Hoi An have turned some hotels into quarantine zones.
HCM City became the first locality in the country to digitize hotel booking and transportation of F1 cases and international guests on August 1. This might be used as a solution for concentrated quarantine facilities.

Many resources in society have been mobilized for testing, vaccination and medical quarantine, which has improved service quality and helped businesses earn revenue.
Analysts predict that the number of people under quarantine will rise sharply in the time to come. In such conditions, using existing accommodation facilities for quarantine is a good solution.
People will have more choices, while the overloading at existing quarantine zones will be eased. It also offers financial benefits to hotels, which have been paralyzed for nearly two years.
A report by Savills Vietnam showed that the average hotel room occupancy rate in 2020 reduced 44 percent YoY.
According to the General Statistics Office (GSO), due to Covid-19, the number of foreign visitors to Vietnam decreased by 79.5 percent last year compared with 2019 to 3.7 million.
Private healthcare sector
The private healthcare system was mobilized to participate in the fight against Covid-19 early, especially for testing and vaccination. Many private hospitals are now willing to receive and treat Covid-19 patients.
Medlatec General Hospital, for example, participated in the second campaign for Covid-19 testing in the community, and carried out 130,000 tests out of 800,000 of the entire city on August 18-20.
In HCM City, FV Hospital in District 7 is also one of the private hospitals participating in the Covid-19 vaccination campaign.
Pham Thi Thanh Mai, Managing Director of FV Hospital, said that FV is equipped with a storage warehouse system certified by the HCM City Pasteur Institute that meets requirements to store 800,000 doses of AstraZeneca, 200,000 of Moderna and 600,000 of Pfizer at the same time.
At present, every team is composed of three nurses, one doctor and one administrative officer. With 100 nurses, FV can provide 10,000 injection shots each day at the hospital and at mobile injection points.
"If working seven days a week, FV can vaccinate 250,000 people a month, thus helping the city speed up the pace of vaccinations," Mai said.
The participation of private hospitals in the fight gives more important resources to HCM City to treat Covid-19 patients. According to the HCM City Healthcare Department, as of July 27, four private hospitals had registered to treat Covid-19 patients.
At a recent meeting with leaders of private hospitals, Long noted that some private hospitals have divided into two parts to treat Covid-19 and other patients.
Long told the hospitals to register with the HCM City Healthcare Department and inform them of the number of beds reserved for usual healthcare services and for Covid-19 patients. 
Duy Anh

The gradual opening of international routes and the pilot opening of some tourist sites for foreign tourists are among important solutions in efforts to save the aviation, tourism, hotel and service industries.

In the current context, the hotel-hospital model helps authorities to reduce the pressure on hospital beds, and private hospitals can join hands with the health sector to participate in the fight against the epidemic.