While Da Nang, Bac Giang and Quang Ninh have been using It well to fight the pandemic, Hanoi has not deployed technology at the same level, especially for management procedures.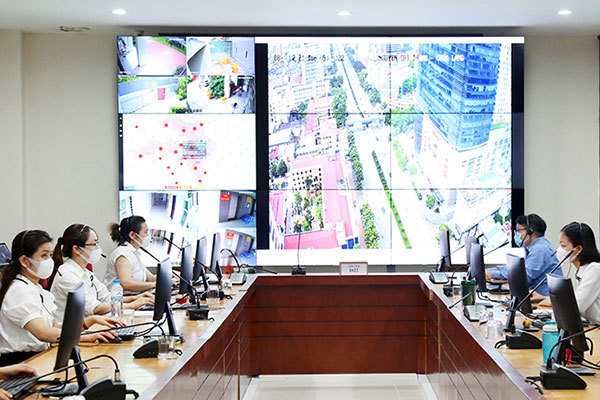 Bac Giang province, which earlier was a Covid-19 epicenter, used medical declaration check-in points to identify Industrial Zones and places with high risks.
Nguyen Gia Phong, Deputy Director of the Bac Giang Information and Communications Department, said on the first days after the outbreak medical declarations were carried out manually, which caused problems for statistical work.
Later, the Ministry of Information and Communications (MIC) suggested intensifying the use of IT in medical declaration to obtain as many declarations as possible.
The provincial authorities then asked all offices, hotels, restaurants and workers in vehicles to become medical declaration points. People could also make health declarations at groceries and on buses. There was always a QR code there for people to scan and report their health conditions.
Every check-in point compiled the number of declarations to gather sufficient data for localization and tracing if necessary.
Bac Giang also used technology in sampling for Covid-19 testing. Residents who had Bluezone installed on their smartphones were given a barcode to be stuck on sample tubes. Before people had their samples taken, the tubes were prepared in advance to save time.
In Ba Ria – Vung Tau province , according to Le Van Tuan, Director of the provincial Department of Information and Communications, medical workers took people's information on paper and then entered the data into Excel file later or days before sending the data to CDC (Centers for Disease Control and Prevention).
It took a lot of time. In some cases, the samples reached CDC before the list of people, which led to tardiness in testing. To settle the problem, the department decided to scan information with QR Codes from the Bluezone app of people instead of preparing a paper list.
Tuan estimated that it took people less than a minute from the time of scanning the code to the time the test sampling was fulfilled. The testing results can be given within the day.
Tuan said as data are updated in accordance with real time, it facilitates management at different levels.
Da Nang, when imposing social distancing, began issuing travel permits with QR Codes. People submit travel permits or open eTicket-DaNang app with QR Codes for officers to scan, which takes only five seconds.
HCM City not only uses technology to manage vaccinations and control people under quarantine, but also to deliver welfare bags to those who have lost jobs.
HCM City Mayor Phan Van Mai said the An Sinh app is available on both Google Play and App Store for people to download and register.
More than 200,000 people have registered via the An Sinh app. The features of the app are easy to operate.
Like other localities, Hanoi has set up a hotline to receive reports about pandemic prevention. Since the pandemic broke out, the information department has received and analyzed data on Bluezone and tokhaiyte.

However, Hanoi has had problems developing technology to fit management methods. Just within one month, the city changed the form of travel permits four times.
Most recently, the municipal authorities said that the QR Code travel permit will be granted via software 'granting and checking travel permits with identification'. However, the traffic congestion occurred and the city had to adjust regulations once again.
Some people have said they do not know which documents they need to have or how to obtain the documents, or whether they should register online or come to appropriate agencies.
A netizen commented that while other localities used QR Codes as passports one year ago, and people needed to scan the QR Code to find out if they were safe to travel, in Hanoi, people just scan QR Codes for fun.
"They print QR Code on travel permits mostly to show to officers at checkpoints, but no one really knows if the people are safe," he said.
Traffic is congested because of the complicated management process and poor organization.
Da Nang, HCM City and Binh Duong have used the QR Code granting systems developed by technology firms, but Hanoi has not done so. 
Thai Khang

As many as 13,579 people reporting coughing and high temperature on medical declarations turned out to be positive cases, amounting to 40 percent of total cases of the city.

Nearly 4,000 doctors and trained volunteers have joined 'Thay thuoc dong hanh' (Companion physicians) network to give support to Covid-19 patients in HCM City, Hanoi and Binh Duong province.