The coronavirus outbreak will certainly have an effect on the global economy in the coming months. Vietnam, with its proximity and close trade and supply relationships with China, is no exception.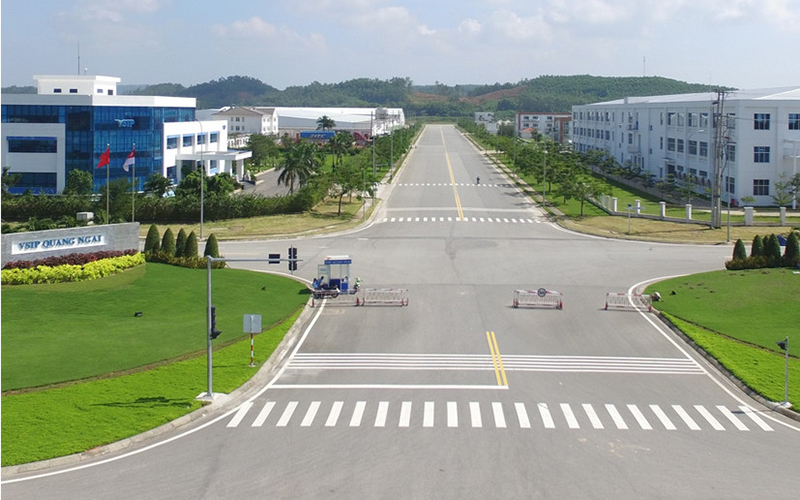 A view of VSIP Quang Ngai Industrial Park
The EU-Vietnam Free Trade Agreement and the EU-Vietnam Investment Protection Agreement, which were ratified by the European Parliament last month, and the new coronavirus (Covid-19) will have mixed impacts on Vietnam' industrial property this year, according to John Campbell, manager of industrial services, Savills Vietnam.
Positive economic and FDI outlook
Amid a global slowdown, 2019 was an exceptional year for Vietnam's economic growth. In 2019, overall the country's impressive macroeconomic indicators supported the strong performance of the real estate market, specifically the industrial real estate segment that received investments totaling US$24.56 billion, over 64.6% of total inflow.
Vietnam's economic outlook in the medium to long-term is mostly positive. Before the outbreak of the Covid-19 epidemic, the World Bank forecast that real GDP growth will remain robust at 6.5% in 2020 and 2021.
2019 marked 10 consecutive years of increasing foreign direct investment (FDI) inflow in the country and by the end of the year, the manufacturing and processing industry attracted the highest. 2020 is also off to a positive start. In the first 20 days of January alone, Vietnam attracted substantial US$5.3 billion in FDI, representing a year-on-year rise of 179.5%, according to the Ministry of Planning and Investment. Of this US$5.3 billion, US$4.5 billion was poured directly into new FDI projects.
Most inflows were funneled in the production of electricity, water and gas sector. The manufacturing and processing sector took the second place, attracting US$856.33 million, or 16% of total inflows in the first month of the year.
Vietnam's recent FTA's and superior trade networks will continue to push the country as a key destination for FDI, although it will also make the country more vulnerable to future slowdown in global demand.
EVFTA and its impacts on Vietnam's industrial sector
The European Parliament officially adopted the EU-Vietnam Free Trade Agreement and the EU-Vietnam Investment Protection Agreement on February 12, raising hope for all of Vietnam's economic sectors. Only one more step remains before the agreement comes into full effect – the ratification by Vietnam's National Assembly, which is expected to take place in May this year.
"The EVFTA, in particular, enables Vietnam's economy to move away from exporting low-value products and inputs to higher-value goods in high-tech, electronics, vehicles, and medical devices. Global trade networks will give Vietnam access to a more diversified range of souring partners, allowing for cheaper imports of inputs or intermediate goods, which in turn will boost the competitiveness of Vietnam's exports. In addition, through more partnerships with foreign companies, Vietnam can reap the benefits of knowledge and technology transfer that comes with such investments," John Campbell of Savills Vietnam commented.
 
As Vietnam opens its doors to EU manufacturers in industries such as food and beverage, fertilizers, ceramics, and building materials, the tariff elimination will also benefit the country's key export industries to the EU, including the manufacturing of electronics and smartphones, textiles and garments, and agricultural products.
Since June 2019, more industrial developers in Vietnam are confident that the EVFTA will boost investment in manufacturing and diversify their occupiers' base. With the agreement being ratified this year, the developers also expect to see a growing interest from European manufacturers in 2020 and 2021.
As demand continues to outpace supply, particularly in key industrial provinces, with occupancy rates reaching 75% in operational industrial parks nationwide, the competition for well-located manufacturing plots near the country's main cities and ports has increased. This, coupled with an influx of new international manufacturers, gives developers the right opportunity to strategically choose their occupiers and lease it to multinational companies in high-value added industries. The industrial sector is growing strongly with a tenfold increase in FDI over the last decade. Good land supply is facilitating upcoming manufacturing projects with a rise of rental options and many solutions.
Covid-19's impact on Vietnam industrial sector
Considering the sheer size of China's economy, the coronavirus outbreak will certainly have an effect on the global economy in Q1 and possibly even Q2/2020. Vietnam, with its proximity and close trade and supply relationships with China, is no exception.  
"Although foreign investment into Vietnam's industrial market will remain strong in 2020, the Covid 19 has raised concerns regarding labor shortages and disruptions in supply chains in the manufacturing sector for Q1/2020. Labor shortages in China with the extension of the Lunar New Year holiday (in addition to temporary factory closures) due to the Covid 19 pandemic means less production, which in turn can affect the numerous Vietnamese manufacturers with supply chain links to China," Campbell commented.
According to official data, Vietnam's index of industrial production (IIP) declined 11.8% month-on-month and 5.5% year-on-year in January 2020, following a 6.2% increase in December 2019. This was the first drop in output since January 2017. The index attributes the drop-in output to the relatively 'early' Lunar New Year holiday at the end of January, reducing the number of working days. Therefore, it's difficult to evaluate what proportion of this drop in industrial output is directly linked to the Covid 19.
Binh An

The Vietnam Manufacturing Purchasing Managers' Index (PMI) fell below the 50.0 no-change mark in February, signalling a deterioration in business conditions, a survey of IHS Markit and Nikkei released on Monday showed.  

Credit institutions have so far supported more than 44,000 COVID-19 affected customers following directions from the State Bank of Viet Nam (SBV), an official reported on Monday.