Urban residents are still spending big money to buy luxury scooters though a possible motorbike ban in certain areas has been proposed.
Honda Vietnam reported that in the 2019 fiscal year, from April 2018 to the end of March 2019, Vietnam sold 3.4 million motorbikes, an increase of 2.7 percent compared with the same period last year.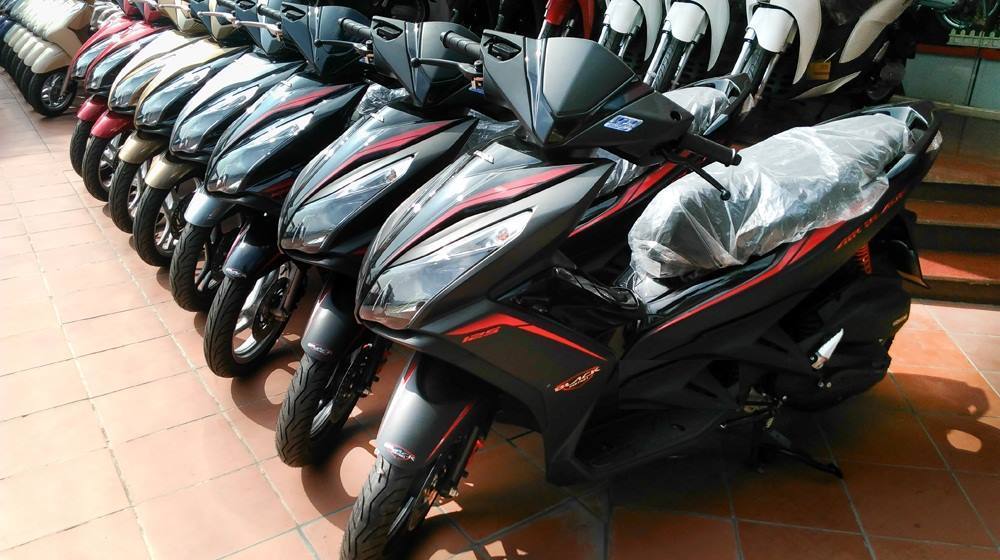 Honda Vietnam alone sold 2.56 million, or 76.8 percent of total motorbikes sold, up by 7.6 percent. The sales of scooters increased sharply by 9 percent, with 1.51 million products sold.
According to the Japanese manufacturer, the motorbike market continues to grow and scooter sales will continue to see a high growth rate as people tend to shift to scooters.
Piaggio Vietnam has also reported impressive growth rate in scooter sales. In Q1, Piaggio Vietnam put out 34,056 products at its factory in Vinh Phuc province, of which 30 percent is for export and the remaining for domestic consumption.
In 2018, the manufacturer churned out 117,189 products with the scooter growth rate of 12 percent.
A representative of Piaggio Vietnam confirmed that sales of scooters have been growing though the motorbike market in general is cooling down.
There is a growing tendency to shift to scooters, with sales of scooters amounting to 60 percent of total sales.
Meanwhile, sales of motorcycles are predicted to decrease to 35 percent or even lower, to 20 percent, as seen in Indonesia.
At present, about 2 million out of 3.4 million products sold a year are scooters. To obtain the market share of 80 percent, the scooter sales need to climb to 2.7 million products a year. Scooters remain a very attractive segment for manufacturers.
Honda Vietnam is the manufacturer with the highest number of scooter models, with diverse products for different market segments, from low-cost to high-end ones.
Meanwhile, Yamaha, Suzuki, SYM and Kimco are changing their product structure, shifting to scooters in a scramble for market share.

Scooter prices are expected to continue rising in the next five years and the market will witness the appearance of luxury models priced up to VND90 million.
Honda Vietnam CEO Keisuke Tsuruzono believes the market will continue its upward trend in 2019 and 2020, which means that 3.4 or 3.5 million products would be sold a year.
Motorbikes remain the major means of transport for Vietnamese because there is still no good alternative. The growth rate may be not high, but with 3.5 million products, the market will still be large.
This explains why manufacturers are still expanding their distribution networks, though the ban of motorbikes in Hanoi and HCMC on certain streets is being discussed at workshops and big conferences.
Ban Viet Securities predicted that the number of products to be sold in the next five years would increase slightly by 1-2 percent or go flat. However, the sales won't decrease in the short term.
Experts also doubt the feasibility of motorbike ban plans. 
Manh Ha

Hanoi plans to ban motorbikes sooner than planned by 2030 as part of its efforts to ease traffic congestion and environment pollution, Chairman of the municipal People's Committee Nguyen Duc Chung said.

The Vietnamese electric motorbike market is seeing the participation of more and more domestic and foreign manufacturers.  

The recent proposal to impose a ban on motorbikes in downtown Hanoi was based on the sole opinion of the director of the Hanoi Department of Transport,