The Covid-19 pandemic, with changes in consumers' habits and requirement on a minimum distance between customers, has dealt a strong blow to the (food and beverage) F&B industry.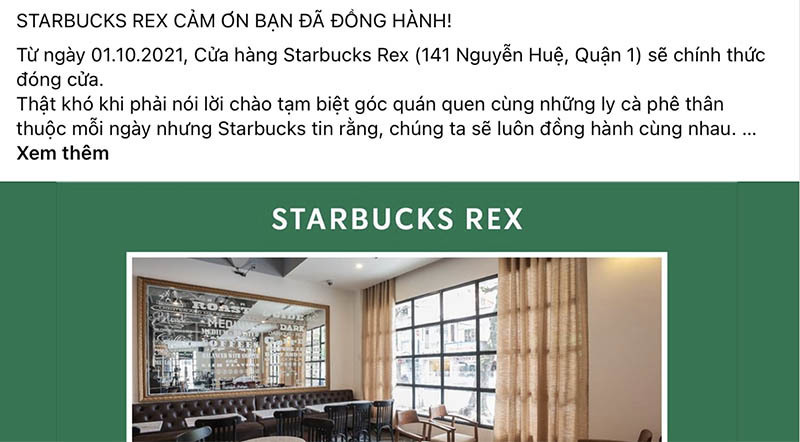 The announcement about the closure of Starbucks Rex has surprised many people
Located in Rex Hotel at No 141 Nguyen Hue Street, Starbucks Rex was a favorite destination for young people. It was always crowded on weekends and it was difficult to get a seat.
The official announcement about the closure of Starbucks Rex on the café brand's fan page beginning October 1 has surprised many people. While other F&B chains are preparing to come back to the market after a long social distancing period, the famous brand is quietly shutting down one of its shops.
In fact, analysts said, the market has witnessed the departure of many café and restaurant chains since 2020. Because of the pandemic, the owners of the chains had to close the shops, while they still had to pay franchise fees and retail premises rent. Finally, they had to shut down their operations to stop losses.
Soya Garden has closed some of its shops in HCM City. On its official website, the last shop in HCM City is no longer seen. There are only eight shops in Hanoi.
Hoang Anh Tuan, the founder of the chain, admitted that Soya Garden needs a new strategy to exist. He predicted that many other chains would also have to close some of their shops and gather strength on boosting online sale.
Le Ba Nam Anh, CEO of The Coffee House, said the whole F&B industry is facing big challenges. The industry only fully operated for three months (January, March and June) in the last nine months, and operated at a moderate level during the pandemic at different control levels in the remaining months.
During the fourth pandemic wave, most shops had to close the doors to observe the regulations on pandemic prevention and control. The chains with higher numbers of shops have to pay very high fixed costs. In addition to the rents for retail premises, the chains also had to pay for input materials though the materials were not used, because they ordered products two quarters in advance. The imbalance of cash flow became a big challenge for the entire chains.
According to Savills Vietnam, since the fourth pandemic wave broke out in late April, the retail market witnessed a lot of businesses shut down, give back retail premises and scale down operation.
Struggling to survive
A representative of The Coffee House said the chain will reopen all of its shops nationwide and change the business model to adapt to the new circumstances.
He said it's necessary to re-create interactions with clients. If clients still cannot come to shops, sellers should connect clients via online channels. Meanwhile, the chain is still implementing its strategy on opening the Vietnamese café brand abroad.
He believed that take-away sales, service at home and office and door-to-door delivery will be popular in the new circumstances. These will require products, sale channels and supply chains that fit the new models. It is necessary to rethink all the elements of the business model so as to adapt to the transformation. Flexibility, convenience and safety will be important.
A survey by Savills Vietnam in July 2021 found that the ratio of revenue from online channels to total revenue has increased by 1.5-2 times compared with the pre-Covid period. Companies all have made heavy investment in the channels.
Small and medium eatery chains developed by petty merchants starting up in the F&B sector can join marketplaces, such as Lazada, Shopee and Tiki, to take full advantage of the huge amounts of existing clients there and find their target clients.
Tran Pham Phuong Quyen from Savills Vietnam said when consumers don't come directly to shops, the quality of products, the delivery service and oral marketing will show their strength.
Making payments for goods and services with e-wallet and card is becoming more popular with 51 percent of consumers in Vietnam shifting from cash to pre-paid payments since the Covid-19 outbreak, according to a YoGov's survey in June 2021.
Eatery chains should also make investments in e-wallets and cards to optimize convenience for customers in payment.
Quyen suggested that F&B businesses should plan a shop expansion strategy in a reasonable way. They need to think carefully when choosing retail premises and build their networks in many districts, cities and localities to optimize access to clients. This can bring convenience to clients as they can enjoy services in their residential areas and it can optimize their transportation and delivery networks.
Quyen believes that it'd be better to use the shops with reasonable areas to cut costs. The expenses on retail premises should be equal to 10-16 percent of revenue. It's also necessary to streamline the workforce and restructure the shops' operation.
Finally, investors need to gather resources and financial savings to invest and nurture an effective distribution system and delivery channel, take care of online marketing messages and of customers' spiritual values and experiences about their products. 
Duy Anh

Expansion of home delivery and promotion programmes are opening up chances for food and beverage enterprises this year, but transportation disruption for the non-essential sector will continue to narrow the door.

The health and beauty industry has been seriously hit throughout the four Covid-19 waves. Many owners of gyms and spas worth billions of dong have had serious losses.