During the peak of the pandemic, Vietnamese products such as Luc Ngan and Thanh Ha lychee and Binh Thuan dragon fruit were still shipped abroad. Some kinds of goods were event sold to the pickiest markets at high prices for the first time.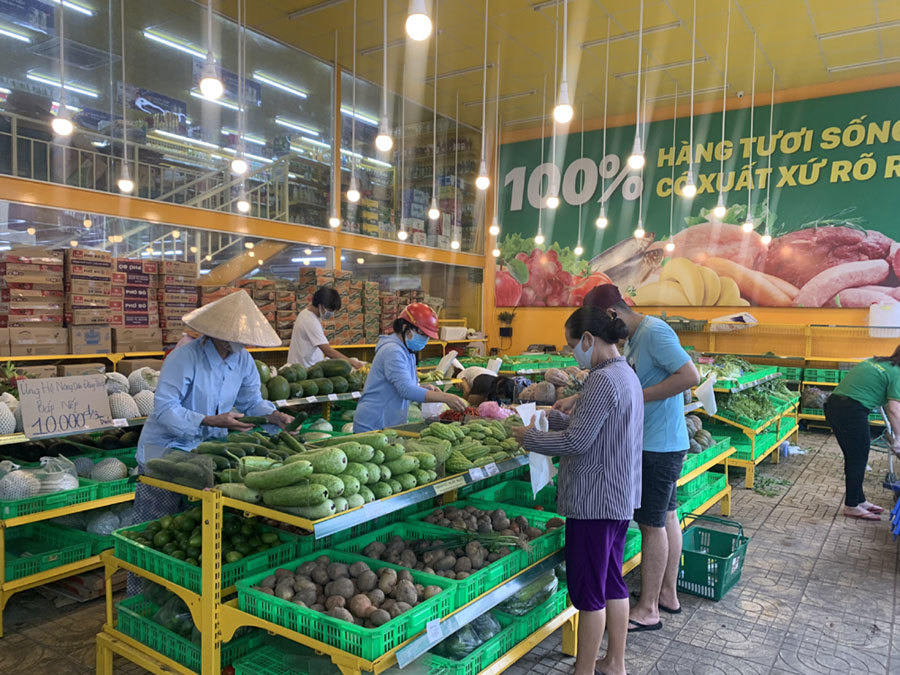 Creativity in distribution has ensured smooth circulation of goods in pandemic-hit areas. 
This has proven the Ministry of Industry and Trade's (MoIT) tremendous effort to promote exports, assist enterprises and develop the economy during the epidemic, said former Chairman of the Vietnam Chamber of Commerce and Industry (VCCI) Vu Tien Loc, a member of the National Assembly's Economic Committee and current Chair of the Vietnam International Arbitration Center (VIAC).

Undisrupted supply chains

Speaking at a recent group discussion of the on-going National Assembly session, Loc analyzed: When the pandemic broke out, supply chains and goods circulation were disrupted. In this situation, state management agencies were required to be innovative to have solutions, and well collaborate with local governments to ensure smooth circulation of commodity and seek outlets for some kinds of goods that were unsalable.

"In fact, as a state management body for commerce, the MoIT has provided a number of effective measures since 2020, particularly in the fourth Covid-19 wave. This creativity has allowed the seamless flow of commodities in the epidemic region," Loc said.

The MoIT has also made numerous proposals to the government to remove barriers to business in terms of goods circulation and transport; to prioritize vaccination for workers; to deal with congestion at seaports; or to allow businesses to take responsibility for on-the-site epidemic prevention.

Pham Van Hoa, National Assembly deputy of the southern province of Dong Thap, said the MoIT's proposals and solutions have given timely support for Vietnamese businesses to reopen as soon as the epidemic is controlled.

While striving to maintain domestic production, the MoIT has also promoted the implementation of free trade agreements (FTAs) in order to maintain exports. Vietnam recorded trade surplus in the third quarter of 2021, which is considered the spotlight in the context that the country's gross domestic product (GDP) reduced by 6.17%.

Promoting post-pandemic economic growth

It is a great challenge for Vietnam to realize its targeted GDP growth rate this year. Loc suggested that the MoIT propose solutions to deal with differences in reopening policies of local governments to clear obstacles in circulation of materials for businesses.

NA deputy Hoa said that many businesses in the pandemic-hit southern provinces have resumed operation but they are in severe shortage of workers as a large number of migrant workers have returned home to avoid the pandemic. The MoIT should help businesses solve this problem by proposing appropriate measures to the government that facilitate workers to return to factories.
In the long run, Loc suggested that the industrial production development policy should focus on reducing outsourcing. If the industrial sector develops at a high level, create high added value, and the workers have good working conditions, they will be ready to return to work as soon as production resumes.

"Investing in production, research, branding, and distribution is critical to moving up the global supply chain. This is a critical issue that Vietnam must get through in the near future, and it is related to national industrial policy which is developed by the MoIT," Loc said.

According to National Assembly deputies, the MoIT needs to further promote import and export through FTAs and e-commerce.
Thuy Linh

At the talks "Why Vietnam" held recently by the Ministry of Information and Communications, experts affirmed the significant role and position of Vietnam in the technology industry as well as global supply chains.